Hello everyone! This week we had our first winter snow and I have to say I loved it! Even though it was only a dusting, I couldn't help but get excited for Christmas and the calm winter stillness of snowy  days and nights. This year I am leaning toward more simple, wintry decor for my Christmas decorating that I can leave out through January and part of February.  Last winter I shared some a guest post of Vintage Winter Vignettes over Katherine's Corner of  highlighting some of my vignettes from winters past. I thought I would share some of the ideas here today since most of these ideas will work for Christmas too.  First, here are a few pictures of Christmas and winter decor that I found on Pinterest for inspiration.
Okay, so I do love the snow, but I don't love the dark dreary days and the cold! Winter is a great time for letting as much natural light in as possible. If your home is as shaded as mine, then you probably are craving some sunlight during the winter too! You can opt for sheer curtains or elegant layered shades that can be easily opened and closed when you want to let in light or have a little more privacy.
I love the cozy, Danish Hygge vibe in this photo! Using mirrors is a great way to reflect natural light and brighten up your interiors during the dark winter months. We all need a little extra sunshine to keep the winter blues away. If you just don't get enough natural sunlight,  you can always try a doctor recommended sun lamp. Studies have shown that light therapy can work wonders for improving your mood in the winter.
Rustic and Wintry Vintage Winter Vignettes
It seems like I have always loved cozy hygge winter style before I ever had a clue what it was! Several years ago I created a vintage winter vignette on my winter mantel using some of my favorite rustic winter treasure that make an appearance year after year. Woodland deer, stacks of ironstone, tarnished silverplate and a small, snow flocked trees just seemed to come together to form a magical winter scene.  A small vintage winter transferware plate is used in different ways year after year in my vintage winter vignettes.
The next year I styled my antique buffet with several small winter vignettes. The little plate with the snow scene was tucked inside a small salvaged jewelry amoire drawer filled with vintage children's knitted mittens.  Vintage hand crocheted snowflakes were scattered along the buffet.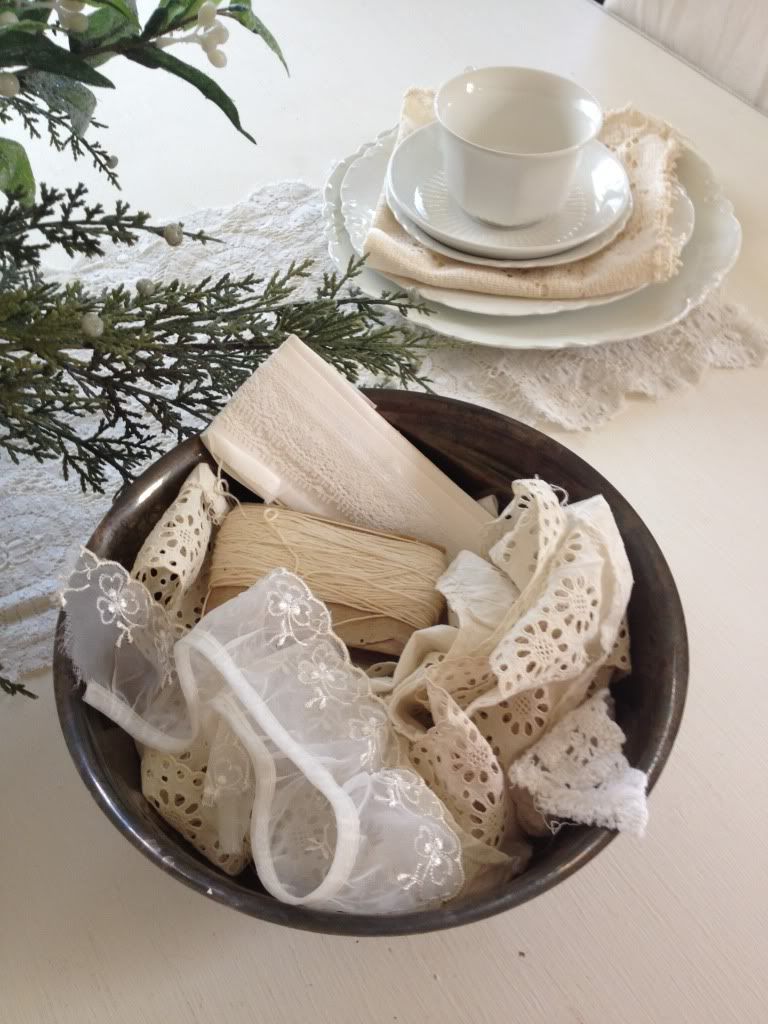 Ironstone and silverplate is on display on shelves and in cabinets year round, but every January I set the table with those pieces to create a "Silver White Winter" tablescape. One year I used lots of vintage lace remnants as bowl fillers to add vintage farmhouse style and to have within easy reach as I hand stitched shabby chic hearts for Valentine's Day.
This year I created a silver white winter tea theme using stacks of ironstone dishes topped with teacups, and vintage silverplate teapots, utensils and trays.
Last year's vintage winter vignette on the mantel was a made up of a couple of Belsnickel Santas in ivory cloaks (I call them "Old Man Winter" figures after Christmas)  some old clocks (time seems to stand still on Snowy January days), one of my sweet deer figures, a chippy candlestick topped by a shabby glittery snowball, and a woodsy winter votive holder.
My shabby chic faux fireplace shelves in the dining room are filled with little treasures that I have used to create vintage winter vignettes. More vintage woodland friends come out to play in the winter time.
A salvaged vintage doll head becomes a winter snow princess with a beautiful silvery-icy brooch and a snow ball tree above her head (a bouquet of cotton stems).
I keep my collection of vintage silverplate items on an old shabby chic secretary in the dining room. It is perfect for creating more silver white winter vignettes. An vintage crystal door knob and and other glass pieces are a nod to frozen icy lakes.  A vintage Currier and Ives tin is a reminder that sleigh rides aren't just for Christmas time, but can be enjoyed all winter long!
If it must be winter, let it snow!
Creating winter vignettes is sometimes as simple as adding a hat or scarf to an old doll, dress form or antique jewelry bust as I have done here. Salvaged chair spindles take the place of birch logs alongside large pine cones.
Here an antique pair of gloves is on display "drying" from an imagined day of snow play. Preserved juniper added a fragrant and fresh winter scent to the foyer.
A couple of years ago I styled a silverplate tray on my coffee table with a simple winter vignette. I used sprigs of juniper in a small ironstone pitcher, a  demijohn filled with eucalyptus and a beautiful winter snow globe that was a dear Christmas gift from my youngest son. A metal basket full of antlers and a rustic candlestick and birch logs reflects the winter woods outside our window.
A vintage sled with ice skates next to a small evergreen tree reminds the young and old that no matter how bitter cold the weather may be, a fun day of sledding outside in the cold, crisp air is one of the greatest gifts of winter!
As you can see, creating vintage winter vignettes is as easy and using whatever white, ivory, silver, neutrals, natural elements, and evergreens you may have around. While you are out treasure hunting in the year ahead, keep your eyes open for silverplate, ironstone and little woodland animals you can use to create snowy cloche displays and winter scenes. Old books with wintry illustrations or vintage paintings with winter scenes can also be used to create lovely vintage winter vignettes.
Pour yourself a nice hot cup of tea, coffee or cocoa and take a look at favorite blogs, Pinterest and decorating magazines for more vintage winter inspiration.
If you would like to see even more of my winter decorating, be sure to check out my Cozy Neutral Winter Home Tour and mywinter Thursday Favorite Things post from last year, Winter Decorating Ideas. If you enjoy vintage style, be sure to subscribe by email too. I am always sharing vintage treasures!
Thank you for visiting today! Have a wonderful white winter everyone!
Amber