Hello everyone! As promised I am working on bringing my readers more posts on vintage decorating style. Vintage decor is more popular than ever, and it can be incorporated into your home in so many easy ways. Even if your house is modern, vintage elements can still be worked in to add some cozy charm. Vintage decor and collectibles are great for making your house have a unique feel, and for giving it lots of character. Many vintage items evoke the countryside, and the farmhouse or cottage look, which so many people love. There is just something so homey and welcoming when we are surrounded by the timeworn items of yesteryear. *This post contains affiliate links.
It is so easy to get hold of vintage items these days, whether through junkin' at estate sales, flea markets, antiques shop or even online. There are also many reproductions that can fool even the most experienced vintage junker and still add the vintage character that is so desirable. Old doors, windows and architectural salvage such as corbels or mantels will instantly give your home vintage character.
Source: Antique Farmhouse
You don't have to be an expert in design, or history, to live and use vintage items in your home. If you are new to junkin' you will find out very soon how easy it is to start amassing a collection of fun vintage items quickly and expensively. I highly recommend attending a Vintage Market Days or The Country Living Fair show that is closet to your location. Of course you can also scour local antiques shops and consignment stores. There are so many amazing items to choose from to get you started on your way to creating a vintage home style or adding to your already vintage styled abode.
There are also tons of shops that sell "vintage style" items that are brand new. So if flea market foraging is not really your thing, there will still be plenty of vintage items, in your local stores these days such as Hobby Lobby and even Target. There are also some amazing shops online like Bits Of Vintage, Antique Farmhouse and Etsy shops. Whatever time period or style you prefer, vintage can work for you. It is so versatile, and can be worked into any home.
Bring the Outside Inside
Vintage style often evokes a farmhouse or cottage feel, and this is all about the great outdoors. No matter if you live in an apartment, or out in the country, there are so many ways you can use the outdoors to decorate your house, and bring the outdoors indoors. Creating a garden theme will instantly evoke nostalgic charm.
With spring coming, it is the perfect time to style some vintage garden themed vignettes too. One simple idea is to use plants or flowers, fresh or faux. By incorporating some plants into your home, you can help create that vintage feel.
Use old terra cotta pots with a weathered, rustic patina or vintage planters made by McCoy or Hull Pottery. Plants not only look great and freshen up the home, but they can be used showcase more vintage style collectibles.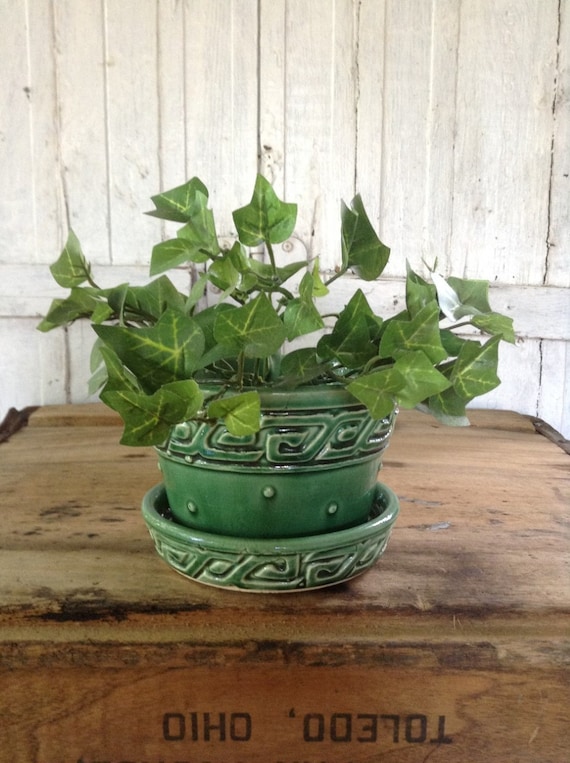 Why not get creative and use an old watering can as a centerpiece, or an old step ladder as a plant stand? Bringing the outdoors in can really capture the vintage style, while adding a unique character to your home. Don't forget to look for old garden gates, rusty garden tools, beautiful old urns, or old botanical or bird pictures.
Make it Your Own
Many people buy vintage items, and spruce them up to reflect their own style. Vintage can be anything from the very old, to the slightly out of date, and so often these items simply just need some TLC. This is a great way to make these vintage items fit into your own interior design style, and it can make old items even more unique, while adding character to your home. Painting, distressing, restoring or upcyling items are all great ways to make them your own. Olivia at Reinvented Collection blog often shares how to transform old vintage furniture with paint. These antique chairs have been given a "new" chic makeover with a coat of red paint, all the while retaining their classic vintage look. The table has been faux finished with a fabulous weathered patina.
Simply using vintage looking textiles such as pillows, curtains and bedspreads can instantly create a vintage feel. You can live like mysterious Tommy Bahama who uses vintage style to influence his designs.
You can find out how to create a dreamy vintage bedroom here.
Chances are, if you are reading my blog you already love vintage style. If you haven't begun to incorporate vintage into your home yet because you feel like you may not know enough about "antiques" and are a little confused on what to buy, just follow your heart! Surround yourself with vintage items you find charming or that bring back a memory of childhood or a beloved relative's home. These treasures can entirely change the feel of a room and can bring such individuality to your home.
Tomorrow I will be sharing a post at Katherine's Corner blog all about creating winter vintage vignettes using authentic vintage treasures and trinkets I have collected over the years. I hope you will join us there!
Thanks for visiting today!
Amber
For more vintage style inspiration, check out these publications: