Well friends…WE DID IT! Our 1920's tiny powder room makeover is finished just in time for the holidays! For the past six weeks my husband and I have been working on this little renovation for the official Fall 2019 One Room Challenge. The ORC is an event hosted by Better Homes and Gardens where bloggers and Instagrammers have just six weeks to complete a room makeover while documenting the progress each week of the challenge. *This post contains affiliate links.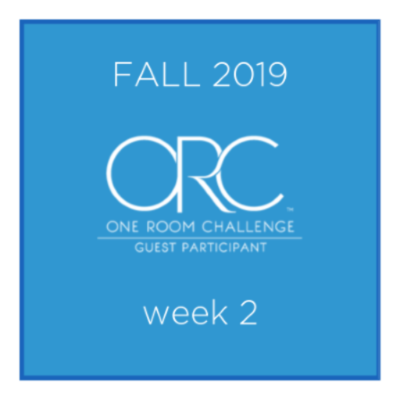 If you have been following since week one then you know that the main goal of this makeover was to give our outdated guest powder room a "1920's revival," primarily by removing the vinyl groutable tile to uncover and restore the original 1921 hex tile floor underneath. I also wanted to refresh the outdated look by giving the powder room "updated" period charm.
The hex tile floor revival was a labor of love…well, at least on my part! I am not sure how much my husband "loved" this makeover, but apparently he loves me because otherwise he wouldn't have spent the last six weeks scraping tile, hanging wallpaper, and working on plumbing. (Thanks dear!)
It took a lot of non-toxic adhesive remover, scraping glue, countless Magic Erasers, a whole canister of Bar Keeper's Friend, and of course mopping, mopping, and more mopping… but in the end the floor (and the whole powder room) turned out fantastic! Come on in and take a look!
Before and After
Here's a reminder of how the powder room looked just six weeks ago. The only thing I really liked about it at the time was the beadboard wallpaper. Luckily it was still in good shape. It just needed a fresh coat of brighter antique white paint.
This makeover hasn't been all smooth sailing. Between weeks four and five we ended up having to hang some new wallpaper due to the area that hadn't been papered with the beadboard paper behind the sink vanity. We also had to get new baseboard for two of the walls.
Graham & Brown Paintable Prepasted Beadboard Stripes Texture Wallpaper, White
I would have preferred to use real beadboard paneling from the start but the walls are concrete and plaster and very difficult to nail into so, so the beadboard paper is a great alternative.
Week five was rocky with some plumbing issues, but in the end my husband figured everything out! You can read more about our DIY dilemmas and last minute decisions on finishing touches here.
And here is our adorable 1920's powder room after six weeks of renovating and decorating! People, it was all worth it! (Even the hubby agrees!) I honestly can't explain how happy this tiny little powder room makes me. I had no idea when we started this challenge it would turn out so charming.
We originally didn't intended to replace the vanity or toilet but as we were working we found some plumbing issues so we decided to just gut the whole bathroom. Replacing the 23 inch vanity and cabinet with a petite 19 inch pedestal sink and the 19 inch toilet with a 16.75 inch toilet was a great decision. It's amazing how much more space a few inches can make in a tiny room, both physically and visually.
New Mirror and Vintage Salvage
After all the hard work over the past five weeks, this last week has been all about decorating and putting on the finishing touches. It took a few weeks of searching but I finally found the right size and style of mirror at Hobby Lobby. I thought the factory metallic silver finish on the frame looked too new and clashed with the chrome fixtures in the powder room, so I gave it a very quick makeover with Dixie Bell "Drop Cloth" chalk paint followed by a little distressing with sand paper, and then sealed it with clear wax.
I wanted something unique to hang on the wall beside the sink. I shopped my junk stash room and found the antique salvaged tin tile piece that I never could find a spot for…until now! I love how it adds even more vintage charm to the bathroom.
If you look closely in the mirror you can see a peek of the faux stained glass privacy film we put on the small bathroom window. I still need to paint around the inside of the window but I will definitely share an update post in the next couple of weeks with a better picture of the charming little window.
I love the little antique mirror that was previously hanging in the powder room but it was too small for the space. In this picture you can also see the original light fixture. In the end I decided I actually like it so it is staying for now. My vintage chandy was a bit too big for the room anyway.
I white washed the mirror with chalk paint and now it hangs in the little hallway just outside the bathroom. The little entry way and hallway are next on the makeover to do list. You would think I would be "over it" at this point but you know how these projects grow! Since the powder room looks so great, now the hallway floor looks dingy and blah. The entry will really be more of a refresh than a makeover, so that might possibly be a just a weekend project we can complete sometime before Christmas. We shall see!
A Pretty Pedestal Sink
Tiny Powder Room Makeover Week Four: Pedestal Sink Goals
At the beginning of week four I shared that my dreams of having a pedestal sink "went down the drain" when we discovered two supply tall lines coming out of the floor instead of one central line. Since there were two separate hot and cold supply lines we thought that there was nothing we could do to hide them except to bust up the original floor and put in one new line. This would have required a plumber and it would have been a time consuming and costly mess. By the end of the week however, my handy hubby came up with with a creative solution for the plumbing.
He had the great idea to just cut down the pipes as far as possible and then to use elbows to turn the pipes inward, hiding the majority of the plumbing behind the pedestal column. We painted the pipes white to make them less noticeable. I love the sink so much that I don't even mind seeing the pipes.
I like that the sink has a place for a bar of soap but also enough room in the back corner for a soap dispenser bottle.
Creative Small Space Storage
This weekend I found the perfect French basket at Hobby Lobby that is both functional and decorative. It is the perfect size to hide the plumbing and it also holds several rolls of toilet paper. It really isn't even in the way when you stand to wash your hands. Oh by the way, while we are down here snooping around at the basket, wouldya look at that floor again??? LOVE IT!
I can reverse the basket to the back side for winter and then turn it back around in the spring and summer to show the pretty bicycle and flowers graphic.
The basket will also fit right in between the sink and wall to save even more space.
A Few French Touches
I tried…I really did. I was going to go with more of a minimalist modern-retro- vintage farmhouse look in this powder room, but in the end my shabby-vintage French loving style took over. This mainly had to do with my "use what you have" decorating strategy. Instead of spending money on new decor that I never like as much as vintage anyway, I just shopped my own house for bathroom accents. Everything I used is still in keeping with a 1920's period powder room.
Cute Dollar Tree Apothecary Jars
I placed a trio of apothecary style jars with bathroom essentials on the back of the toilet. The jars were in my craft stash. I found them at Dollar Tree a while back and I just knew they would come in handy for something someday!
Vintage Metal Decorative Shelf/Towel Holder with French Vintage Style Treasures
Back in the summer I found this little vintage metal shelf at a consignment shop. I was just keeping it in the junk stash room for the future powder room makeover (I had no idea at the time that I was going to tackle the powder room for the fall ORC!) The shelf was previously bright white metal, so I chalk painted it in Dixie Bell "Drop Cloth" which is very close to the wall color, "Lion White" by True Value Hardware. I think it looks cute!
1920's Accents
I decorated the bottom shelf with a few small vintage treasures and the top shelf with a bundle of dried lavender. The antique violet water bottle was a Monday-Funday Junkin Find from just a few weeks ago. I recently found a little gift set of William Morris hand creams at TJ Maxx which were too cute too pass up.
Morris & Co Hand Cream Collection Gift Set Pack of 3
I thought the ivory colored tube would be a nice little addition to our 1921 bathroom. Many of Morris' designs and textiles were popular in 1920's homes. The design on the bottle is from his 1895 Marigold Wallpaper pattern.
I just love my pretty sink area that I styled with a vintage style hand towel from TJ Maxx, an all-natural soy and essential oil candle in a beautiful mercury glass holder from Cottage Candle Company, and an antique ironstone soap dish with a bar of A La Maison French milled soap.
Did you notice the vintage glass door knob? My husband switched out the old metal knobs for vintage crystal knobs to match the crystal ones on all the other doors in our home. The beauty of old homes is in all the little details!
Vintage Style Chrome Fixtures
I am loving our new chrome faucet with porcelain vintage style handles! Last week I was still undecided about whether to use brushed nickel, farmhouse black, oil rubbed bronze, brass, antique gold or chrome fixtures in the bathroom. I shared some inspiration photos in my week five post.
ORC Week Five Tiny Powder Room Makeover: Finishing Touches
I knew I wanted a vintage style faucet but I didn't want to spend a fortune on a reproduction online. I ended up buying both a black vintage style faucet and a chrome faucet to see which looked best, and the chrome was the winner, hands down! This faucet seems like it was just made for our sink.
99 year-old Hex Tile Love
It's hard to explain, but uncovering and reviving the hex tile floor gave me a new kind of connection with our home and a renewed appreciation for it's historic character. The floor just adds a bit more to our home's existing old charm, and when the door is open it really transforms the whole vibe of the entry way and hallway too. I would love to redo our upstairs bathroom with similar tile and a beautiful clawfoot freestanding bath.
ORC Week Three: Tiny Powder Room Makeover-Hex Tile Floor Goals
It took the entire six weeks to get the powder room hex tile floor to the point is now. During that time I kept heading to Pinterest and Instagram to look at pretty hex tile floors to keep me excited when the work was a bit tedious. On the whole it wasn't a horrible job and I will be sharing a tutorial on how to renew old tile floors in an upcoming post.
I still need to so some cleaning to remove tiny bits of tile and glue gunk in the grout lines and then refresh a few of the lines with a grout paint pen, but overall it looks wonderful for being 99 years-old! By the way, my new Frye boots (early Christmas present) are NOT made for walking on the tile but they were the cutest shoes I had to try to attempt one of those trendy "feet and floor" pics all the hip bloggers share. The boots made a few scuff marks, but luckily the Magic Eraser took care of them in no time.
Well friends, I hope you have enjoyed our Tiny Powder Room Makeover, aka, "1920's Tiny Powder Room Revival!" What do you think of the before and after? The room is "finished" for now, but I still might change out the original vintage flush mount light for a vintage chandelier if I come across the perfect one on my future junkin' adventures. I also still have some more touch up painting to do around the window behind the door. During the holidays I plan to add just a few simple, festive touches to the powder room for guests to enjoy, so be looking for that post too.
If you love makeovers be sure to subscribe by email if you haven't already so you can keep up with all the upcoming makeovers including the mudroom/entryway and hallway refresh coming up soon, and any other fun happenings around here. The holidays are going to be full of inspiration!
Thank you so much visiting today!
Amber
Shop Similar Items (affiliate links)