Hello friends and welcome back for my week three update of my powder room makeover for the official One Room Challenge! If you are unfamiliar with the One Room Challenge (ORC), it is an event hosted by Better Homes and Gardens where bloggers and Instagrammers have just six weeks to complete a room makeover.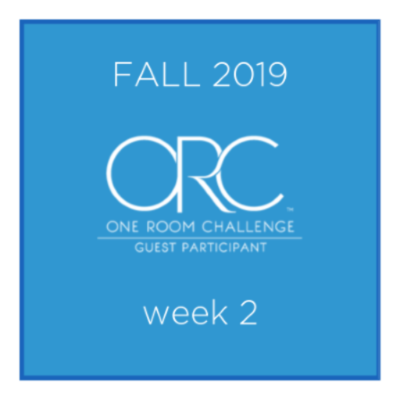 Participants are required to document the step-by-step process in a weekly blog post over the course of six weeks. I participated in the spring ORC by completing a Teen Bonus Room Makeover in our basement. If you are thinking of an attic or basement conversion be sure to check out the makeover.
For this challenge I have decided (with my husband's help) to tackle the little powder room that is just to the right of our side door entry area.
As I explained in my week one post, the main goal of this makeover has been to update the floor. When we moved in six years ago my husband installed groutable vinyl tile. It was just two weeks until Christmas and we needed a quick fix after removing old indoor/outdoor carpet. He was just about to finish the tile when he had to move the toilet and discovered a tiny glimpse of the original 1920's hex tile under the layer of carpet that the previous owners had put down. We weren't sure if the rest of the floor had salvageable tile or any tile left at all, so we just decided to continue with the vinyl and wait until some time in the future to try to restore the original tile if it was possible.
Hex Tile Floor Goals
I have always loved the vintage look of hex tile, so I can tell you that just the possibility that the original 99 year-old tile was under the vinyl has been bugging me for six years! In the past few years hex tile has made a huge come back which has made it hard to resist ripping up the vinyl! From exact reproductions of period home floors to a modern look with large slate hexagon tiles, you can see hexagon tile floors popping up in home decor magazines, blogs, Instagram and all over Pinterest.
I love all the different patterns and styles!
While I like to keep our home current and refreshed by incorporating a decorative trend or two here and there, I am really more of a purist when it comes to period homes. Even though our home is almost 100 years-old it is in excellent condition. It was well taken care of over the years by previous owners, but with modern updates came the drawback of losing some of it's period charm.
This week was the moment of truth when my husband started pulling up the vinyl flooring. Surprise! We were both excited to find the original hex tile intact! Even with all the carpet and vinyl tile adhesive hiding it's beauty, it appeared to be in good shape!
While there are many variations of hexagon tile colors and designs, by far the most common is white with little black flower patterns or alternating black and white hexagons. My husband removed enough of the vinyl floor to expose most of the hex tile, and we found that ours is solid white without any colored patterns.
I love the black and white hex tile but with having such a small powder room I actually prefer the solid white.
Once we realized we had the potential for a beautiful, original hex tile bathroom floor, the next question was whether or not all that gunk and glue of the past however many years could be easily removed. While there are some serious chemical removers that would probably make short work of it, I am highly sensitive to chemicals so using anything toxic just wasn't an option. I did some research online and found Klean Strip Green which had very minimal smell and is a lot less toxic most other options. So far it is working very well!
After my husband had cleaned off the remover and scraped the biggest part of the mess off the tiles, I tested a magic eraser on a section and it worked like, well, magic!
Of course there is still a lot of cleaning to do but it is looking pretty good to me! Although it is unlikely that the floor will ever look spit-spot, it is definitely worth restoring to a usable point. I am so excited!
For the sake of time I am just showing a little bit of the process of restoring the floors during the rest of this challenge since there is still quite a bit more to accomplish with the powder room makeover. I will be sharing a post with all the details and step-by-step instructions on how we salvaged and restored the tile after this challenge is over.
Now that I know we are going to able to restore the original tile, I have changed my mind about just repainting the cabinet base and keeping the existing sink. I really think a small period appropriate pedestal sink would be a better choice for the powder room.
I have always loved pedestal sinks and I suspect that was what was originally in our powder room.
The existing sink is 21 inches and as you can see it almost touches the toilet. An 18 inch pedestal sink would save some space and might at least make the powder room appear less crowded. With that being said, we are back to the mystery game. Will the tile under the vanity cabinet be salvageable or is there even tile under there? We will find out this week! If you are looking for ideas for bathroom improvements be sure to follow along as we complete this challenge.
Thank you so much for following along on the journey of bringing some historic charm back to our 1920's tiny powder room. Be sure to check back next Sunday for the week four updates!
Thanks for visiting today!
Amber
Update: Here's the Reveal!!!
ORC Week 6 Reveal: 1920's Tiny Powder Room Revival