Hello friends and welcome back for my week four update of my powder room makeover for the official One Room Challenge!  The One Room Challenge (ORC) is an event hosted by Better Homes and Gardens where bloggers and Instagrammers have just six weeks to complete a room makeover.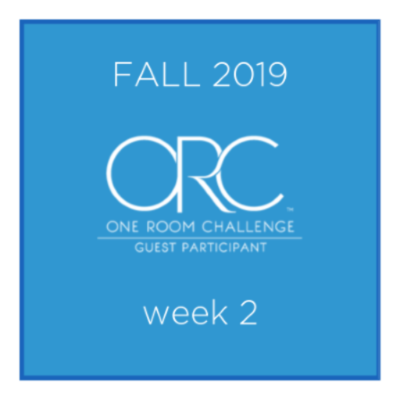 Participants are required to document the step-by-step process in a weekly blog post over the course of six weeks.  I participated in the spring ORC by completing a Teen Bonus Room Makeover in our basement and for this challenge I have decided (with my husband's help) to tackle the little powder room that is just to the right of our side door entry area.
As I explained in my week one post, the main goal of this makeover has been to update the floor. When we moved in six years ago my husband installed groutable vinyl tile. It was just two weeks until Christmas and we needed a quick fix after removing old indoor/outdoor carpet. He was just about to finish the tile when he had to move the toilet and discovered a tiny glimpse of the original 1920's hex tile under the layer of carpet that the previous owners had put down.
Last week I shared how I was overjoyed to discover that the tile was in great shape for it's age. We have since cleaned it several times and it is starting to look really good! It has gotten dirty again as we removed the old toilet and sink and my husband started working on replacing them this week, so I don't have a pretty picture of the floor…yet!
After removing the sink we discovered missing baseboard. We also had to order new beadboard wallpaper to cover the areas that were previously unaccessible due to the sink and vanity.
This week has been the least exciting of all of them so far…
The new toilet is smaller than our old one and is a much better fit for such a small bathroom. My husband did install it earlier this week, but there seems to be a problem with the old plumbing and there was a slight leak around the bottom. In addition, as I was getting ready to clean it I noticed a factory imperfection on the back of the toilet that appeared to be a chunk out of the porcelain, so we had to return it to exchange it for another one, which was annoying and frustrating. Luckily the folks at Lowes were cooperative and let us bring in just the back piece instead of having to take in the whole toilet.
Even with setbacks we did get quite a bit accomplished this week. We replaced the missing wallpaper, repainted the whole bathroom, replaced the missing baseboard and molding and repainted it. In this picture you are getting a little sneak peek of the vintage crystal door knob that my husband switched out for the old metal door knob that had been on the door previously. The crystal knob now matches the knobs on all the other doors in our  1921 home.
We were just getting ready to install the pedestal sink and add the thrifted vintage style faucet I had found at a consignment shop this week for only $15, but that plan went down the drain… (see what I did there???) Since the fixture was used I wanted to give it a thorough cleaning. We already bought the new tubes and fittings to replace the old icky ones that came with the used faucet. To clean it I soaked it in a mixture of hot water, dish soap and a dash of Borax for about 15 mintues. When my husband went to get it out and dry it off, the porcelain? handles literally disintegrated! There was no salvaging it!
Needless to say I was pretty bummed, especially since faucets with vintage style handles are special order and quite pricey. I hadn't planned on a chrome faucet but I loved the vintage look of the faucet itself, and was planning on spray painting it  farmhouse black. Until we find a faucet there is no way to install the sink because the plumbing is what holds the sink top in place.  I definitely would like some type of faucet with vintage handles like any of the ones shown above, but I am still undecided on color. Once again, it will all depend on what I stumble upon this week. If I can't find a faucet in the next couple of days we will probably have to just use our brushed nickel faucet for the reveal and change it out later.
Faucet Inspiration
Here are some example of vintage style faucets in different finishes:
Farmhouse Black
Antique Gold
Gold/Brass
Brushed Nickel
Chrome
Week Six Goals- Finishing Touches:
Install pedestal sink/ find a faucet
Call a plumber to troubleshoot and install the toilet
Find a light fixture (the vintage chandelier was too big for the space)
Find a Mirror
Add a few decorative finishing touches
DIY Dilemmas:
Well, as I was finishing up this post my husband informed me that something else broke with the toilet plumbing, so it looks like this DIY job is going to require the assistance of a certified plumber. In addition, the mirror I originally chose is way too big for the space above the sink so I am back to mirror shopping this week. As of right now I am not sure if we will get everything finished in time for the big reveal next weekend, but I am sure it will all be ready for guests to use in time for Thanksgiving. I am really not stressing, and just taking it one day at a time and hoping for the best!
Thank you so much to all of you who have been following along and sending encouragement during this challenge! Even if everything isn't completely "finished" (is anything ever really finished in home renovation and decor?) I am still excited about how everything is turning out  (especially the hex tile floor!) and sooner or later we will have a cute, updated period style bathroom. See you next weekend for the (hopefully) big reveal!
Amber