Hello friends and welcome back for my week four update of my powder room makeover for the official One Room Challenge! The One Room Challenge (ORC) is an event hosted by Better Homes and Gardens where bloggers and Instagrammers have just six weeks to complete a room makeover.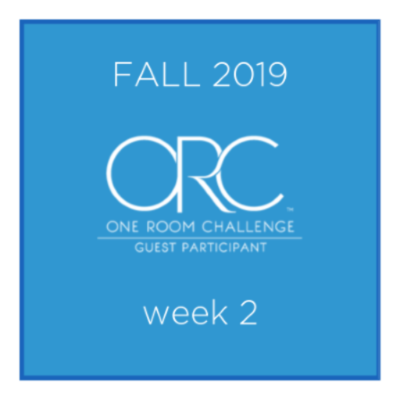 Participants are required to document the step-by-step process in a weekly blog post over the course of six weeks. I participated in the spring ORC by completing a Teen Bonus Room Makeover in our basement and for this challenge I have decided (with my husband's help) to tackle the little powder room that is just to the right of our side door entry area.
As I explained in my week one post, the main goal of this makeover has been to update the floor. When we moved in six years ago my husband installed groutable vinyl tile. It was just two weeks until Christmas and we needed a quick fix after removing old indoor/outdoor carpet. He was just about to finish the tile when he had to move the toilet and discovered a tiny glimpse of the original 1920's hex tile under the layer of carpet that the previous owners had put down.
We weren't sure if the rest of the floor had salvageable tile or any tile left at all, so we just decided to continue with the vinyl and wait until some time in the future to try to restore the original tile if it was possible. The fall 2019 ORC was the prefect time to give it a shot! Instead of "updating" the floor we are actually taking it back 99 years!
As I reported in last week's update, we removed all of the vinyl floor tile and discovered that the hex tile is in very good condition for it's age. We are definitely keeping it! Of course it isn't perfect, but we will just call it's imperfections "character." We used a non-toxic stripper to remove all the old carpet and tile adhesive with good results.
Last week I shared some beautiful photos of hex tile floors (a.k.a. hexagon tiles/mosaic tiles) for inspiration. Cleaning the old floor isn't the most fun, but every time I look at these gorgeous hex tile inspo photos I am determined and excited to make ours look as good as possible. It is coming along nicely!
When my husband removed the toilet to get all the vinyl tile removed, we discovered that we needed to do some updating to the old plumbing. As usual, these little makeovers never are as simple as you envision! Luckily it didn't turn out to be a big deal but we decided we might as well go ahead and replace the toilet with a smaller one. We also removed the vanity and sink.
I am all for junk gardening and vintage sinks can be super cute as potting benches, but a toilet might be a bit much! I covered it with a trash bag so the neighbors don't have to look at it until we get a chance to haul it off later this week!
My hopes for a pedestal sink were temporarily shattered when we found two separate hot and cold supply lines coming up from the floor that can't be hidden behind a pedestal column. To remove the lines and replace them with one center line would be a huge ordeal require hiring a plumber who would have to tear up the tile and drill into the concrete underneath. One thing is for sure, we don't want to have to call in emergency plumbers when we are trying to stay on a budget.
After tearing out the vanity we realized it had incurred a bit of water damage at some point so we decided to trash it instead of repainting it. It looked okay on the outside but inside the cabinet the wood is warped and bubbled up in places, so it had to go.
I had sadly given up on my dream of a pedestal sink for a few days and started looking for small vanity and sink combos, but my husband came up with a solution. Instead of the two lines coming straight up from the floor, he is going to shorten them and put 90 degree elbows on them so that the supply lines are somewhat hidden behind the sink (as you can see in his little sketch.) Even though it isn't a perfect solution, we both agreed that a pedestal sink is the best choice for the powder room both for the period style and for saving space.

The pipes will be reduced from 18 inches tall to about 3 inches. Painting the pipes the same color as the walls and baseboard will make them less noticeable. Anytime you renovate old houses compromises have to be made. This is certainly one I can live with! Another good thing about gutting down to plumbing is that you have an opportunity to insulate your pipes to prevent freezing in the winter months.
Here is an example of a similar type of plumbing situation with two lines that are visible instead of one that is hidden behind the pedestal. Even with the pipes showing, the sink is still beautiful!
The old sink and vanity cabinet measured 21 inches. Because the powder room is so small, I was hoping to find an 18 inch pedestal sink, but neither Lowes or Home Depot had anything under 21 inches in stock. The 18 inch sinks are special order, and everywhere I checked online seemed a bit pricey. We shopped around this week and ended up lucking into a 19 inch pedestal sink at a local home supply overstock warehouse for only $50. Our previous toilet measured 19 inches wide, so we chose a new 17 inch American Standard toilet to save a little more space.
We also purchased new baseboard to replace the old baseboard on two of the walls where the sink vanity was. Instead of just patching it my husband is going to replace each full piece. As you can also see, we will have to hang some more beadboard wallpaper in the areas that were hidden by the sink.
More Pedestal Sink Inspo
I am starting to get excited about how our little powder room is shaping up! I just love pedestal sinks so I thought I would include a few more pics for inspiration.
Faucet-Keep, Update, or Replace?
This week I am going to do some shopping around for a vintage 1920's or vintage style repro faucet. There is nothing wrong with the brushed nickel faucet we have, so we can certainly keep it if I don't find anything else I really love.
I am also considering spray painting the faucet farmhouse black. I used hammered oil rubbed bronze spray paint to update our front door knob this summer and it has held up great. I think the dark fixtures would look great with the hex tile floor and would give the bathroom a "modern-vintage" farmhouse vibe.
There is also the possibility of changing out the handles. As usual, everything will depend on what I luck into during my junkin' adventures this week! hope to find one th
Week Five Goals:
Replace missing wallpaper
Replace missing trim
Repaint the walls and trim (same color, Lion White/True Value Hardware)
Clean hex tile several more times
Install toilet
Install sink
Make a decision on faucet
One thing we don't want to skimp on is the toilet. Since old toilet leaks waste about 78,000 gallons of water a year, it will be well worth it to switch out our current older toilet for a new one.
I hope you enjoyed seeing how our hex tile floor is coming along and my pedestal sink goals and inspiration! This week is definitely going to be a busy one but so far we are on track to finish for the big reveal during week six. Wish us luck with the plumbing and painting and hex tile floor scrubbing in the week ahead! I
Thank you so much for visiting and following along on our tiny powder room makeover!
Amber
Sharing at these great link parties: