Hello dear friends! Today I am sharing a different kind of post. A rambling post. A de-stressing post? Anyway, it has been one very trying and stressful week as I returned back-to-teaching (during a pandemic!) I was so overwhelmed by Tuesday that I came home and fell asleep right after work and didn't wake up until about 10:00 p.m. When I finally did wake up there was a bouquet of a dozen ivory roses that my husband had placed on my bedside table. He knew how down and stressed out I was. Did the roses cheer me up? Of course! Flowers make everything better!
As many of you know, I returned to teaching middle school and high school choir around Christmas last year, after a six year public school teaching "healing hiatus" due to long-term chronic illness. When the job opened unexpectedly right before the holidays, I felt like I was "well-enough" to attempt full-time teaching again. It was apparent with the way things worked out that God had opened the door for the specific job, so despite still having some lingering serious health issues, I walked through that door in faith. I was only back to teaching for nine weeks before the pandemic hit! Needless to say everything has been overwhelming since then, and now the new school year is filled with even more uncertainty!
This past week teachers returned to work. Hours upon grueling hours were spent watching professional development seminars (quarantined alone in our classrooms) and learning brand new online teaching programs. Our students log on for 100% virtual learning beginning this coming Wednesday and we go "live" on camera. Ready or not, this is where we are, and we must move forward! By the way, I just found out less than 10 days ago that I am going to be teaching an Arts and Humanites class in addition to my choir classes. At this late notice I am just going to have to wing it, but I do think it will be a fun class in time. With scheduling modifications that had to be made due to the pandemic, many teachers are teaching new or different subjects on short notice. Good times!
I started off my back-to-teaching adventure by dropping my car key fob down in the iron grate outside of the choir room. If you look closely you will see that it fell right on top of a pile of poison ivy, (it had just been doused by maintenance with toxic Round-Up…ugh!) I had to leave it there until lunch when the band director was able to remove the grate and fetch out the key fob with a pair of pliers (he's allergic to poison ivy and so am I!) My husband had to leave work to bring me the spare set so I didn't have to touch the "contaminated" key until it could be "decontaminated." More good times!
By Monday evening I was questioning why in the world I went back to teaching in the first place! By Tuesday afternoon, I just wanted to get outta my school office as fast as possible and go home and blog about pretty things. Instead, I hit my pillow for a "cat nap" and konked out for six hours!
NONE OF THIS IS WHAT I HAD IN MIND WHEN I DECIDED TO GO BACK TO TEACHING!!!! Back in late November I was excited to return to the classroom! I imagined that it would be the place where I would be teaching kids to sing four-part harmony in preparation for concerts in the school auditorium with "standing room only" crowds. Now, the possiblities of even having any kind of concert this year are slim. When I decided to teach again, the concepts of mandatory masks and social distancing and virtual school were unknown to us all, but now all these are (un)realities!
I had had a very successful teaching career before I became very ill, and as fulfilling as blogging has been, I missed teaching sometimes. Over the years I have continued to work with private students and I have directed community musical theater, but at times I did miss having my own classroom full of singers. Still, as of last fall I was perfectly content with blogging and taking care of my health, and I wasn't really planning to go back to teaching in a public school setting. Nevertheless, God made it so clear that the job opening that "dropped out of the sky" just before the holidays was meant for me.
"But why now, Lord and WHAT NOW?" have been my continual questions since March! What I never expected was that my return to teaching would ultimately result in sitting in front of a computer for 8 hours a day trying to come up with strategies for teaching choir online that no choir director has ever even had to consider before. Still, God's timing is perfect, and He called me back to the classroom. I have to realize that, even when none of this makes sense!
In moments of panic I considered quitting, (I don't think I am the only teacher who wants to run from this!) but that isn't a spiritual option. I have decided to obey God and continue with the teaching in this unknown virtual world. I just have to lay everything at his feet. As Dr. Charles Stanley says, "Obey God and leave all the consequences to Him."
I am not ashamed to admit that I have been depressed about the whole thing, and totally stressed. I have been scared. I have cried. I have prayed. I am confused. I know I am not alone, as so many teachers are facing the same uncertainties in the weeks and months ahead. Nevertheless, I am choosing to trust the Lord with all my heart, and to lean not on my own understanding! (Psalm 3:5)
Luckily we will be having 1 hour lunch breaks this year, and I live close enough to work to run home and decompress for a bit. When I came home for lunch on Tuesday, I noticed the most beautiful butterfly on our butterfly bush. I feel like the Lord sent this butterfly to remind me that life goes on, He is in control, beautiful things are still all around, and to just BE STILL. Be still among the chaos, be still among the teaching, be still among the riots. Be still among the virus. Be still among my health struggles. Be still among the politics. Be still among the technology. Just Be Still and know, that HE, Yahweh, is God. Jesus is Lord. The Alpha and Omega. There is nothing to fear!
I know that God called me back into the classroom, so I have chosen to quit grumbling (well, I will try!) and to do what needs to be done for the students. This isn't about me, it's about them, and as hard as it may be for me, their lives are also being turned upside down. School as they knew it no longer exists, at least for now. While I am teaching virtually from my office at school and while my husband (an assistant principal) is trying to help run a school during a pandemic and all the changes that go along with it, our fifteen year-old son will be at home trying to navigate this new online school experience as well. Everyone is stressed. Except the butterflies! And the flowers! Hmm.."Consider the lilies" (Matthew 6:25). Thank you, Holy Spirit!
By Thursday morning I was still grumbling and mumbling and "woe is me-ing" alone in my office. Later that afternoon I felt the Holy Spirit remind me that I need to realize that my focus should be on the STUDENTS, and that my work must glorify Him in all things. At that moment I just started thinking about the kids. It must be horrible what they are going through! Before leaving school I made this Peanuts image my screensaver to remind myself that somehow we are going to make music, and we are going to have fun! I am going to make it happen (with God's help!) I have no idea exactly how, but I will figure it out. Students so desperately need the arts right now!
A Note on Virtual Choirs…
At the beginning of the pandemic I was all for creating a virtual choir performance with my students while on lock down. We have all seen those amazing videos of high schools, colleges or large church choirs that seem to be a great alternative to singing together in person. After some research however, I found that virtual choirs take a ton of time, money, advanced computer knowledge and sound equipment that 95% of public school music educators (and students) don't have access to. I would LOVE to do it, and it MIGHT happen eventually, but it just isn't feasible right now. For more info on the obstacles to creating virtual choirs, check out this article written by a "tech person" Dear Music Teachers, Please Stop Asking How To Make a Virtual Choir Video.
Junkin' and Garden Therapy
Well, Friday finally arrived and it was a flexible professional development day. I spent the morning participating in some online Zoom trainings, and the afternoon doing a little junkin'. My fabulous "farmhouse Friday find" was this awesome antique English advertisting ironstone "odorous snuffs" crock. It was purchased at the same antiques shop where I found my stunning vintage Art Deco chalkware lamp and the two other antique English advertisting ironstone pieces shown here. This little vignette is misleading, as it may seem like my kitchen is all neat and tidy. No way! The renovation continues on and everything is a mess, but I am choosing NOT to stress about it!
The kitchen is on target to be finished by fall. Well, that is unless fall comes earlier than expected! The signs are already appearing in our neck of the woods!
The beautiful red maple across the street is already beginning it's splendid transition into autumn.
I enjoyed spending some much needed time this morning in my garden where I spotted my first little pumpkin! It is about ready to be picked. Oh my beloved fall, you are so welcome to arrive early! I am certainly ready for some cooler temperatures!
I was also pleasantly surprised to find that three of my sunflowers are about ready to bloom. I thought I had lost them all when the deer enjoyed a sunflower smorgasboard several weeks ago. I made sure to put some bird netting over them this time! I hope to share the blooms in an upcoming post!
I also found this pretty vintage green glass vase on Friday while out junkin'. I love it!
What do you think…1970's, 80's? I am not sure exactly, but it's vintage, it's green, (and did I mention that I love it?)
The vase was a timely find, since my husband had bought me the roses earlier in the week and I hadn't arranged them yet. I love how the green vase pops on the shabby vintage secretary by our front door.
Winding Down In The Evenings
I finished up Jane Austen's Northanger Abbey just in time for school to start. On Monday and Tuesday night I enjoyed forgetting about 21st century school problems as I once again got lost in Jane Austen's romantic world. First I watched the Northanger Abbey Movie. It was fabulous!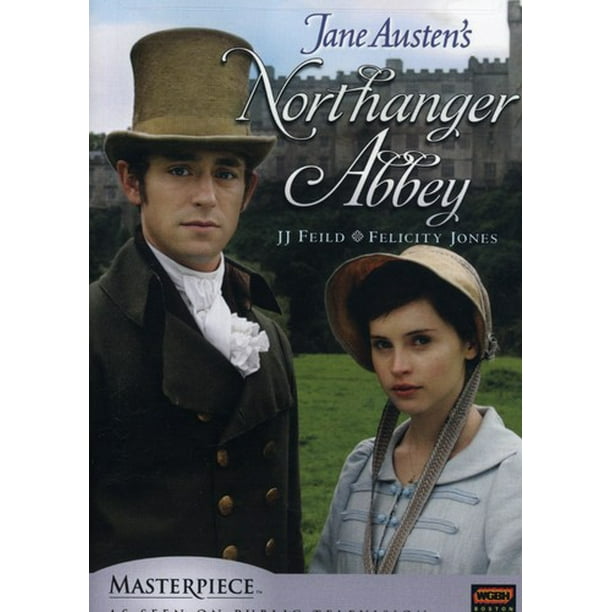 Northanger Abbey (Amazon affiliate link)
Next I watched the delightful, Mansfield Park. This book is next on my reading list!
I also enjoyed savoring many cups of tea throughout the day and in the evenings while watching the movies. I just tried out Touch Organics White Tea and I am loving it.
I also treated myself to a couple of delicious peaches to celebrate National Peach Day on August 22nd. I am hoping to buy more this week!
The Next Project…
One of the things that always helps me during stressful times is to have some type of creative dream project to look forward to. I am excited to share that we have decided to go ahead and redo our bathroom as soon as the kitchen is finished! It's time to take our bathroom out of the 80's and back to the 1920's in classic vintage cottage style!
When I say "we," my husband and I won't be the primary DIY'ers, as we have too much going on. I have hired my my talented younger brother to do some extra work around here. He is in the construction business and is such an amazing handyman! He has taken over the kitchen renovation since my husband is too busy with work and coaching golf (golf is still allowed in KY at this time) and I just physically can't do any extra work on top of teaching.
The decision to move forward with the bathroom is due to some ventilation and moisture issues. While we don't have any major problems yet, they are things that need to be addressed soon. The bathroom is by far the most "unbloggable" room in our house and it is desperately in need of a makeover. The good news is that my brother is super fast! He will probably have it knocked out in less than a week once he gets started. It will be so nice to have the kitchen and main bath updated in time for the holidays. I am sure our new clawfoot tub will get put to good use as I will need many relaxing baths in the months ahead!
Taking time to be still in prayer, changing my attitude, enjoying the beauty in nature, arranging a bouquet, a little junkin' therapy, hot tea and sweet peaches, a lovely and wholesome movie or two, and making creative plans for the future are the "simple and beautiful things" that helped me survive my first week back-to-teaching during a pandemic! This week is sure to be even more challenging as we go live with students, and I know that I will probably need to embrace a few of these de-stressing "strategies" again. I will let you know how everything goes!
Thanks for visiting!
Amber
Sharing at these great link parties:
All About Home Thursday Favorite Things