Hello there friends! Did you know that August is national peach month? I had no idea until I was actually already working on this peaches post and stumbled upon the information. It just worked out that I could roll the theme of "National Peach Month" right on into this post! Peaches seem to be the pefect late summer/early fall fruit, so I always associate them with August anyway.
I absolutely love peaches and think they are just as beautiful as they are tasty! Let's celebrate national peach month by enjoying some peachy-keen peach images, peach recipes and peach decor inspiration! *This post may contain affiliate links and/or sponsored content.
Fun fact: In 1982 President Ronald Regan designated August as National Peach Month!
I often spend late summer afternoons in August sipping tea, eating fresh peaches, and taking a last look at my summer magazines one last time right before going into moving into full-force fall decor mode.
There is something about the simplicity of pretty peaches displayed on vintage ironstone that just gives me all the late summer vibes. I can't wait until our new kitchen makeover is complete so I can fill a big ironstone bowl full of peaches and put in on the island.
The peaches never last for long in our house!
One of my favorite late summer traditions is shopping for fresh peaches at all the local farmer's markets.
I have never gone peach picking in a peach orchard, but that adventure is on my bucket list!
Peaches are generally harvested any time from mid-June-late August in the South Eastern United States. While there are plenty of delicious peach recipes for summer like peach tea and peach ice cream, I have always thought of peaches as more of a late summer/early fall "harvest" fruit, along with pears.
French Country Kitchen Summer to Fall~Botanic Bleu
I almost always hold out until August and September to really get my fill of fresh peaches and recipes with peaches. Waiting for peaches giving me a little something to look forward to as summer is coming to a close and fall is just around the corner.
Donut peaches, a.k.a. "flat peaches" were introduced in the 1990's but are just now really catching on in popularity. You can now pick up these interesting beauties at your local Whole Foods or Trader Joes.
The Beauty of Peaches
I love the simple nostalgic elegance of peaches displayed in vignettes with beautiful vintage and antique dishes that feature a harvest of late summer and early fall colors in their designs.
Peaches and peach desserts look lovely paired with blue dishes and accents too.
Fun fact: Peaches are native to China.
I would love to set up a lovely August tablescape using these beautiful vintage "Louise" Bavaria dishes with a peach motif.
Last year I used peaches as part of my summer-to-fall transitional decorating in the dining room. I was actually inspired to use peaches when I found these sweet vintage saucers at the Habitat Restore last year for pennies on the dollar.
Early Fall Decorating with Vintage and Thrifted Finds
The peaches were all gone by the time my post actually went live!
With the beautiful warm peach/coral and even red tone of their skins, peaches are a perfect transitional fruit to display along with apples and pears before pumpkins dominate the scene.
Of course pumpkins and peaches can also combine together beautifully for an early fall tablescape if you simply can't wait for pumpkins!
I always associate cinnamon with autumn too, so I think that's why peach desserts always give me the early fall vibes.
Peachy Keen Recipes for August and September
6 Ingredient Fresh Peach Salsa
August is the time to harvest all the fresh garden produce, which means having plenty of ingredients to make the absolute best peach salsa!
Grilled Chicken with Peach Jalepeno Salsa
This recipe is great for those super hot August days when you are still feeling the summer vibes.
Chicken and Peaches in the Healthy Mediterranean Fashion
I am looking forward to trying this heartier recipe of mediterranean chicken and peaches when the weather starts to cool down.
No matter if it feels like summer, or if it feels like fall…I can't wait to make some gluten-free (and dairy free by subbing almond milk) peach cobbler in my crock pot! Peach cobbler is actually one of the best and easiest desserts that I have found that actually tastes like the original. I have even made it without added sugar and it still tastes delicious!
Peach Cobbler Recipe Print~Lily and Val
Gluten Free French Peach Clafoutis
Being a Francophile I am super excited to finally try making peach clafoutis! Eggs are an essential ingredient in clafoutis, but up until this past year I couldn't enjoy this dessert due to a chicken egg allergy. Last winter I discovered I can eat duck eggs though, so now I can use them as a chicken egg substitute! I will definitely follow-up with a post on how gluten-free peach clafoutis turns out!
Another fun fact: August 22nd is national eat a peach day! I will be eating a peach (or two)… will you?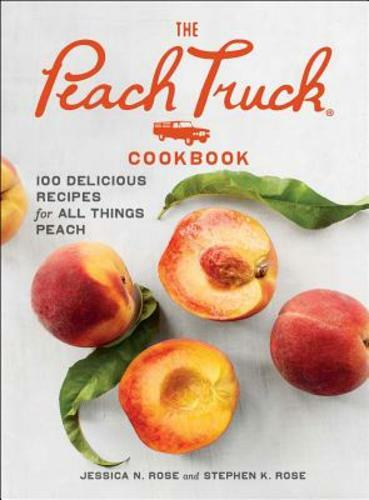 For more recipes, check out the Peach Truck Cookbook. I just might have to add this cookbook to my library.
Pretty in Peach
By the way, you just might see some peachy art or peach themed vignettes in my new kitchen! Hopefully it will be finished up in time for early fall!
Honey Brush Design Kitchen Dish Towel 100% Cotton Flour Sack Tea Towel (Peaches)
I love this sweet peaches tea towel on Amazon too. I may have to order it!
Rue Magazine
I couldn't resist adding this photo of a lovely antique settee with the perfect fuzzy peach velvet upholstery! Swoon!
And for all you 80's gals out there…who remembers Peaches and Cream Barbie? She was one of my favorites! (By the way, I still have mine!)
I hope you have enjoyed celebrating national peach month with me! Are you a fan of peaches? What's your favorite recipe? I love hearing from you, dear readers!
Thanks for visiting today, you are such a peach! 😉
*Affiliate Disclosure: If you purchase a suggested item I may receive compensation at no additional cost to you. See my full affiliate disclosure policy for details.
Sharing at these great link parties:
All About Home Thursday Favorite Things