Hey there junkers and thrifters! Today am sharing my mid-summer junkin' finds round up! Despite a very strange time in our world with many shops being closed, few yard sales, and various other social distancing practices, I somehow still managed to safely score some finds amid the crisis. Some of these items were purchased when my favorite consignment shop reopened with social distancing measures in place back in late June. Others were from neighborhood yard sales, and a few were trades I made with fellow vintage junk-loving friends.
Here you can see the results of one lucky day of consignment store shopping: two baskets, a vintage flour sack from an old Kentucky grain company, and a French "Jardinier" flower pot. The pedestal on the table was actually a $5 Habitat Restore score from back in the winter before the lockdown.
I think this little basket is just the cutest, and the Jardinier is just my style.
I liked sturdiness of this basket and it was fine as shown here, but I bought it with the goal of giving it a French weathered antique basket makeover.
I used the same easy paint technique that I tried out on my DIY Graywashed French Farmhouse basket, and I achieved just the look I was going for. I love how it turned out! Not bad for a $4 basket. (More about this makeover and a few other Frenchy makeovers coming up soon!)
This vintage galvanized watering can was a great trade with my junkin' friend for some extra ironstone dishes that I decided to clear out.
Now this bucket was a really great find! I think it is kind of rare since I have never seen one like it on any of my junkin' adventures or in all the years I had an antiques booth. After some research I discovered that it is an old galvanized well bucket. I love the red stripes! I purchased it the day after the Fourth of July, but you will surely see it in my patriotic decor in the future (maybe even this year for Labor Day!) I am looking forward to using it to hold a small christmas tree during the holidays too.
This $2 vintage clock from my neighbor's yard sale is getting a white chalk paint makeover. I think it will be pretty in vintage holiday vignettes.
I only paid $3 for this cute table at the neighbor's sale. I ended up giving it a makeover the very same day of the sale..reveal coming up soon!
Here is another $2 treasure from the neighbor's sale. I love the color and distressing as it is so I have no plans to paint it.
Simple Farmhouse Style Patriotic Door Basket
I spruced it up with patriotic flare for the Fourth of July. I will keep the red, white, and blue arrangement throughout July.
Thrifted Wicker Rocking Chair French Farmhouse Refresh
A few weeks ago I shared the old wicker rocker that I scored at my friend's yard sale for $25. That is not usually a "yard sale" price for me, but after giving the rocker a "French Farmhouse Refresh" I think it is money well spent. We have been enjoying it all summer!
I have collected old soda merchandise such as bottles, crates and signage for years, but this Frostie-Bell crate is definitely one of my favorites so far. I am loving the graphics and the neutral tones which will look perfect in our kitchen.
Best of all, I scored yet another vintage Kentucky find for the win!
And still yet another vintage Kentucky find—this 1928 "In the Hills of Old Kentucky" sheet music was actually an early summer Ebay purchase.
Isn't the cover just lovely? I shared how it was the inspiration for decorating my summer music room in my early summer home tour.
Summer Decorating with Flowers and Vintage Finds
I recently shared all about this free vintage fountain that I rescued just before my neighbor was getting ready to load it up to take to the dump. What a waste that would have been!
Some old dirt and broken concrete didn't bother me a bit. I had other plans…
Free Vintage Fountain Rescue and Refresh
I upcycled it into a beautiful succulent planter! Check out my post for all the details.
Can you believe these 5 vintage concrete planters were also free (and literally tons of landscaping stones?) Now that's some vintage junker-gardener's luck for sure!
So far I have only had time to plant up the smallest planter with perennial succulents. I love it!
I thought my vintage-drainboard-sink-turned-potting bench needed some dishes, so I picked up two pretty yellow Depression glass dishes at the thrift shop last week for just a couple of dollars. The beautful mid-century Haeger Pottery lady planter was an amazing .25 yard sale score from several years ago.
All of my McCoy planters are junkin' finds collected over many years.
I passed on a huge set of yellow Depression glass at a consignment shop several years ago for a reasonable price and I have always sort of regretted it. I am happy to at least have found these two sunny saucers/dessert plates, perhaps the start of a new collection? I love Depression glass in all colors really and I used to have more, but these are the only pieces I have… for now…
This weekend there was a yard sale with some really nice items close to my house. I scored this vintagey robin's egg blue wire crate, a European style urn/planter, and cast iron mushroom all for $6.50. The basket will probably find a home in my craft room. Right now it is too hot to plant anything in the pot or to find a spot for the mushroom during this heat wave! As you can see in my sun-loving Lavender in the graywashed pot on the patio table is struggling.
This beautiful herbs book was marked down to $6 at my favorite antiques store when it reopened after the lockdown. I love all things herbs and I had been eyeballing the book for about a year but didn't want to pay $12 for a used book. I snatched it right up for the sale price! The photos will have to give me my gardening fix indoors while waiting for some cooler temperatures. You can also see a peek of a corbel that I scored at a yard sale last summer for a QUARTER! (More about the corbel in my upcoming French makeovers post.)
I never pass up very old picture frames if the price is reasonable. I paid $12 for this lovely frame at the one and only clean and sanitary Antiques store that I will be visiting for quite some time, Thistle Patch Vintage Garden and Antiques. This is my favorite style, patina, era/age for antique frames so I thought it was worth it.
It is similar in style and details to a few other frames in my collection, including this beloved oval frame with roses that I often use in fall vignettes. It will be fun layering my new smaller frame with the oval frame in vintage vignettes.
A sweet little vintage picture with early autumnal colors will be finding its way into my decor soon after Labor Day.
A few days ago I shared a post about this pair of vintage German souvenir dolls that I found at a consignment shop for less than five dollars. One is missing arms, but my mom has plenty of extras in her junky crafts stash so I will get it fixed right up. I think they are just adorable! The beautiful antique picture in the background is an estate find from winter.
Junkin' Finds: 1950's German Dancing Dolls
These two very old and beautiful ironstone bowls were purchased at the same shop for only a few dollars.
These two little bique dolls are perfect for my dollhouse. I love their litle nautical suits and I think they will look cute in patriotic vignettes. The dolls have me wanting to work on my vintage Victorian dollhouse makeover. First I need to finish my real kitchen renovation before moving on to the dollhouse though!
Lastly, I just purchased these two side drawer sections from an incomplete vintage waterfall dresser for $40.00 at the consignment shop where I found most of my other treasures. There was no bargaining because the consignor was just unloading them and handing them to the shop owner as I was getting ready to leave the shop. I have something very special in mind for them! As much as I would love to whip out the chalk paint, I am not quite sure yet. The darker wood might look beautiful too since it matches our dark stained woodwork. I will have to play around with them and see how they look with the original stain where I am wanting to use them. If it turns out that they won't work for the project I am thinking about, my mom has another use for them and has already offered to buy them, so no money lost either way.
I hope you enjoyed my mid-summer junkin' finds round up! Since working on this post I actually scored a few more treasures that I will share later in the summer. Due to the concerns surrounding the pandemic and stricter safety protocols being reinforced in our state, I am probably not going to be doing much more junkin' at consignment shops and thrift stores for a while. I may stop at some outdoor yard sales though!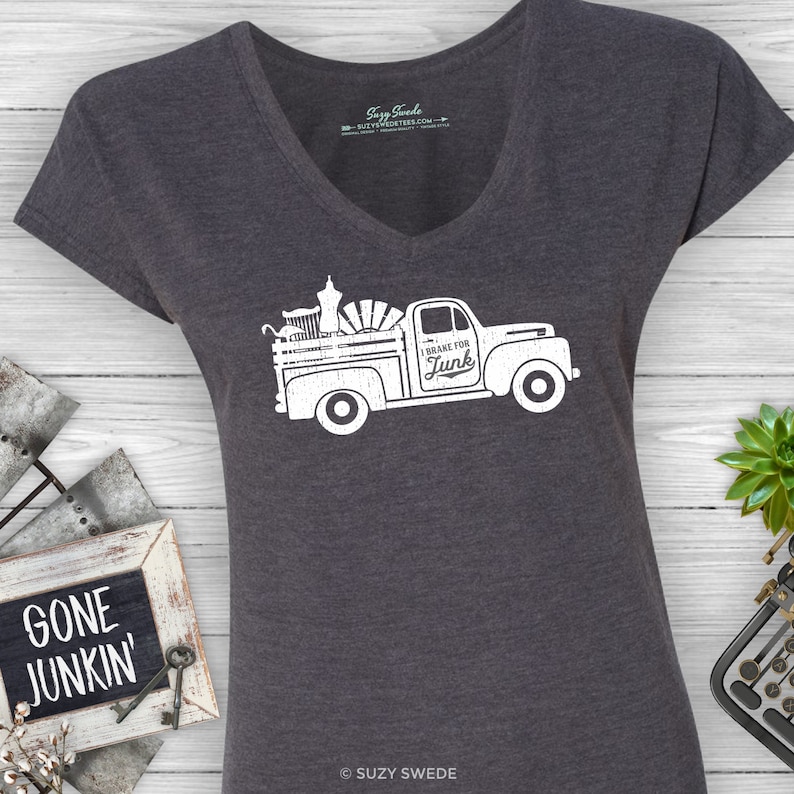 I think I might need this shirt: "I Break for Junk!" ( Etsy affiliate link)
My husband and I are turning our attention to trying to finish up the bulk of the kitchen renovation before school resumes in late August, so that will be taking up most of my time. Besides, I still have plenty of old junk to rediscover in my basement if I get desperate for the thrill of the hunt!
Have you managed to work in any junkin' adventures during these crazy times or have you played it safe and scored some treasures online? I love hearing from you, dear readers!
Thanks for visiting today!
Amber
You might also enjoy:
Sharing at these great link parties:
All About Home Thursday Favorite Things