Guten Tag my friends! I have been promising to show you some of my summer junkin' finds, and I am happy to finally have a chance in between blogging, gardening, and our kitchen renovation to share a quick post with you. Today I am introducing the two little orphaned 1950's German dancing dolls that I recently adopted from a local consignment shop for only a few dollars. *This post contains affiliate links. Please see my full affiliate disclosure policy for details.
1950's German Dancing Dolls
As soon as I spotted these dolls I immediately fell in love with their costumes and sweet painted faces. I didn't know anything about them, but they were too cute to pass up. One is missing arms, but that is no issue when you have a vintage-loving-doll-collecting-junk-stash-hoarding Momma! I know she has some somewhere that I can use!
I inherited my love of dolls from my mom and also some of her creative vignette styling skills. When I was little I always loved how she would set up her figurines and dolls with pictures in the background that made it look as if they were characters stepping out of the picture into real life.
I didn't plan it when I simply set up the dolls to take a couple of quick photos, but the antique photo of mountians and a lake that I already had displayed as part of a summer vignette makes a magical little backdrop for these Bavarian babies.
Upon research I discovered that these are souvenir German "Sweetheart Dancing Dolls" by Tanzuppe. They were made in West Germany during the 1950's-60's. There were even earlier dolls made by other companies with similar styles from various countries, all with adorable cultural costumes. This little girl's hat is missing a white feather (an easy fix).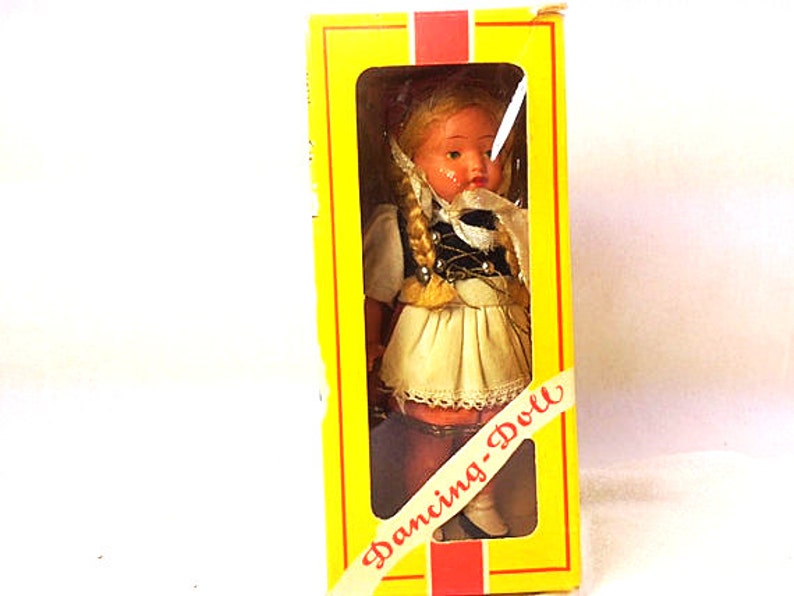 The dolls originally had little keys that you put in their backs to wind up and make them dance.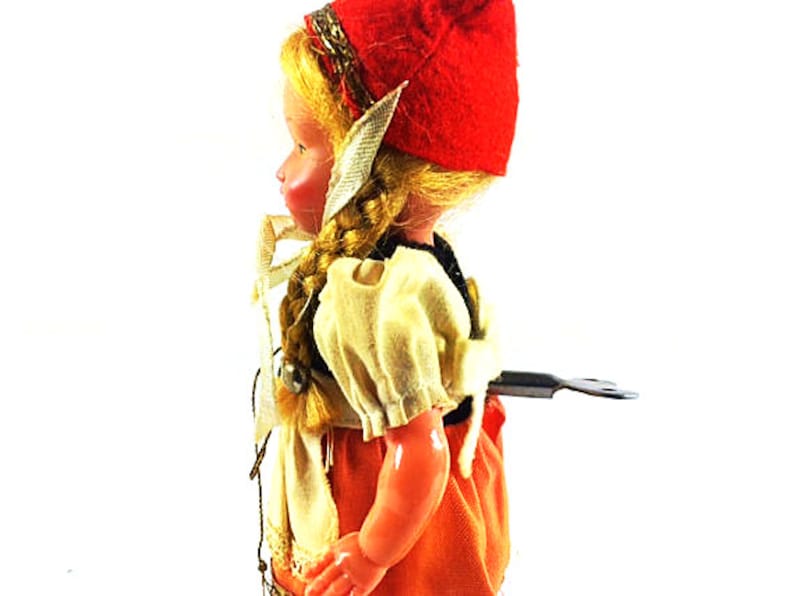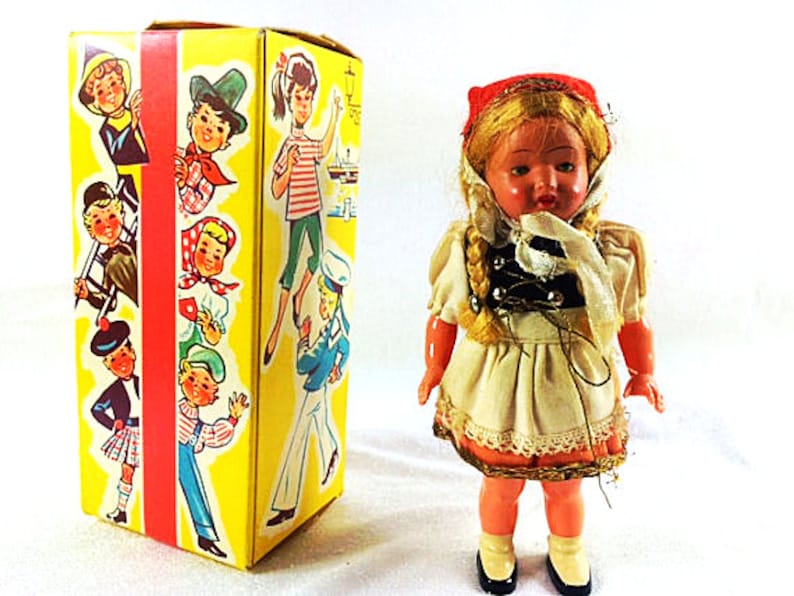 Even though the dolls were made in West Germany, some had Danish, Czech, Polish, Austrian, or other Eastern European clothing. This costume looks Danish to me.
1950's Wind-Up Dancing Doll Worthpoint
Here is another cute dancing doll in traditional Bavarian clothing (now I am humming "Edelweiss…") Prices for these kinds of dolls can range from a few dollars to $100 or more.
Photo Credits: Film and TV Now
Images from The Sound of Music, 1965
Dolls have shown up here and there in my posts over the years, but I am not sure I have ever really blogged about how much I love vintage dolls and that I have collected them since I was a little girl. I don't care for all types of dolls (some are down right creepy or tacky, in my opinion) so I am kind of particular about the ones I collect. I am planning to do a few more posts soon featuring some of my favorite dolls, and a special post all about a new vintage composition baby that I am super excited about!
Antique 1950's Dutch Celluloid DOVINA DOLLS Rotterdam Holland Wooden Clogs, Dutch Dolls, Boy & Girl via Etsy
I am especially fond of small, unique dolls with painted faces or European dolls, which is why I fell in love with the German sweetheart dancers. I also love frozen Charlottes and other small bisque dolls, "Patsy" style dolls, sleepy eye dolls, Nancy Ann dolls, Dolly Madison China dolls, very old composition dolls (or doll parts) from the early 1900's-40's, and vintage Barbies. If they are in need of TLC, even better!
Vintage Nancy Ann doll featured in my Transitioning From Summer to Fall Home Tour post
My mom has a collection of vintage Nancy Ann dolls that she lucked into online and they literally made me giddy when she first showed them to me! I definitely need to do a post on them in the future. I digress…
Similar Dolls to Love (and pin)
One of the fun things about being a vintage junker is discovering new things to collect! Once I stumble on a new type of doll, dishes, baskets, etc., I can easily get caught up in wanting to start collecting as soon as I start researching and find similar items on Pinterest. Alas, I use restraint when it comes to dolls becaue I don't really want them all over my home. Instead I safely "collect" them on my Hello Dolly Pinterest Board.
Here are few similar vintage European dolls that I am pinning: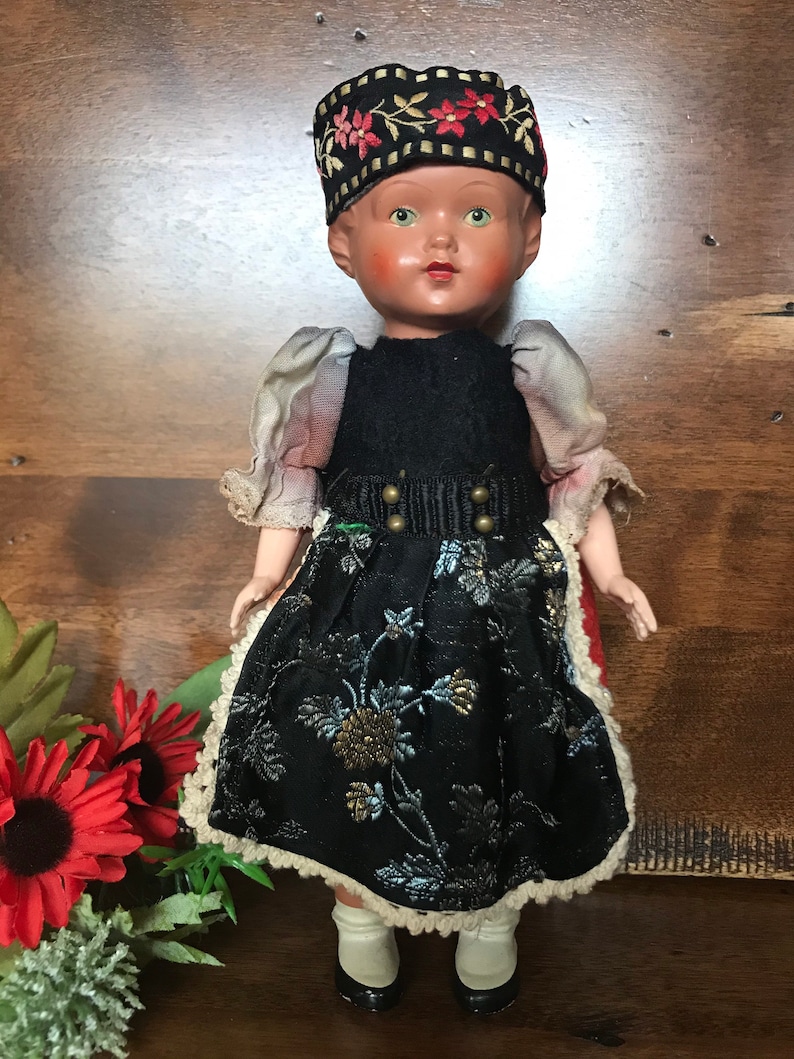 Vintage German Dolls in Traditional Bavarian Costumes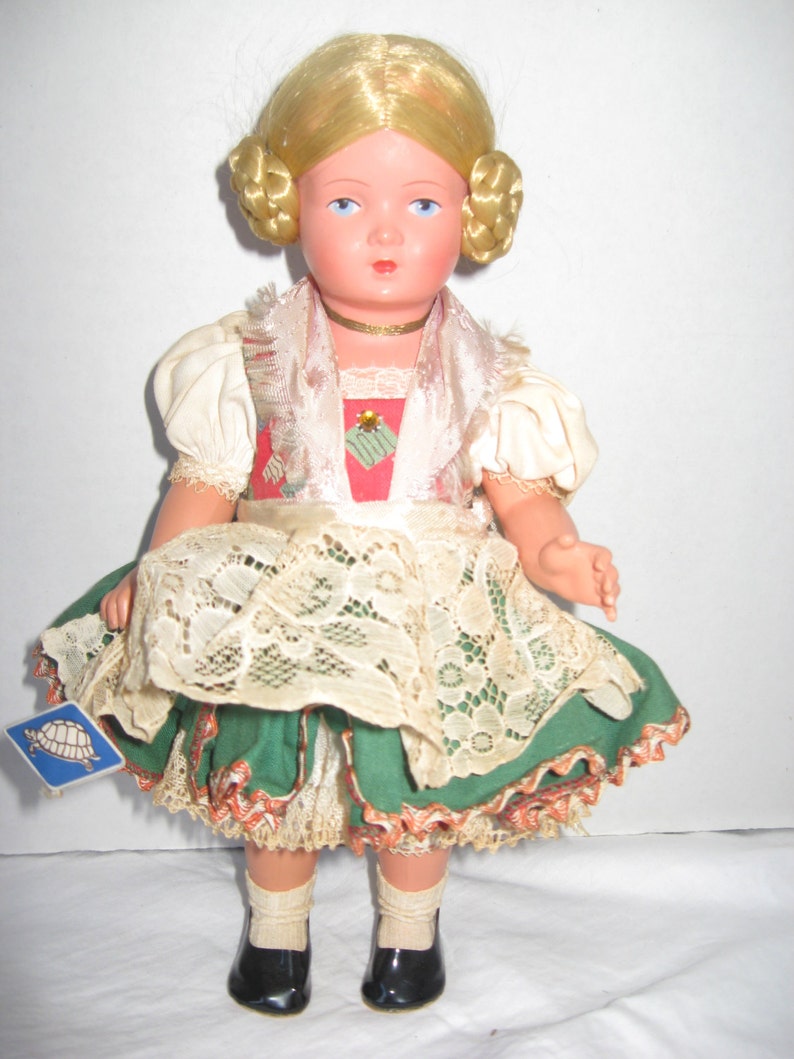 Schildrot Turtle Mark Celluloid German Doll via Etsy
Vintage 1940's DBGM Western Germany Celluloid Windup DANCING DOLL
This one looks a wee bit Scottish. Love the plaid!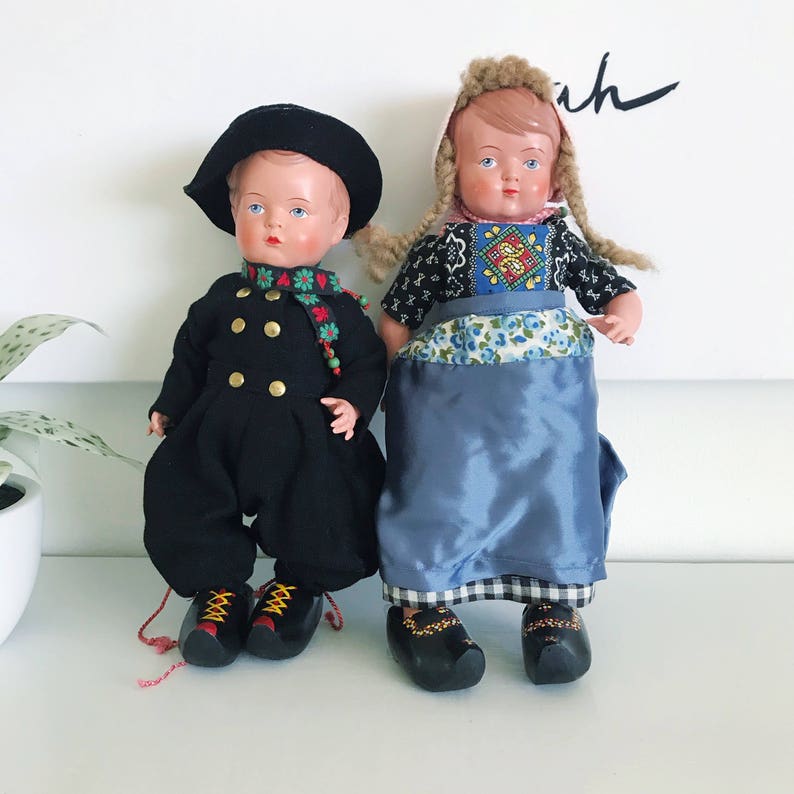 Vintage Antique Celluloid Dutch Dolls, Boy and Girl Set, Real Hair, Hand Painted Faces, Wood Shoes, Intricately Dressed, Native Clothing
Vintage German Original Schmider Trachten Celluloid Doll Rosel 9″ Original Box
Isn't she a beauty?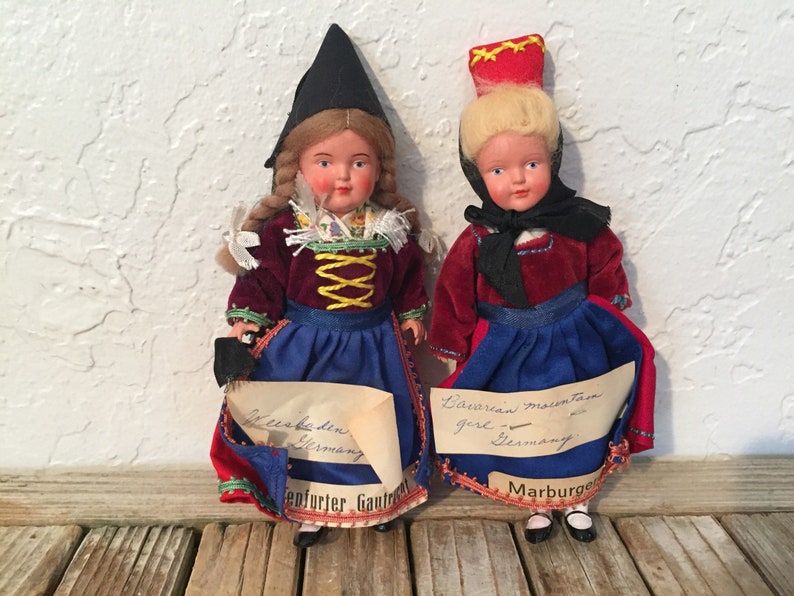 Pair of Vintage German Dolls via Etsy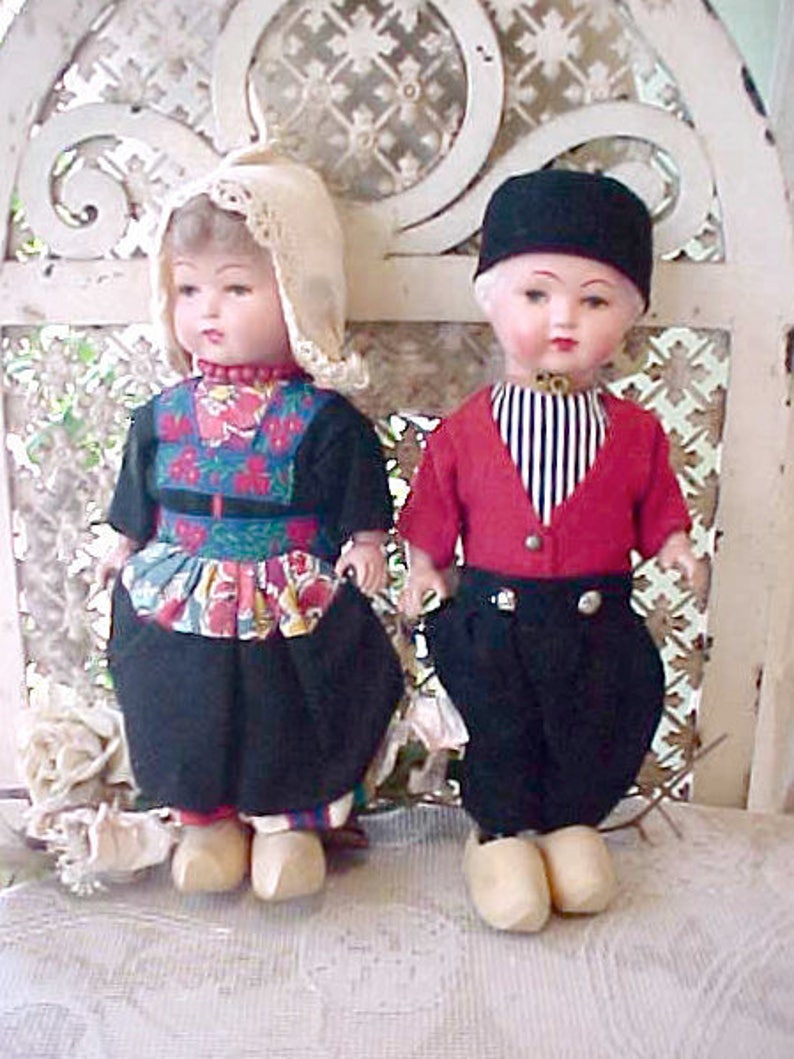 Darling Traditional Dutch Boy and Girl Vintage Dolls
She's precious!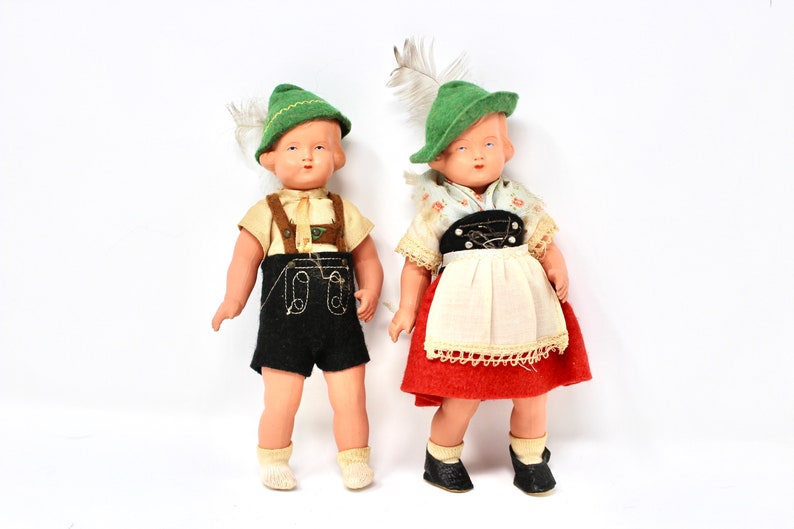 Antique Celba Celluloid Warenfabrik Schoberl & Becker German Girl and Boy Dolls with Folksy Outfits and Green Felt Hats
"…That will bring us back to Do…….d0-re-mi-fa-sol-la-ti-do-SOL-DO!"
I hope my little German babies have given you a smile today! Are you a doll collector or are you familiar with these little German dancing dolls? I love hearing from you, dear readers!
Thanks for visiting!
Amber
Sharing at these great link parties:
All About Home Thursday Favorite Things