Well friends, some home dreams do come true! This week my husband started installing the brick pavers on our kitchen floor as part of our long-awaited kitchen renovation! Here is the first sneak peek as he was first arranging the pattern. You can also see our beautifully updated kitchen cabinets:
I can't tell you how excited I am! I could hardly sleep last night after he actually started laying the tile because it is looking great. We have been living in the yellow brick home for six years with a ho-hum builder grade white tile that was in decent shape and easy to take care of. We made the decision when we moved in to just live with it until that lucky time in the future when I would inevitably find a good deal on bricks or brick pavers.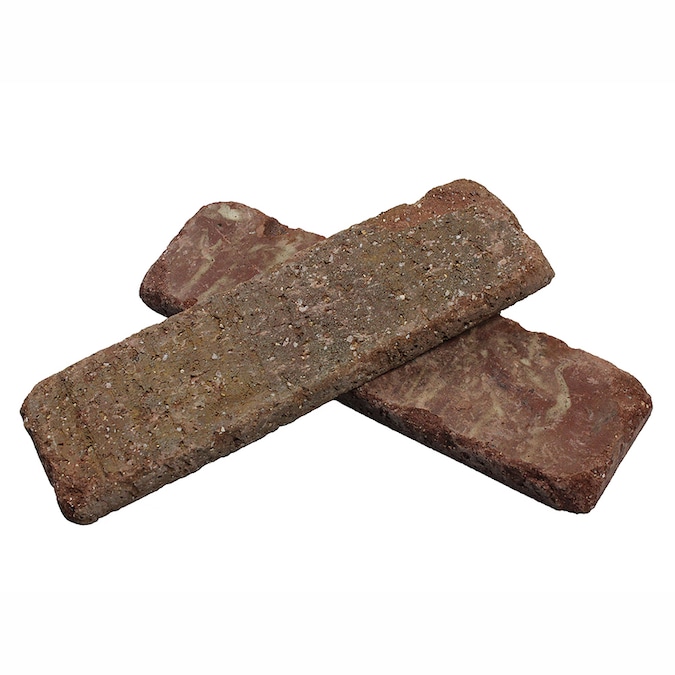 Lowes Old Mill Thin Brick Pavers
Well, that lucky time was this past winter when I scored well over $1000 of brick pavers on close-out at our local Lowes for less than $300! We weren't ready to get started on the kitchen at the time, so we just put it in storage during the winter. In March when the quarantine hit, my husband finally had some free time to begin work on the kitchen. First he redid our kitchen cabinets, and this week he began on the floor.
It is turning out even better than I envisioned! It is going to be a slow process but I have been waiting since I was 20, so what's a few more weeks? I think we will have more than enough pavers to finish the job, but I did find similar affordable brick pavers on Amazon.
Single Thin Bricks – Flats for Brickwebb (Box of 50) – Castle Gate
Brick floors are all the rage right now in farmhouse decor, but the popularity of brick floors has spanned centuries. I first became enamoured with them as a young homeowner pouring over the pages of decorating books and magazines. Years later when I became involved in real estate, I was in many historic homes with brick floors. I fell even more in love with them, especially in kitchens.
To me they are quintessentially European country cottage, a look that I have always gravitated towards. Whether used in ornately French homes or cozy traditional English cottages, the look is always classic: weathered, worn and welcoming.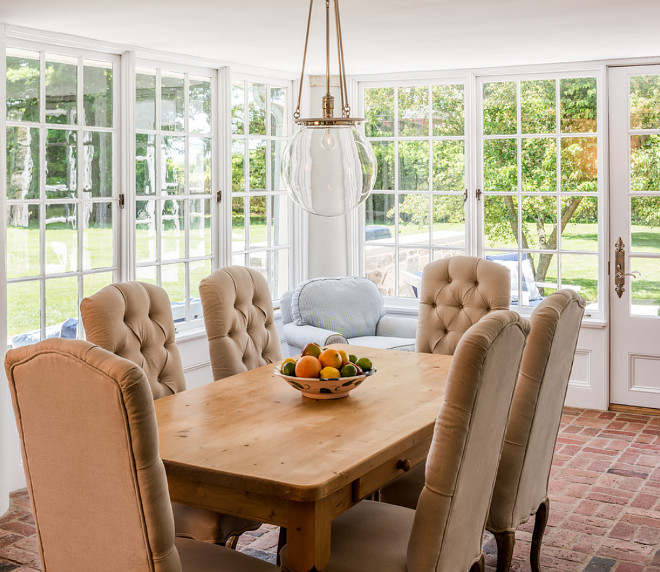 I absolutley love brick floors on sun porches and in sun rooms.
Brick floors are elegant, romantic, sophisticated, and rustic at the same time.
Aren't brick floors quaint and charming in sitting areas too?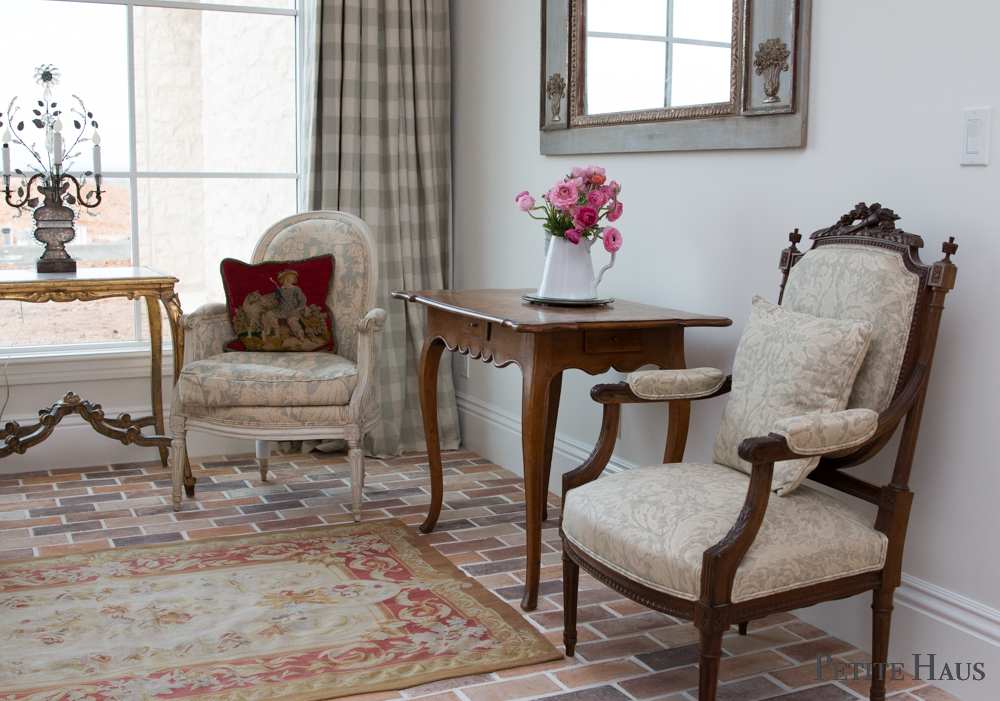 Joanna Gaines has contributed to the resurgance of interest in brick floors and brick walls. She is always sharing amazing ideas on how to incorporate bricks in foyers, mudrooms, laundry areas and bathrooms.
Bricks range in colors from traditional reds and oranges to more neutral tans and browns.
source
Just gimme all the brick floors!
source
Today's homeowners can achieve the same timeless look of traditional brick floors for less using brick pavers. They are much easier to install and affordable.
Motar washed or heavily whitewashed brick floors are super trendy right now and with good reason, they are gorgeous!
Because our house was built in 1921, I am going for an authentic aged brick look with a darker grout. While I adore the farmhousey-whitewash, I feel that the darker grout with less whitewashing is more appropriate for our historic 1920's period home.
There are several different patterns and ways to arrange bricks. I love them all, but we have a long galley style kitchen and laying the pavers horizontally or vertically seemed to make it appear even more long and narrow.
After playing around with the design it was easy to see that a herringbone configuration was best for our kitchen. This did not come without grumbles from my husband, as this is obviously the most challenging layout with the most cuts. I foresee much more grumbling on the horizon… (hey just keepin' it real over here—overall he's a keeper!)
I have read mixed opinions on the ease of cleaning and maintenance of brick floors. Even if they take a little more TLC to clean and take care of (including re-sealing every 6 months to 1 year,) it is trade off I am willing to make for the beauty and period charm. After all, I won't be having any French hens clucking around in my French country kitchen!
Isn't this just perfection? Perhaps it's the pumpkins! French pumpkins in a French kitchen? Autumn perfection!
BHG
I love the herringbone design, brick color and grout color in this kitchen. I hope ours turns out similar! If we do end up with a little extra mortar-washed or whitewashed look, that will be fine too.
For more beautiful brick floors inspiration and tips on How to Design a Mortar Washed Brick Floor, check out this great post by my friend Ahna at Hammers-N-Hugs.
Update! Here is my new brick paver floor in my festive Christmas kitchen!!
It is hard to believe that we are only weeks away from having a beautiful brick floor in our kitchen! Be sure to stop by often over the next few weeks as I share more of our kitchen during the makeover process.
What are your thoughts on brick floors? I love hearing from you, dear readers!
Thanks for visiting today!
Amber
(Affiliate Disclosure: If you purchase a suggested product I may receive compensation at no additional cost to you. See my full affiliate disclosure policy for details.)
Sharing at these great link parties:
All About Home Thursday Favorite Things