Do you love vintage style and interior design as much as I do? If so, you might be thinking about creating a bedroom design that has a vintage feel. This can be a wonderful choice, allowing you to make your bedroom feel comfortable and cozy as well as quaint. So, how do you create this type of aesthetic in your bedroom? *This post contains affiliate links.
Source: Rachel Ashwell Rosebelle Bedding
Start With The Bed…Obviously
The bed is without a doubt the most important feature in your bedroom and not just for the purposes of sleeping. It can be a beautiful focal point or even a family heirloom.  It will most likely take up the largest amount of space in your room, and regardless of what else you put in your bedroom, the bed will be the main piece of furniture.  Therefore be sure to plan accordingly and measure when designing a vintage bedroom. Luckily, there are lots of great vintage style bed choices from a farmhouse or Victorian style metal frame bed, to a bed with a beautiful headboard with a vintage cushion design or a retro shape.
Farmhouse Style Vintage Style Metal Bed
Today people are getting very creative with beds and coming up with unique headboards using salvaged objects. This photo is from our shabby chic, vintage cottage bedroom at our previous home, where my husband and I repurposed an old vintage door as a headboard. We changed styles a bit when we moved but I loved that vintage attic-turned- bedroom!
One of the most important things to remember when selecting a vintage bed is that the mattress can be as modern as you like as long as it fits (some antique beds are an odd size, so be sure to check before snatching up a great "find" while you are out junkin' that you may not be able to find a mattress to fit.)
Textiles
One of many  mattress tips to use when styling a vintage bedroom is to start with vintage style sheets in your color scheme. Although I am a blancophile, soft pastels and florals are great for a vintage bedroom too. Bedding is the main way to pull a vintage bedroom together to fit in with the overall design. Of course layering beautiful vintage style pillows or hanging soft sheers will help create the vintage bedroom you have been dreaming of.
Source: Rachel Ashwell Royal Bouquet Bedding
Source: Rachel Ashwell Soho Bed Vintage Linens
Display Vintage  Jewelry 
Displaying vintage jewelry is an easy way to create a vintage look in the bedroom. It gives you the chance to enjoy some antique or retro jewelry from different generations and decades that you have collected over the years instead of keeping them stored away.
You can display your hoards collections in pretty vintage vignettes on top of the dresser.
Here I displayed a collection of vintage pearls on a shabby chic candleabra and an old dress form to create a very shabby chic and romantic cottage look in our bedroom.
There are also many handmade and vintage style jewelry organizers that will add vintage charm to your bedroom. If you like boho chic or retro vintage style, here is a beautiful example:
If you have shiplap, paneling or brick, you can simply add hooks to hang the jewelry on. You can find hooks like the ones below from stores such as Not On The High Street. You can even try to get hooks that are varied to add a little more character to the room.
Flower Power
Floral patterns are totally vintage and will look fabulous in your new bedroom. You might consider adding some wallpaper with floral patterns or even a couple of rugs to the floor.
Alternatively, you could always buy a couple of duvet covers, dressing up your bed just a little more and hiding the only thing that isn't vintage in the room – the mattress.
Vintage Style Blue Floral Duvet Set
Accessories And Styling
Adding vintage mirrors, antique pictures and other types of unique vintage wall art can help create a vintage look and feel in the bedroom.
Source: Rachel Ashwell Peace Banner
Vintage Upcycled Containers For Plants
You can also think outside the box and add some plants or flowers by doing some upcycling to a container of some kind.  Adding plants to the top of a corner dresser or set of drawers can make it a beautiful focus point of your room. When you're choosing a pot, remember that it can be anything from an old paint can, to a worn down boot, to vintage tea cups depending on your own personal vintage junk style. If placed correctly, they will make a beautiful, unique bedroom accessory and look absolutely vintage!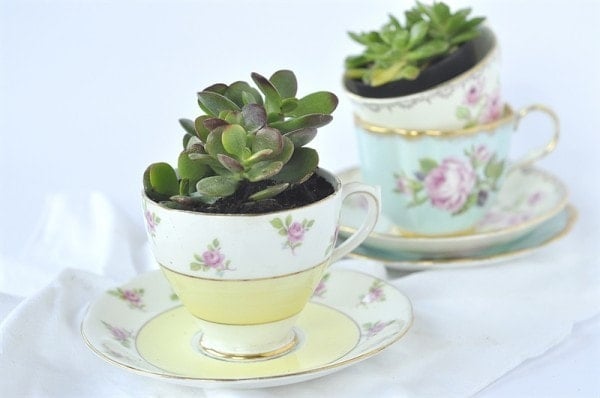 Source: Your Home Based Mom
I hope you have fun designing your own vintage bedroom! The possibilities are endless, just get out and go junkin' for some great vintage finds to get you started. There is also a wealth of information and inspiration online such as this awesome example in the twitter post below.
Vintage and classic ideas to help achieve your dream bedroom. #interiordesign #bedroom https://t.co/deAS0GI5Gb pic.twitter.com/ZmYAtMQhnr
— Kari Govan Group (@GovanGroup) January 5, 2018
Vintage and classic ideas to help achieve your dream bedroom. #interiordesign #bedroom  https://t.co/deAS0GI5Gb pic.twitter.com/ZmYAtMQhnr

— Kari Govan Group (@GovanGroup) January 5, 2018
This summer we hope to get started on my our bedroom makeover. We are still collecting ideas (and vintage junk) and planning exactly what we want to do. Of course I will be sharing the whole before and after process here on the blog. I have been spending my time on Pinterest, another great source of inspiration. If you love all white bedrooms vintage style bedrooms, you might enjoy my Dreaming In White And White Pinterest board too.
Thanks for visiting today, and may you have sweet dreams planning your vintage style bedroom!
Amber