Hello vintage lovers! I am so excited to be joining my friend Cindy of County Road 407 and several other talented blogging friends for July's vintage "Lifestyle of Love" blog hop! The Vintage Lifestyle of Love group periodically gets together to share ideas all about vintage treasures, antiques, repurposing items and all things related to the vintage-loving "lifestyle." Today's subject is one of my favorites…architectural salvage!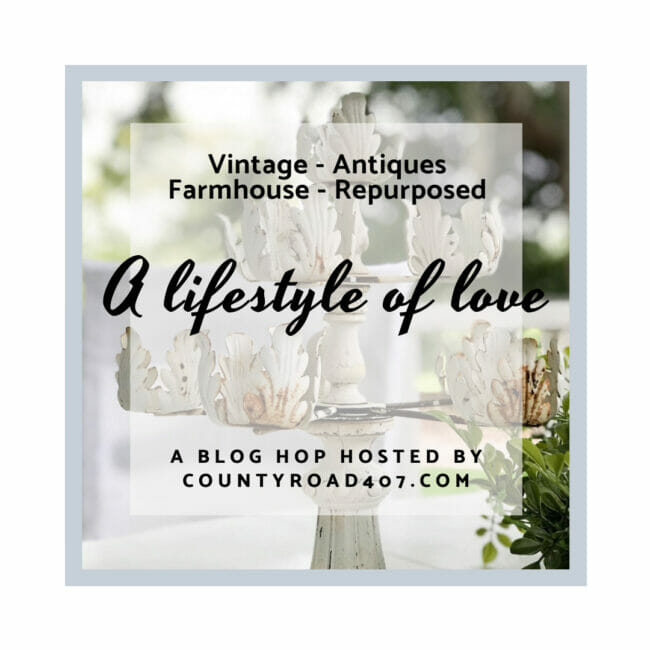 If you are coming over from Lora B. create and Ponder or if you just happened to stop by today, I am so happy you are here! Lora's vintage "junk" is always so cool, so be sure to check her post if you haven't already. You will also find links to all of the other participants' creative posts at the end of this post.
Searching for Vintage Architectural Salvage
One of the first questions friends ask when they visit my home and see my salvage junk used as decor is "Where in the world did you find that?" When it comes to salvage, I have found the best pieces at flea markets and vintage shows, but consignment shops, yards sales, estate sales, antique stores, at demolition sites (by asking permission of the workers) or even the side of the road have all yielded great finds.
Chippy shabby corbels used to be hard to come by, but due to their popularity they are now readily found at the more popular vintage and antique markets such as The Country Living Fair. However, they can be a bit pricey these days due to their desirability.
Several years ago I lucked into two large porch corbels for free when a historic home on our street was being renovated. On a drive by I saw the corbels tossed in the yard near the roll off dumpster, so I took a chance and just asked the contractors if I could have them. They were happy to get the corbels out of the way, and I was happy to take them off their hands!
The corbels were quite large and heavy, so after a while I only ended up keeping one for myself to use in holiday displays. I sold the other one in my antiques booth at the time, (profit which was then in turn spent on additional vintage junk!)
I always keep an eye out for old doors, chippy windows, and tin ceiling or wall tiles and old porch posts or other mystery salvage pieces. I paid $3 each for the posts shown here. Even though they weren't chippy-shabby, they were still vintage so I couldn't pass the up. With a little white chalk paint, sand paper distressing and dark wax, I made them fit right in with the rest of my shabby treasures.
My salvaged porch posts are usually tucked in corners around the house or propped up against other chippy furnishings.
In this photo you can also see a bit of a salvaged corbel (turned on it's side) up on the shelf above the window. I only paid a quarter for this unfinished wood corbel at a yard sale. Again, I just used a little painting and waxing tricks to give it more of a vintage look. The corbels supporting the shelf are reproductions from Hobby Lobby.
For Christmas I created a giant "peppermint" stick porch post simply by wrapping farmhousey red striped ribbon around the post and securing the ends with tape.
A Quick Salvaged Peppermint Stick Porch Post
At Christmas I also bring out my favorite large architectural salvage tin tile piece to use in wintry vignettes on the vintage chest of drawers in the dining room.
Additional favorite architectural salvage pieces include chippy windows (especially stained glass or leaded glass) and antique fireplace surrounds. Often times I will buy a salvage piece and it will just sit around looking pretty until I find a spot for it. I had this favoite stained glass window for two years before I finally figured out the perfect spot for it on the front porch.
Last spring I finally realized it would look great on the front porch hanging behind the plant etagere by the front door.
A larger architectural salvage leaded glass window is most often propped in front of the salvaged mantel in the dining room, but it also rotates between other rooms seasonally.
Beinvenue Summer! French Farmhouse Summer Porch
Sometimes I will use it out on the front porch propped in front of the big picture window.
Architectural Salvage Tin Tiles
The salvaged ceiling tile shown here in the kitchen floor was also without a permanent spot for quite some time. I usually just tucked it into vingettes for extra chippy vintage goodness or to use as a background photo prop in other vintage posts.
I finally found the perfect spot on the wall beside the pedestal sink in our 1920's powder room when the room received a much needed makeover in 2019.
I love the extra bit of vintage goodness the "architecture" adds to the powder room.
Architectural Salvage Tin Tiles In The Garden
I absolutely love using vintage architectural salvage and other vintage junk finds in the garden. Here, two long chippy ceiling tiles (leaning against the wall behind the bird cage) add visual interest and height behind a whimsical sitting area in the garden.
When we created our Backyard Cottage Garden last year, I moved most of my junky salvage from the side yard to the backyard, including one of the long tiles. I sold the other to a vintage junk-loving friend for a bargain price.
My favorite all time architectural salvage piece is also in the backyard, hanging above my vintage-sink-turned-potting bench.
This peice is actually ornate tin crown molding salvaged from a "fancy" 1800's hotel in Portsmouth, Ohio. It was one of my first architectural salvage pieces scored at a flea market back in 2011.
My husband added wood to the back to make a shelf and/or planter. I am waiting until we get back from the beach to fill it with late summer flowers, but I think it looks great as a statement piece without flowers too.
Last fall I decorated the crown molding planter with foraged bittersweet from across the street. I loved the look, so I plan to fill the "planter" with more bittersweet this fall.
While on the subject of cool tin salvaged tin pieces, here is a close up of another fireplace cover that I sold in my antiques booth a few years ago (now having a bit of seller's remorse now!) When it comes to vintage architectural salvage, the beauty is in the details!
Additional Ideas for Small Architectural Salvage
Vintage door knobs, door plates, and hardware can also be considered architectural salvage. I have been collecting these items for years! You will often see them used in my vignettes or various creative craft projects.
Vintage Door Knob and Hardware Welcome Wreath
Sometimes salvage can be used for it's original purpose. When we moved in to the yellow brick home in 2016 we were thrilled that all of the crystal door knobs in our home were original 1921 knobs, with the exception of two vintage metal door knobs in the powder room and on the hall closet in our in progress "mini-mudroom."
When we redid the powder room, we replaced an old metal knob with a vintage crystal knob from my stash to match the rest of the antique door knobs in the house.
In addition to door knobs, wooden block door and window "rosettes" are great for adding just a little bit of interest on a vintage farmhouse styled tray or any other vintage vignette.
Rosettes and other architectural salvage wood pieces can easily be repurposed into vintage wall hooks by adding coat hooks or other hardware.
The salvage wall hooks can be used for scarves or hats, but I often further repurpose my repurposed junk into unique wall art.
When it comes to architectural salvage, one person's "junk" is certainly my treasure!
I am headed to the beach soon and and I can't wait to hit up Vintage Marketplace in Wimington, NC for some amazing chippy-shabby architectural salvage and beachy-chic treasures (check out the link above for a dreamy virtual store tour.) I will definitely share what I find in upcoming posts so be sure to stop back by often or better yet, subscribe by email so you don't miss all the great junk and vintage inspiration!
I hope this post (and all of the other creative architectural salvage ideas shared on today's hop) has inspired you to hit the junkin' trail to find unique salvage to use in your own decor. If you missed any of the posts you can find them via the links below.
Do you decorate with vintage architectural salvage in your home or garden? I love hearing from you, dear friends!
Thanks for visiting today!
Amber
You are invited to the Inlinkz link party!