Who doesn't crave the refreshing change of seasons? With fall quickly approaching, it makes perfect sense to get a head start on planning out how you will transition your home decor to reflect the changes in nature. A great place to start is brainstorming what color schemes to incorporate in your home and decorative pieces. Understanding color theory and the effect colors have on our emotions is important when decorating your home, and it is especially important for nailing seasonal trends!
Neutrals, browns, and yellows are perfect for fall. These colors provide so many options for adding simple pops of color with accessories or for making bigger, more daring changes, like adding a new accent wall. As autumn arrives, dark, rich hues replace the bright, energetic colors of summer, and bring about calm feelings and an air of mystery to your space.
On August 15th I am joining some blogging friends for a Summer To Fall Transitions Blog Hop to show how we have refreshed our decor for the changing seasons. Today I'm sharing some ideas and tips for transitioning to fall decor using some of my favorite color schemes. After all, it's never too early to plan decorative ideas and refresh the rooms in your home!
Neutrals
Living Room
As fall progresses and temperatures drop, Make your living room feel cozy by incorporating a white or off-white sheepskin rug into your fall decor. For added warmth and texture, try draping the rug over an accent chair or over a neutral colored sectional sofa and make family members and guests feel cozy and relaxed.
If you want to provide a sense of luxury with your sofa decor, pair your draped fur rug with some velvet and leather throw pillows. A single velvet pillow combined with multiple, brown leather pillows will provide a modern contrast and give your sofa a sense of casual playfulness, which is perfect for fall!
A great way to provide softness and gorgeous color in your living room is to layer rugs. Start with a traditional, neutral-color Moroccan rug for fall, perhaps taupe, then add a patterned rug on top! For some added flair, go for a bold fall hue like orange or yellow. The rug will pop and look great against the neutral furniture pieces and walls in your home.
Bathroom
You don't have to spend a ton of money to make a room feel refreshed. Transforming your bathroom space can be as simple as changing up one small feature or adding some new pieces to a room. Spruce up your master bathroom with seasonally inspired art to make it feel brand new. Swap out clean white frames for golds or a light or dark wood color. This will complement neutral color walls and provide a natural feeling in the space, perfect for the fall season. Stumped on what art prints to choose for the fall season? Transform your walls with gold foil prints–opt for seasonal leaves for a shiny change or go modern with an abstract piece.
Psychology of Color Tips for Neutrals
Neutral color schemes create a cozy atmosphere, which is perfect for transitioning into the fall season. Neutral colors, like white and off-white, offer feelings of cleanliness and simplicity, while remaining sleek, stylish and interesting. They also make beautiful neutral backdrops for furniture, art, and accessories.
Gray is a very popular neutral color, and it pairs well with cool colors like teal and warm colors like a brighter yellow. You can add pops of color to your gray living room walls and furniture with teal or yellow accent pillows  
Taupe is a timeless and organic neutral color and is extremely versatile when it comes to being used in a home. It pairs well with colors that do not make it look dull, like blue or purple, but also goes well with many shades like greens, such as khaki and olive, blacks, golds, and other neutrals. Bring soft and natural vibes to your living room with taupe accents like rugs, curtains, and pillows.
Creams and off-whites will brighten up a room and make decor pop, providing a contemporary yet cozy look in your space. Soft whites pair well with fur throws and wood furnishings. These colors make the perfect base color for a room and their personality will come through based on the color of your decor.
Browns
Living Room
As the leaves change color, so will the colors you include in your home and decor. Incorporating browns in your living space will provide an earthy and natural environment where you and your guest can relax and unwind.  As summer transitions to fall, you can begin to incorporate brown through decorative accessories before pumpkins arrive on the scene.
Dining Room
Gathering with family and friends in the dining room for the holidays is one of my favorite perks of the fall season. I love all of the unique, decorative options that bring life to the table and provide easy ways to achieve natural or out-of-the-box looks in your dining space.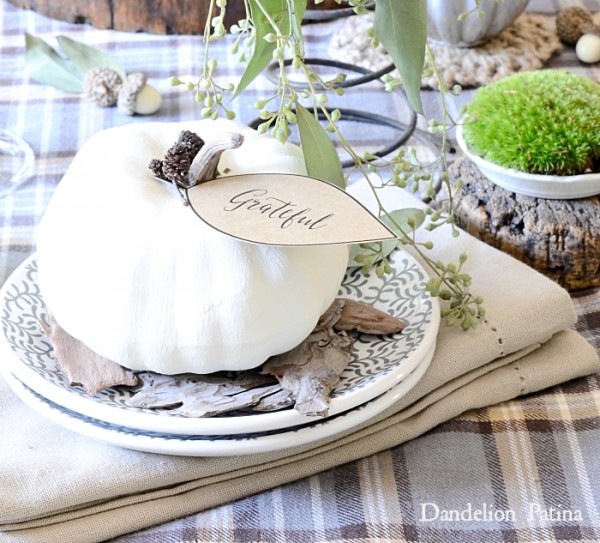 Psychology of Color Tips for Browns
There are many ways to make the color brown, the most simple way being to mix all of the primary colors (red, yellow, and blue) together. Brown color schemes support a sense of well-being and safety with their earthy tones. The color brown is associated with feelings of calmness and comfort, given its warm, sophisticated nature. Pair brown with soft whites for a stylish and classy vibe, or use it as a background color, allowing other colors to stand out among it.
Source
Tans are timeless, natural and pair well with almost any color. They make great wall colors and provide airiness without appearing washed out. Your fall decor and furnishings will certainly stand out against tan walls and provide a calming atmosphere.
Darker browns are rich and luxurious and will stand out first amongst decor if used as a wall color. However, darker browns also give off a moody vibe, so avoid going overboard with a dark brown color scheme in your home. If you do, the space might appear dull, boring or depressive.
Yellows
Bedroom
Your bedroom should be a comfortable retreat, perfect for relaxing and sleeping. If you want to wake up with a smile on your face, yellow is a great color to incorporate into the room. Whether you decide to paint the walls yellow or use it as a pop of color with decor, yellow will prove the perfect cheerful atmosphere for your space. While yellow is friendly and airy, it can be overwhelming and overstimulating, so try to limit the amount of yellow in one room.
Try using yellow as an accent color for a wall or use it in your decor. Pair yellow accent pillows with a gray duvet cover to really make your bedroom pop! Another option is to add a yellow area rug to give the room some energy without taking away from other elements in the space. If you aren't a fan of vibrant colors for your bedroom, try a toned down yellow.
Softening the color will ensure you are on trend for the fall season while maintaining a relaxing environment. You can also balance out the vibrant yellow with cool blues and greens. Muted shaded like mint green or sage are great options to include in your bedroom decor and balance the space.
Front Door/Entryway
Add a medley of yellow and orange to your front door or entryway by decorating with plants and gourds. These organic fall accessories are inviting and fun, and provide an easy way to update your seasonal decor. Beautiful wreaths with pops of yellow are a seasonal favorite and look great against rich wood doors.
Front Door/Entryway
Add a medley of yellow and orange to your front door or entryway by decorating with plants and gourds. These organic fall accessories are inviting and fun, and provide an easy way to update your seasonal decor. Beautiful wreaths with pops of yellow are a seasonal favorite and look great against rich wood doors.
Psychology of Color Tips for Yellows
Yellow is a primary color, like blue and red, and one of the colors from which all others are made. Bright bold yellows evoke happiness, optimism, and mimic the tones of warm sunshine. They provide a sense of efficiency and purpose, which is helpful for days when you aren't feeling so energetic.
People will feel more comfortable with colors that reflect their personality. So bright yellow isn't a great choice for shy people or people who prefer a more conservative design aesthetic. While yellow evokes creativity, it might be wise to avoid too much of it in spaces of productivity, as it might be too distracting.  It is a great choice for large rooms that lack natural light since they advance and make a space feel smaller and appear cozier.
Aren't sunflowers just the perfect transitional flower from summer to fall? I am coming up with some way to incorporate sunflowers and other touches of yellow, brown, and neutral in my summer transitions to fall decor refresh. When fall arrives I will fully embrace orange, red, burgandy, copper and bronze, but at this time of year we still have quite a bit of summer left so I will enjoy the early fall colors shared here today.
I hope you have enjoyed this post today! On Tuesday, August 21st I will be joining 22 bloggers for the "Transitioning From Summer To Fall" Home tours to share how we are making seasonal changes in our homes. I will be sharing how I have used neutral, yellow and brown to make subtle transitions. I hope you will stop back by to check out the tours!
How do you use color to transition from summer to fall? I love hearing from you dear readers!
Amber
Sharing at: The Blogger's Pit Stop Snickerdoodle Sunday Best Of The Weekend Saturday Sparks Flaunt It FridaysTuesdays At Our Home Reader Tip Tuesday Vintage Charm Wow Us Wednesdays The Scoop Make It Pretty Monday You're The Star Happiness is Homemade Silver Pennies Sundays Feathered Nest Friday Friday Features Flaunt It Fridays Home Matters Best Of The Weekend Pink Saturday Saturday Sparks Create, Bake, Grow, Gather The Farmhouse Friday Link-Up The Charm Of Home Funtastic Fridays Fridays At The Fire Station Wonderful Wednesdays Waste Not Wednesday Creative Inspirations Keep In Touch Style Showcase  Thursday Favorite Things Share Your Cup Inspire Me Monday  Busy Monday Make Life Pretty Monday Project Inspired Link Party  Celebrate Your Story  Tuesdays at Our Home Reader Tip Tuesday   The Scoop A Stroll Thru Life  Amaze Me Monday  Sundays At Home Friday Feature Creative Inspirations Grace At Home