Welcome back friends to my Home Improvement and DIY series! Today's post was inspired by all of the positive comments and questions I have received about our staircase with the French grain stripe painted staircase runner which I shared in An Early Summer Home Tour of My Old Kentucky Home. Since there has been so much interest in our painted stairs and painted staircases in general, I thought I would create a round-up post of staircase makeover ideas. Join me in as I enjoy some seriously swoonworthy staircases! *This post contains affiliate links.
Our DIY painted stair runner project was completed four years ago before I launched this blog, so I regret that I don't have a tutorial post to share as of now. Due to all of the interest I am going to go back and pull some photos off my old phone of the before and after. Then I will come up with a materials list and let you know all the steps and the exact colors and products. For now I can tell you that we used painter's tape to tape off a grain stripe pattern. We chose Behr Porch and Floor Paint and sealed the paint with a top coat of stain because I wanted the runner to have an aged look while being protected at the same time. After almost five years of heavy traffic it has held up really well! I have found a few other similar makeovers on Pinterest and some of them have tutorials you might like to check out.
If you don't want a pattern, try out a solid color. This is can also be a quick and easy fix for basement and attic stairs.
Paint The Risers
If your stair treads are still in good shape, or if you just want to add some personality to the staircase, simply painting the risers is a great option. Using a slate gray or matte black can give your stair risers a chalkboard look. This can be a fun way to personality by adding words or numbers to the stairs. We have another small stairway which leads from our back door to the kitchen and I have thought many times about the trying this idea.
If color makes you happy and your favorite childhood song is "I can sing a rainbow,"then you might enjoy painting your stair risers bold, bright and beautiful!
A solid color on the treads is also a way make a stylish statement with your favorite hue.
Wallpaper The Risers
If you love a bit of pattern but don't want to commit to wallpapering the walls in your home, why not add wallpaper to you stair risers? Mix and match patterns in like colors or choose a faux tile wallpaper to make a big impact.
Using beadboard wallpaper will add cottage, farmhouse and fixer upper flair to the stairs.
Stencil The Risers
Stenciled floors and backsplashes are all the rage right now. The staircase is another great place to incorporate popular stencil flourishes and tile patterns. Black and white and gray and white are classic and trendy at the same time.
Add Easy "Tile" Vinyl Decals To Risers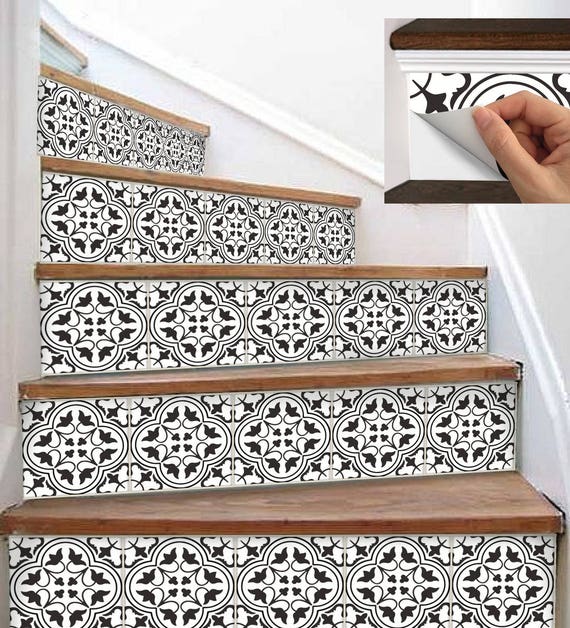 Stair Riser Vinyl Tile Decals~ Etsy 
I really like the idea of repainting our mud entry stair risers with chalkboard paint and numbers, but I also really love these vinyl decals which look like tiles. The decals are only $10 so I am really thinking about ordering them just to try them out since there are only a few stairs in the mud entry area.
There are just so many fun and beautiful possibilities to match any decor preference!
Add A Stylish Runner
An stylish stair runner is easy on the eyes and soft on the feet! Carpeting can add warmth, texture and beauty to a staircase.
Choose a pattern to make a big design statement or a solid for a more subtle classic look.
Natural rugs such as jute and sisal aren't as soft as carpeting with pile but they are very durable and stain resistant making them excellent choices for stairs.
Upgrade The Handrail and Banister
Painting or restaining the spindles and handrails can completely transform the look of a staircase. Our banister was an orangey-oak and we used General Finishes Java Gel Stain , the same as in the example above)  which updated our staircase, but made it look even more historic at the same time. The darker wood was much more fitting for our 1921 home. The great thing about this gel stain is that you do not have to strip the original stain.
In this example the homeowner has replaced the spindles and rebuilt the banisters. A stylish black and white paint treatment takes the staircase from drab to fab!
There are so many beautiful metal spindles on the market today. Replacing wooden spindles and even the handrail with customized metalwork can really create a high end look.
In addition to cosmetic improvements, stairs can be made functional as well. You can convert the steps of your staircase and turn them into drawers which is an excellent use of space. I think this would be so useful in our side entry where we have three stairs, perfect for shoe storage.
Well there are just so many fabulous DIY staircase makeovers on Pinterest that this post could go on and on, so I am forcing myself to stop here! I hope you have enjoyed the swoonworthy staircase makeover ideas I have shared here today. Which are your favorites? I love hearing from you!
Thanks for visiting today!
Amber
Sharing at:Snickerdoodle Sunday Best Of The Weekend Saturday Sparks Flaunt It FridaysTuesdays At Our Home Reader Tip Tuesday Vintage Charm Wow Us Wednesdays The Scoop Make It Pretty Monday You're The Star Happiness is Homemade Silver Pennies Sundays Feathered Nest Friday Friday Features Flaunt It Fridays Home Matters Best Of The Weekend Pink Saturday Saturday Sparks Create, Bake, Grow, Gather The Farmhouse Friday Link-Up The Charm Of Home Funtastic Fridays Fridays At The Fire Station Wonderful Wednesdays Waste Not Wednesday Creative Inspirations Keep In Touch Style Showcase  Thursday Favorite Things Share Your Cup Inspire Me Monday  Busy Monday Make Life Pretty Monday Project Inspired Link Party  Celebrate Your Story  Tuesdays at Our Home Reader Tip Tuesday   The Scoop A Stroll Thru Life  Amaze Me Monday  Sundays At Home Friday Feature Creative Inspirations Grace At Home