Happy April everyone! Spring is just beginning and there is still plenty of time to get your home looking refreshed for the season. If you don't want to spend a lot of money or get carried away with seasonal spring items, you can easily refresh your decor for spring with pretty pillows. Changing out pillows and pillow covers is one of the quickest and most budget-friendly ways to give your home a whole new look each season. Today I am sharing some pretty pillows as spring decorating inspiration. *This post contains affiliate links.
One of the best decorating choices that my husband and I ever made was purchasing our neutral tufted linen recliners. Now we can give our living room a whole new look each season simply by switching out pillows. In my 2019 spring home tour I shared how I used some colorful pillow covers that I found on clearance at Pottery Barn, and a farmhousey Flower Heights By Season lumbar pillow from Target. The lumbar pillow is definitely one of my favorite spring accessories.
I really loved the colorful Pottery Barn pillow covers and used them all through summer too. I incorporated pink and green decorative accents around the living room which picked up on the same colors in the pillow covers.
In 2018 I used a teal velvet pillow and farmhouse black ticking stripe pillow cover, combined with the same flower lumbar pillow. I really liked that simple farmhouse look too.
@ivyandsagemarket Instagram
There are so many inexpensive spring pillow covers that look beautiful styled with garden-themed spring accents. I think a "Hello Spring" pillow would be great for a front porch or entry area.
Hello Spring Colorful Flower Leaves Wreath Throw Pillow Cover
Overall I am neutral decor girl, but I am really drawn to using bold pops of color in neutral rooms these days. While none of them are spring specific, all of the colorful pillows and textiles in this photo remind me of the flowers blooming in a spring or summer garden.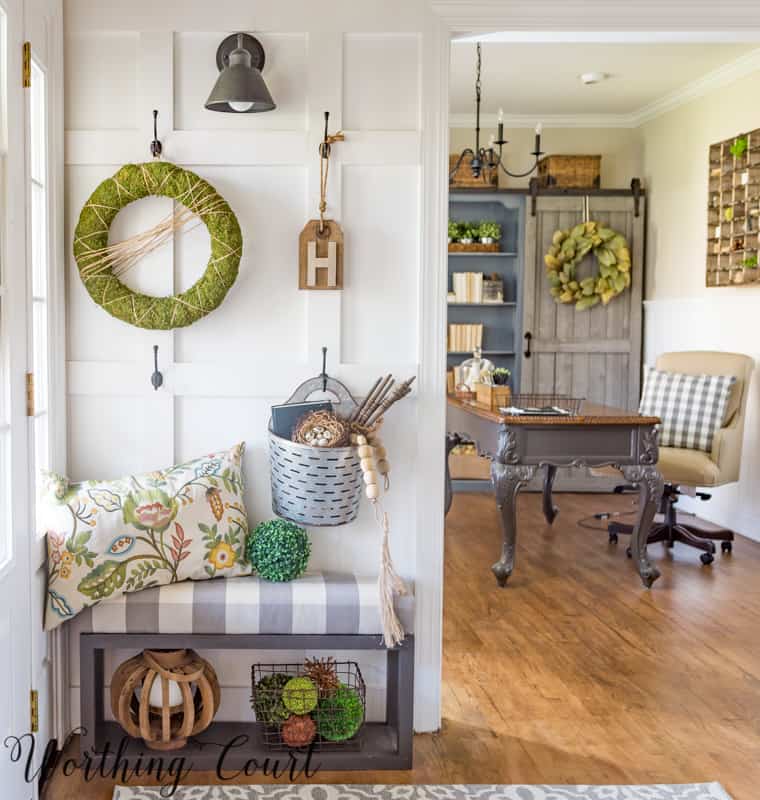 Just a colorful pillow or two can brighten up any space for spring.
Spring sunshine seems to put everyone in a better mood! In addition to the actual physical benefits of sunlight boosting your Vit D, you can also create happy spring vibes in your home with yellow pillows or pillow covers.
Fresh flowers, colorful pillows and oh… that rug…I'm swooning!
Pink is definitely a quintessential spring color. I am crushing on these gorgeous pink pillows and everything else here!
Bolder pink pillows and coordinating floral pillows mimic bright pink tulips and make a colorful spring statement in this beautifully designed space.
If you love neutrals but still want to add a bit of spring color, green is the way to go. Decorating with green has always been my favorite design choice for spring.
This spring I used green velvet pillows on my church pew. A French script robin pillow definitely adds a spring vibe to the dining room too.
Spring Home Tour: Bringing the Outdoors In
This year I am loving the pillow combination of springy yellow and green mixed with neutral farmhouse black and white in the kitchen nook.
These French script daffodil botanical pillows are some of my favorite spring pillows.
(Shop Similar) Daffodil Pillow Covers
Blue pillows are lovely for spring too, and can also transition right on over into summer.
If bold color isn't your style, there are muted floral patterned pillows that still look great for spring. I am loving the mix of patterns and the soft colors of the pillows in this photo.
Ticking or grain stripe pillows are perfect choices mixed with floral or feedsack pillows used as spring decor, as all of these patterns reference cottage-farmhouse style. After all, the farm and garden come to life in the springtime!
Some of my favorite spring pillows and pillow covers feature farmhouse style graphics or sayings. I have been enjoying all of the cute rabbit pillows that I have been seeing in stores and on Pinterest and Instagram.
There are some really adorable farmhouse style pillows that are great to use in the spring but can also be kept out year round, such as those that refer to nests, nesting, or flowers and gardening.
Here are a few more of my favorite spring pillow covers on Amazon (affiliate links):
Set of 4 Hello Spring Watercolor Bicycle Floral Retro Farmhouse Decor Throw Pillow Covers
Classic Ticking Stripe Pattern Pink and Cream Pillow Cover
Farmhouse Bunny Vintage Easter Retro Primitive Old Feed Sack Cotton Linen Throw Pillow Cover
Bunnies aren't just for Easter! I decorate with bunnies all spring long.
Farmhouse Easter Pillowcase Cover Spring Decor
Fresh Flower Market Pillow Cover Farmhouse Style Fixer Upper
Refreshing your decor each season doesn't have to cost a lot or money or be a stressful ordeal. A few simple seasonal accessories or seasonal art from sites such as Artware can completely change the look of a room. As the weather warms up try packing away the heavier pillows with fabrics such as corduroy or wool and swapping your pillows for silk ones or lightweight cotton and linen pillow covers. Inexpensive pillow covers can be purchased or handmade using vintage fabrics, colorful quilts, or even stenciled on burlap or drop cloth.
There are plenty of easy no-sew pillow cover tutorials online too. I bought some curtain panels on clearance for super cheap just to make pillow covers. I am still learning to sew, so I will probably still use my tried and true hot glue method. "Quick, easy, and inexpensive decorating…" that's the name of the game!
Do you use different pillows to refresh your decor throughout the year? I love hearing from you, dear readers!
Thank you for visiting today,
Amber
Shop Similar Items
*Affiliate disclosure: If you purchase one of these items I may receive a small commission at no additional cost to you.
Sharing at these great link parties: