Hey friends, I am so excited to share some big news with you! As you can guess from the title, we are in the process of building my dream potting shed!
While my husband works on the construction, I am busy planning all the pretty details inside and out. Today I am sharing some of the pretty potting sheds, she sheds and garden sheds that are giving me all the dreamy garden vibes!
My shed is literally being "plan-ted" among my current cottage garden. My dream has always been to have a shed as the backdrop behind an island of flowers with paths to meander in and around.
Here you can see my center island bed in the backyard cottage garden, thriving beautifully in early July. You can also see that the we really don't have much privacy currently, (the neighbor's garage is directly behind our shed in progress.)
Here in this photo from a couple of weeks ago you can see our chain link fence which divides the property. There are a couple of areas in question with regard to property lines, so our property really needs a proper survey before we can put up privacy fencing. It was going to take 4-6 weeks to get a survey, which would put us back to school, so we didn't want to wait for privacy and came up with idea to just go ahead and build the shed I had been hoping for for years.
It was actually more beneficial and cost efficient to build a shed that will provide a ton of privacy as the structure, and we plan to add some lattice fencing and privacy trees/shrubs to each side to give us extra privacy without worrying about the property lines this year. This will still allow us to access around behind the shed and fence line when the time comes to take the chain link down and add real privacy fencing.
While my husband is building the shed, I have been working on leveling out the ground in front of the shed, as there is a bit of a slope from the flower bed to where the shed sits. The rocks in front of the shed are just there to show how far up we need to add some fill dirt and gravel to level things out or the thickness pavers need to be if I decide to use them.
I know I definitely want some kind of brick or stone patio, and maybe some pea gravel for a European garden look. We had some rodents in this area of the yard last year so we took extra steps to rodent proof the shed to make sure critters couldn't get under it (all the details about that in a future post).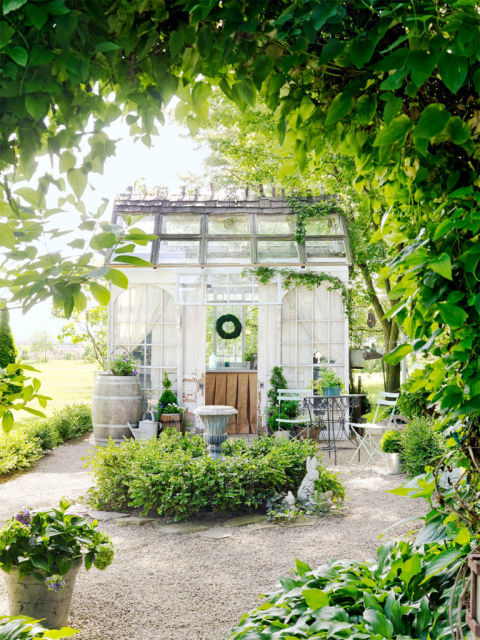 I decided against a deck style porch that would just give them extra places to try to get into, and I really just like the look of hardscape patios and gravel areas.
When it gets too hot to be outside (which is most of the days these days!) I come inside and look through my gardening books, magazines and Pinterest to get ideas for inside the shed. It is definitely going to be a usuable shed, but I plan to style it up similar to one of my old antique booths displays. I have been hoarding vintage garden junk and small furnishings for years for a future shed.
Inside I hope to have a brick paver floor, similar to my kitchen but with a simpler pattern. The herringbone brick paver floor in our kitchen is lovely but was a hassle to install as diy'ers!
While I would love to add salvaged windows, I want to keep my shed as mold and critter free as possible. I opted for new windows that open and close for good air flow on days I want to work in the shed but that will keep the rain out. I hope to keep spiders at bay using newer windows. It's unrealistic that some insects won't occasionally find their way in, but having air tight windows is better than ill-fitting vintage windows.
I do plan to hang some of my vintage lead glass or stained glass windows on the newer windows to give the shed some vintage cottage character. This window that currently hangs on my front porch is going to find a home somewhere on the shed.
I do still plan to use old windows in the backyard too. I have always loved these tabletop terrariums and conservatories using vintage windows!
It might be possible to incorporate an older door if it is good condition with a proper door jam and weather stripping. Whatever door I use, I want to have lots of windows or at least on large window to let in plenty of light.
I am still undecided about the shed colors, and overall aesthetic. I know I am going for a vintage of course, but sometimes I lean toward elegant, European or Modern farmhouse sheds, and other times I want a shed full of shabby salvage and retro junk used in interesting ways. Chances are, it will be an eclectic mix of vintage using whatever I already have and treasures I find on junking adventures to come. I will share a couple of more posts about and and more inspiration as the shed progresses.
Do you have a potting shed or even a potting area on your porch or patio where you can putter around with pretty flowers, plants and garden things? I love hearing from you! Thanks for visiting today!
Amber