Happy Tuesday friends! Today I am excited to get together with some of my blogging friends again for our monthly Pinterest challenge. If you are coming over from Walls of Wonderland or if you just happened to drop by, I am so glad you are joining us too! Each month our awesome host Cindy from County Road 407 chooses a photo from Pinterest as inspiration. The challenge is to use similar elements to the objects in the photo to style a space or create a similar look with our own personal touches. Including our challenge photo, you will find 15 different ways to style a simple coffee table vignette when you visit each of the challenge participant's blogs via the link up at the end of this post. I just love all the "Pinspiration!"
Key Decorative Elements for Styling a Simple Coffee Table Vignette
The theme for August is "Coffee Table Vignettes" and our challenge photo is by the talented Yvonne of Stone Gable blog. Yvonne created a simple, yet classic styled tray vignette for her coffee table. Here are the key elements of her vignette:
-wooden tray/crate
– large metal decorate orb/sphere
-beautiful Mediterranean style vase/urn (adds height)
-flowers
-potted boxwood (greenery/garden style accent)
– stack of books
-an object of interest/sculpture
-a unified neutral color scheme
-fabric or paper to line the inside of the crate/tray for extra visual interest and texture
All of these elements are great foundations for styling a simple coffee table vignette that will work year round. Now let's take a look at my version:
As it turns out, I have been wanting to do a post on how to style a simple coffee table vignette before getting into my fall and seasonal decorating, so the timing of the challenge worked out great for me. I already had many similar decorative elements on my vintage trunk-turned-coffee table in our living room: a tray, a stack of books, decorative spheres, a cloche with a tiny potted boxwood sphere, a couple of interesting objects, and a tall vase/urn with hydrangeas.
Any type of tall vase, urn or vessel would have worked for this challenge, but I happened to have an urn that is almost identical to Yvonne's. I found it on the end of spring clearance sale at Hobby Lobby for around $10.00 and I really love it. Prior to styling the coffee table vignette it was filled with sunflowers as the centerpiece for my French Farmhouse Lemons and Sunflowers tablescape.
Yvonne used fresh white hydrangeas for her urn, and I would have been able to do the same, if not for the hungry deer in our neighborhood! They have nearly munched my beautiful Annabelle hydrangeas down to the ground! At least I was able to share a few blooms in my Summer Home Tour. I didn't want to spend any money on this challenge, so I chose some creamy faux hydrangeas from my floral stash. I think they are the perfect color for tying all the neutrals together and they add a bit of warmth that will work well with the transition to fall.
I always keep some kind of styled tray on the trunk. I love Yvonne's wooden crate, but I just used the one I had on hand. In the past I have also used a tobacco basket as a tray. I didn't line my tray with any fabric, but I think burlap would be a good choice for fall. I decorate with vintage cottage and garden style treasures year round, so you will often see moss spheres, white washed pots, chippy urns, birds and nests in my styled tray vignettes.
To add the garden style element similar to Yvonne's potted boxwood plant, I placed a small cloche over my little DIY white washed French peat pot topped by a small moss orb. A couple of vintage butter pats add extra vintage charm.
I was excited to be able to include the late 1800's copy of Homer's Odyssey as part of the stack of books in this vignette. I just found it this weekend at a favorite antiques shop. It was a splurge at $10, but is in immaculate condition— no moldy, musty smells and no rips, tears or marks! I especially love the artwork on the spine.
When it comes to personalizing any vignette, I simply must add vintage treasures! One of my "interesting objects" is a beautiful, wood and brass vintage magnifying glass.
Another interesting object is this shabby chic, chippy-rusty candle holder-thing that I recently found at a thrift shop. Is it a candle holder? I am not sure exactly sure, but I love it nonetheless!

When styling vignettes you can't go wrong with adding orbs and spheres of any size to create visual interest. Old croquet balls, grapevine balls and mossy spheres are all good choices. Yvonne used a large metal sphere in her vignette which added a bit of a rustic industrial look. I found this small metal sphere at a yard sale for only a quarter this past weekend. Perfect timing for the challenge!
Style tip: If you are using a tall candlestick for height instead of a tall urn, you can top it with a sphere as a stylish alternative to a candle.
What I love most about simple coffee table tray vignettes is how easily they can be changed up for the seasons. When I start decorating for fall, I am certain that a "baby boo" white mini-pumpkin will take the place of the bird and nest on top of the candle holder. Colorful fall flowers and foliage could be added to the vase, or a demi john with branches of colorful leaves may take it's place altogether. A cozy fall-scented candle could glow on top of a different stack of books that have more autumnal colors.
Last year for my Early Fall Home Tour I styled the same tray with a woodland theme, so some of those elements might also reappear. I am definitely inspired to search for a wooden crate after seeing Yvonne's, so I may switch out the tray too if I luck into a good find.
On September 3rd I will be sharing some new looks as part of the Transitioning from Summer to Fall Blog Hop. I would love for you to to stop back by to see what I come up with.
I hope you have enjoyed learning how to style a simple coffee table vignette today and that you have found these tips to be useful. Remember to "shop your house" for anything you might be able to use in new ways. For more great ideas, check out the links below to see how all of the other talented bloggers in this challenge styled their coffee tables.
How are you styling your coffee table currently? Are you still displaying summer treasures or are you transitioning to fall already? I love hearing from you, dear readers!
Thanks for visiting today!
Amber
Affiliate Disclosure: If you purchase an item from this website I may receive a small commission at no additional cost to you.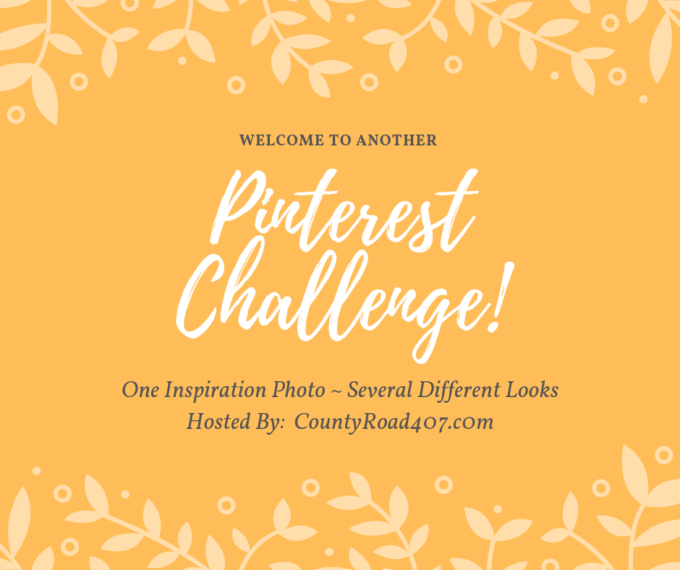 You are invited to the Inlinkz link party!
Sharing at these great link parties: