Hello friends! It is time to move on from spring decor and to start embracing all things summer around the home and garden! I am making a few easy changes to my home for summer that I will be sharing on June 11h for the Summer Home Tours hosted by Marty at A Stroll Through Life!
Redecorating each season doesn't mean you have to do a major renovation or repaint your entire house!  Really it's all about changing things around and adding just a few new accessories. Today I am sharing Five Easy Ways To Refresh Your Decor For Summer.
1. Switch Out Throw Pillows
Switching out throw pillows seasonally is a tried and true decorating tip that most design enthusiasts use to keep their homes looking and feeling updated without having to spend a lot of money.
One of this summer's hottest color trends is blue, and it's easy to bring in just a bit of blue through throw pillows if you aren't ready to commit to an overwhelming amount of blue all over the house.  Throw pillow covers are a great choice for changing the look of pillows inexpensively, and you won't have to find a place to store a bunch of extra pillows when you aren't using them.
20″ Indigo Blue Colorful Decorative Pillow Cover Indian Bohemian Boho
Simple Striped Home Body Pillowcase Cover
2. Incorporate Natural and Organic Decor
Target Casual Coastal Collection
Summer is a great time to bring the outdoors in by using stylish accessories with an organic feel. Try incorporating natural elements such as driftwood, seashells, succulents or other earthy objects around the house. I am going to make a stylish and interesting DIY driftwood and succulent planter soon.
Of course you can also add touches of Easy Breezy Coastal Cottage Style using seashells and other coastal inspired decorative accents.
3. Add some Boho Chic and Minimalist Accent Pieces
The hottest decorative accents for 2018 are boho chic and minimalist style pieces such as baskets, macrame planters, tribal print rugs and anything with pom-poms and tassels! Even if your home is traditional, vintage or country, there are some beautiful boho chic accessories that can still blend in beautifully. Baskets are perfect in any type of decor, and boho style baskets are great for refreshing the decor and can double as storage. Right now I am loving "belly baskets" and I recently picked up one for my summer decor refresh that I will be sharing in an upcoming post.
Natural Seagrass Belly Basket, Storage, Laundry basket,
4. Decorate with FREE Fresh Summer Bouquets
Perhaps summer's most delightful gifts are the abundance of fragrant flowers that bloom from May through September! Take advantage of free decor from nature and add beautiful bouquets of wildflowers or flowers you have cut from your own garden and place them in pretty glass vases, bottles, or vintage containers.
Target Hearth And Hand With Magnolia Glass Vases
5. Use Sheers or Decorative Window Film In Place of  Curtains and Drapes
Summer is all about the sunshine, so let there be light! For a light and airy summer feel inside your home, try removing drapes, curtains, and blinds for the season to let the sunshine in!
If privacy is an issue, consider using beautiful decorative films or custom vinyl window graphics.
I have been looking forever for an antique, salvaged lead glass or stained glass window for my music room, but since discovering these beautiful decorative stained glass decals I am loving the idea of the simplicity of using a decal instead of trying to find a way to mount an extremely heavy old window.
I am so excited about how my summer refresh is coming along and I can't wait to share the updates with you! I am hoping to show you my new jute area rug and sofa this week, so check back soon or even better, subscribe by email so you don't miss any new posts! Here is a little sneak peek of my new just rug!
Have you started making any changes to your decor for summer? What do you think about adding touches of blue for the season? I love hearing from you!
Thanks for visiting today!
Linking up: Tuesdays At Our Home Reader Tip Tuesday Over The Moon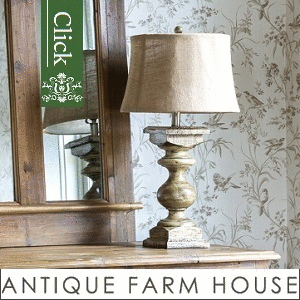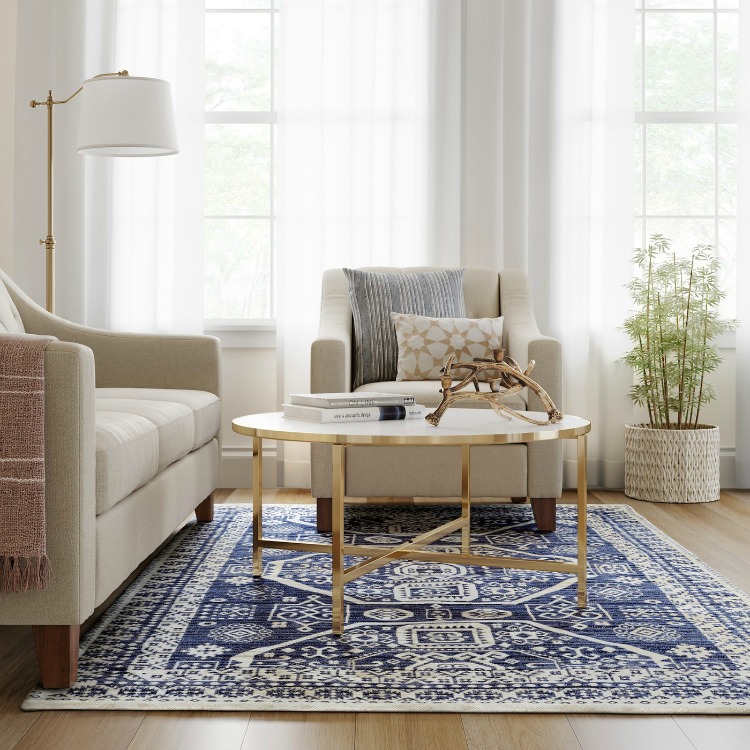 Target Blue Patterned Area Rug Threshold