Hello friends!  Yesterday eleven blogging friends and I kicked off the Tea and Roses Blog Hop and it has been so much fun! Last week I was going through my teacups and trying to decide what pieces I wanted to use for my post and as I was looking over my collection, I realized that I don't really have very many authentic teacups, except for a few that I have been keeping for my oldest son who will be getting his first apartment soon. He is an anthropologist with a love of Asian culture, food, and art, and he is even considering the possibility of relocating somewhere in Asia to teach ESL or work as an English tutor (click here if you are also interested in tutoring).  This gives me an excuse to buy vintage China or Asian inspired collectibles for him when I am out junkin'!
Here are a couple of beautiful, authentic Chinese teacups that I bought for him last summer at a yard sale. I wish I knew more about them. Are any of you familiar with this lovely pattern?
I also found this single brown and white "Indian Tree" teacup and two matching saucers by Nasco.
A few years ago I bought him a set of unique, antique ironstone bowls with an Asian motif at a yard sale. The dishes have patterns that are gender neutral enough for his liking, but he has made it clear that he doesn't want any "Grandma-looking" china with roses or floral patterns!
While doing a bit of research on the authentic Chinese teacups and Asian patterned dishes I found, I came across some gorgeous Adams English Calyx Ware in the Singapore pattern and I absolutely love it! I have never actually seen any of these beautiful vintage dishes before, but I will definitely be on the lookout this summer!
Etsy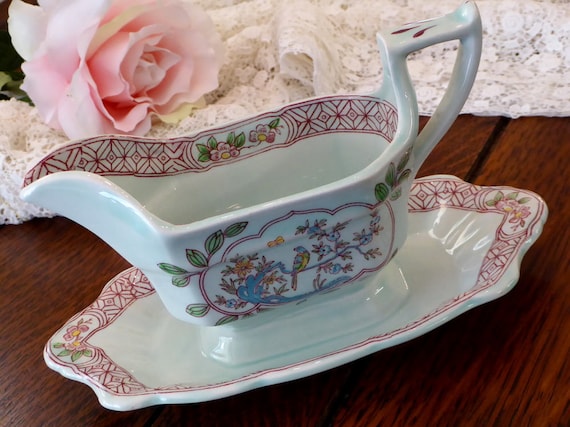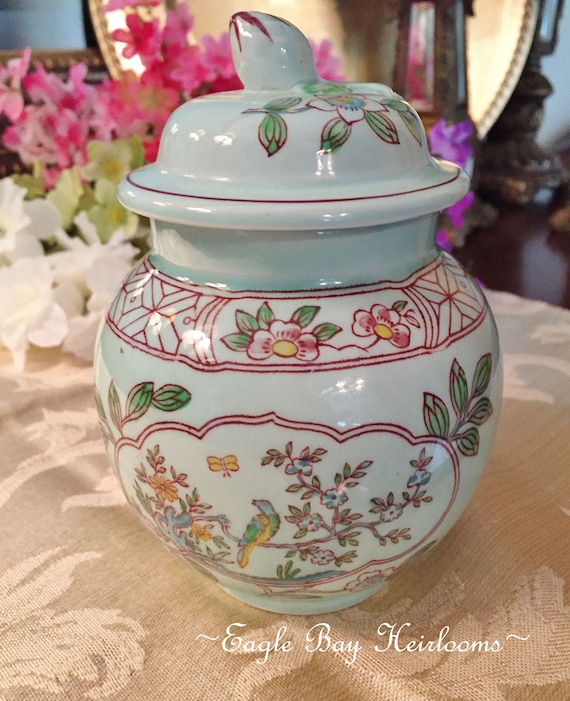 After discovering this beautiful pattern, I think it would be gorgeous for a tea and roses themed tablescape.  Perhaps I will get lucky while out junkin' this summer and I will find some pieces for another tea party post!
Although I only shared two unmarked rose mugs (that aren't even technically tea cups) in my Tea and Roses blog hop post, (A Classical Tea with Beethoven and Me), there were plenty of gorgeous teacups with various patterns shared by all of the other bloggers on the Tea and Roses Blog Hop. If you love teacups and china, don't miss this fabulous tour! You can find all the links below.
If you are a big fan of teacups and tea parties, there is also a Spring Tea Party Link up coming up this weekend, so be sure to check it out!

In celebration of the blog hop and link party we are having $75 Amazon gift card giveaway now through Sunday at midnight. You can enter here!
Do you collect vintage Chinese teacups, dishes, or "china" with Asian designs, patterns or motifs? Let's "dish it out" about vintage china! I love hearing from you!
Thanks for visiting today!
Linking up:  TFT Wonderful Wednesday Share Your Cup Vintage Charm