Hello and welcome back to another "Home Ownership 101" post here on the blog. Today's topic is all about home security (insert moans and groans). I know, I know. It's not nearly as exciting as beautiful and inspiring decorating photos or vintage junkin' finds! Nevertheless, ensuring home security goes along with being a responsible home owner. We work so hard to make our homes comfy and beautiful, so why not take a few extra steps to make sure our homes, (and most importantly, the ones we love) are safe?
While we can't predict if, or when, a robbery or costly act of vandalism might occur, there are still some simple, modern, and really effective ways to make our homes a bit safer. Today I will be sharing five basic home security tips (not counting the family watch dog!) that can reduce the risk of security violations and provide peace of mind at the same time. *This post contains affiliate links.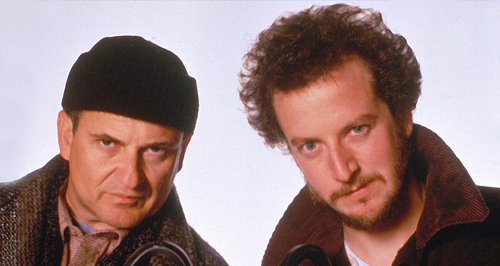 Recently our quiet and safe, small town neighborhood experienced a series of robberies. While our family, house and property was unharmed, the incident literally hit a little too close to home! Other than making sure our doors are locked when necessary and sticking some solar lights in the garden, my family has never really had to worry about home security. Nevertheless, the robberies have made us start to consider ways to increase the safety of our home and property.
Five Basic Home Security Tips
1. Secure Your Boundaries
If you don't already have any structures in place to protect the outer boundaries of your home, this could potentially make your property a target for crime. No matter what style of home you have, there are some simple ways to keep your property a little more protected. We currently do not have any fences, hedges or trees around our home, but this summer we are planning to install some attractive privacy fencing and evergreen trees that will increase the value of our home, and the safety factor. Privacy fencing can create a beautiful, natural home oasis while ensuring safety at the same time.
Trees, hedges and mature landscape plants are aesthetically pleasing and can provide extra home security.
Of course classic gates and fences are always a good idea. When you have a strong and secure boundary, you're putting the first piece of protection in place. This can often be enough to deter intruders, as they won't find it easy to make their way onto your property.
2. Update Your Locks
Victorian Style Door Knob Handle Keyed Entry
It is always important to check your locks from time to time. If the locks on your doors were installed years ago, they may not be as sturdy or reliable as they once were. Instead, try something more secure, like a Mul T Lock key. This type of key is impossible to replicate and only works in very specific locks. The locks themselves are also much harder for someone to pick or break through. Instantly, you have added security and protection from outside threats.
Consider hiring a professional, such as Eastway Lock & Key, to update your locks for you. Of course this also gives you an opportunity to make some cosmetic updates with your door hardware too. At the same time, you may also want to make sure that you have suitable locks on your fences, and also on your windows, just to be sure.
3. Install An Entry/Intercom System
As another safety precaution, you may also want to think about installing an entry system (intercom) to your home or apartment. This may not be necessary for every home, but if you get a lot of "solicitors" or if you simply want to be able to talk to whomever is at the door, an entry system can add an extra level of safety and peace of mind (that is until the kids and their friends decide to use it to yell back and forth throughout the home!) Oh well, the pros of an entry system outweigh the cons I guess!
4. Consider CCTV
If you are really having an increase in crime in your area or any personal circumstances that may warrant extra security, you might want to consider installing CCTV (Closed Circuit Television). These days, modern CCTV systems are more discreet than they used to be. With a security camera, not only can you check in on your home or property when you're away from home and worried about intruders, but it can be a great deterrent to intruders too. When you have CCTV set up and in a visible area, it can often be enough to keep delinquents from trespassing altogether.
5. Utilize Lighting
Outdoor Security Light and Camera
Finally, use lighting to protect your home. By installing outside security lights, you'll be able to see clearly see if there are any issues at night. This also is a great deterrent to crime. At the same time, you can also set your inside lighting on a timer so that it looks like you are home when you're out. This can serve as an additional safety measure for when you come home in the dark too.
As you can see, these five basic tips for increasing home security can be used by any homeowner at any time. While an act of crime might not seem like it could happen to you or anyone in your neighborhood, you just never know when an intruder will break into your home (or trash!) so it pays to be prepared.
I used to leave my car door unlocked at our old home because it was pulled all the way up in the driveway and we lived in a very safe neighborhood. I found out the hard way that you should never leave your car unlocked anywhere, at any time! It was the day before Thanksgiving, and all of our money, check book, credit cards, etc. was stolen. It took weeks to get our money back, and it was such a big ordeal. No black Friday shopping for us that year! (By the way, the perpetrator was caught when he used my debit card to rent a video game at the Red Box up the street!)
I have always said that I wish I would have known years ago all that I know now about being a homeowner. Perhaps I could have avoided a lot of the stress and financial burdens that result from a first time home owner's mistakes, or just from laziness and neglect of home maintenance. If you are looking for more ways to protect your forever home, click here. It is my hope that my "Home Ownership 101" series will be helpful and informative, allowing you to enjoy the fun parts of being a home owner while taking care of the important issues along the way.
May you always be safe and happy homeowners my friends!
Amber