Hey there friends! Can you believe we are nearing the end of October and the actual holiday season begins in just a little over a month? With that in mind, I have joined my friend Cindy of County Road 407 and several blogging friends to do a little early Christmas crafting for our monthly Pinterest Challenge! If you are coming over from Christy at Our Southern Home or if you are just stopping by for a visit, I am so happy to have you here!
Each month Cindy chooses a photo from Pinterest for inspiration then each of the hop participants comes up with her own interpretation using similar elements, but with a bit of personal flair too.This month we are designing Christmas cloche jars using the cute photo below as inspiration.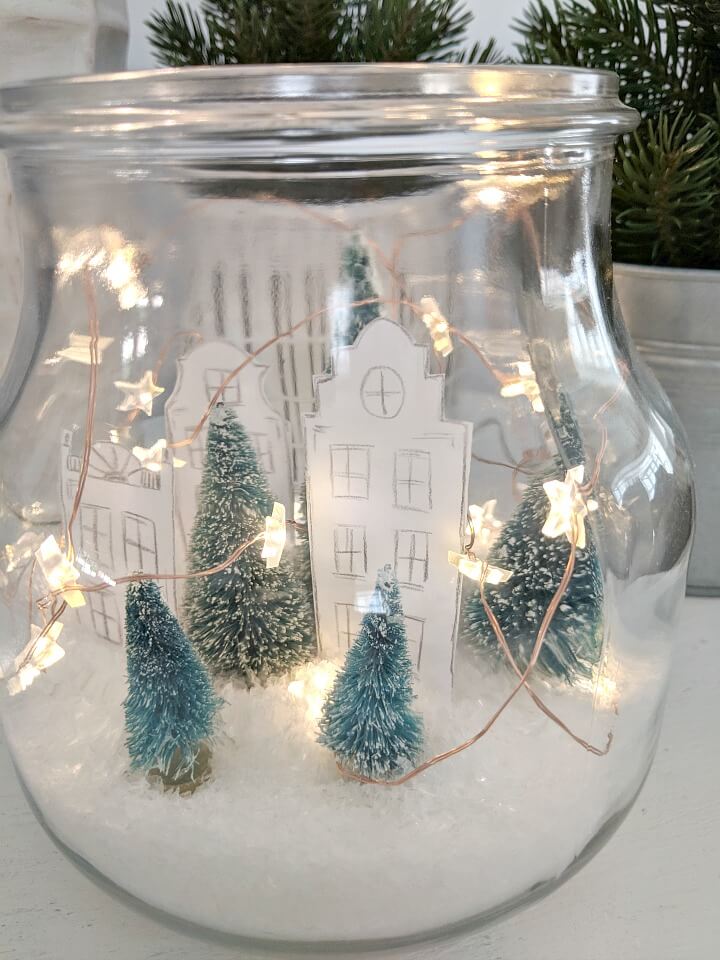 Simple Holiday Village in a Jar by Katrin of Northern Feeling
Elements Used in Katrin's Simple Holiday Village in a Jar:
A glass jar/vessel

Faux snow (or Epsom salts)

Battery operated star lights

Handmade paper village (main subject/focal point)

Bottle brush trees
So easy and cute!
My Easy Christmas (or Winter) Jar Cloche:
Here is my interpretation of the Christmas jar challenge. I love how it turned out!
In my experience, every good project begins with thrifted junkin' finds! I had originally planned to use some of my small vintage Putz village houses to create my own snowy holiday village jar, but I ended up lucking into some vintage ornaments recently at the Habitat Restore for only a dime a piece! I knew right away that I wanted to use the trio of adorable winter girls as the main focal point of my Christmas jar.
I am smitten by these little vintage-looking winter girls! I will enjoy them all through the holidays, but I also love that I can still keep them out after Christmas since they have a neutral winter look.
I decided to use this hurricane candle holder as my jar, since the jar I used first was a bit too small once I got everything placed inside. You might recognize the hurricane candle holder from last year's Christmas Dining Room Tour where I used it as a snowy cloche with one of my German Belsnickel Santas inside.
The main issue with using the jar was that the light strand I bought really has way too many lights for this project. I started with a jar similar in size to the one in the inspiration photo, but I ended up having to use a lot of snow to cover the lights and the light box. This elevated the ornaments to the point that their faces were covered by the rim of the jar when viewed straight on, and the jar contents looked too crowded in general.
In addition, the way the pine sprigs with white winter berries were crammed inside gave me the impression of eyeballs in a jar! Halloween is coming up this week, but this is supposed to be a Christmas-themed design! I decided I needed a bigger glass container to space everything out, so I shopped my house and decided that my favorite thrifted hurricane lamp would work great.
Easy Winter Cloche Jar Supplies:
Epsom salts and glittery faux snow from Dollar Tree

Set of fairy Christmas lights from Lowes,

Two winter pine and berry floral picks from Joann (40% off)

Bottle brush trees from my Christmas craft stash

Winter girls thrifted Christmas ornaments (as the main subject/focal point)

Thrifted glass jar/thrifted hurricane lamp
Overall this project cost around $12 since I already had the jar/hurricane lamp. The lights were the most expensive item. I probably could have found a smaller set at the Dollar Store that would have worked fine, so really it should have only cost about $6-8 if I had shopped around for lights.
Making an Easy Christmas Snow Jar Cloche
Making my snowy jar scene was so easy! I started by placing the lights in the bottom of the hurricane lamp, then spreading some of the strand out and around the top. I kept most of the excess lights down under the snow, which created a pretty effect. *If you have a button or on/off switch on your lights, be sure to place the box where you can easily reach it without messing up the other cloche contents.
Next I created a winter "forest" by sticking two pine and winter berry picks down in the snow for height in the background.
Next I placed the little girls down in snow. I didn't glue them to styrofoam or cardboard under the snow to keep them standing upright, because I might decide to actually hang the ornaments on my flocked tree or use them in some other Christmas vignette. They will stay in place if they are pushed down in the snow a bit so they don't really need to be glued. Finally I stuck a few bottlebrush trees around the girls.
Don't they just look so sweet?
"Let it Snow, Let it Snow, Let it Snow!"
One last thing…(we all know I am no minimalist!) At first I loved the simplicity of my design, but after looking at the cloche for a few minutes I felt like it needed something else. I dug around in my Christmas junk and found this vintage-farmhouse style "Let It Snow" ornament. Perfect!
Making a Christmas snow jar cloche is so much fun! This actually isn't the first time I have made one…
A Simple Mason Jar Snow Cloche
Many years ago I made this "Snow Wishes" jar for free on a snow day. I used supplies I already had around the house and a free printable of a snow angel from The Graphics Fairy. I just printed the angel on regular computer paper and cut it out like a paper doll. I used a dab of glue to attach it to the bottle brush tree to keep it standing straight. The bottle brush tree was hot glued to the bottom of the jar, then I filled the jar with Epsom salts. Finally, I added a vintage marble and tiny vintage Shiny Brite bulb for interest.
As you can see, it is super easy and inexpensive to make a Christmas or winter snow jar cloche. I hope you are inspired to make one too! If you do, I would love to hear all about it or see some photos! Now it's time to head over to A Stroll Thru Life to see what my friend Marty came up with for this challenge, as well as all of the other simple Christmas/winter jar ideas being shared today via the links below.
Thanks so much for visiting!
Amber
Sharing at these great link parties:
All About Home Thursday Favorite Things
You are invited to the Inlinkz link party!