Hello again! As January comes to a close I am making a home improvement and redecorating wish list for the year ahead. While it is not a priority, I hope to get around to creating a beautiful and comfortable bedroom sometime this year! We are starting our fourth year in our home, and we have done very little to decorate our current bedroom. We actually don't even have a headboard! One of the main reasons we have not yet tackled our bedroom is simply indecision.
As I have been thinking about what I want to achieve when creating our "new" space, I have realized there are some basic elements to consider when designing the perfect bedroom—comfort, style, and restorative sleep. These are the essentials of a bedroom that do not require furniture changes or even repainting walls, but are necessary for creating a cozy and relaxing retreat. Today I will be discussing the basics in more detail. *This post contains affiliate links.
Ways to Add Extra Comfort to Your Bedroom
Use lots of pillows.
Is there any such thing as too many pillows and cushions in your bedroom? Well, maybe, but a few extra pillows can go a long way as far as adding comfort and coziness. Pillows are also great for accessorizing and pulling the design elements of a room together. Layer several on the bed or keep a basket of extra pillows at the foot of the bed to add shabby chic, cottage farmhouse style to your bedroom.
Use a heavy down comforter, a hypoallergenic polyester comforter, or duvet.
I absolutely love the "hotel" feel of a high quality duvet. If you prefer something with a lighter feel, choose a beautiful quilt or mattelasse coverlet.
Choose high quality sheets.
The sheets on your bed will have a big impact on how comfortable it is, so don't skimp like I always used to do and buy the cheapest option you can find! I did this for years, and only recently have I discovered how much better I sleep on nice sheets. You will notice the difference once you have tried some top quality Egyptian cotton sheets. Split cal king bed sheets are worth considering if you're looking at different options. Nice sheets are a luxury, but usually not much more expensive than "cheap" feeling sheets. A few extra dollars often equates with better quality and longevity, which makes it worth paying a little more in the long run.
Add an area rug.
Bedside rugs are really nice touches that add an extra level of comfort to a bedroom. That feeling when you step out of the bed in the morning and onto a nice fluffy and comfortable rug is much better than bare feet hitting a cold, hard floor! Even if you have carpet, a soft rug will make the room even more cozy.
Add a faux fur throw.
A simple faux fur throw can add so much comfort to a bedroom. Sure, a duvet and sheets are often adequate for warmth, but there is just something about a cozy throw draped over a chair or bed, just waiting to be snuggled in! Faux fur is the best option because it offers all the comfort of fur without any worry about ethical issues…and less allergens!
Zuri Faux Fur Oversized Bed Throw
Style Elements
Clear the clutter!
A cluttered bedroom never looks inviting or relaxing. A minimalist, boho chic aesthetic is very much in fashion at the moment, so use this style as inspiration to clear the clutter. The space will feel more open and positive, allowing you to have sweet dreams, instead of nightmares about the cluttery mess you will have to face when you wake up!
Choose artwork and style accessories carefully.
Be sure to think carefully about the artwork and accessories you choose for your bedroom. They should be items that are in keeping with the rest of your room and the design choices you've already made. Bedroom walls do not need to be cluttered or distracting, so only use art that you truly love. Remember, a collection of vintage plates or architectural salvage can be used as art as well.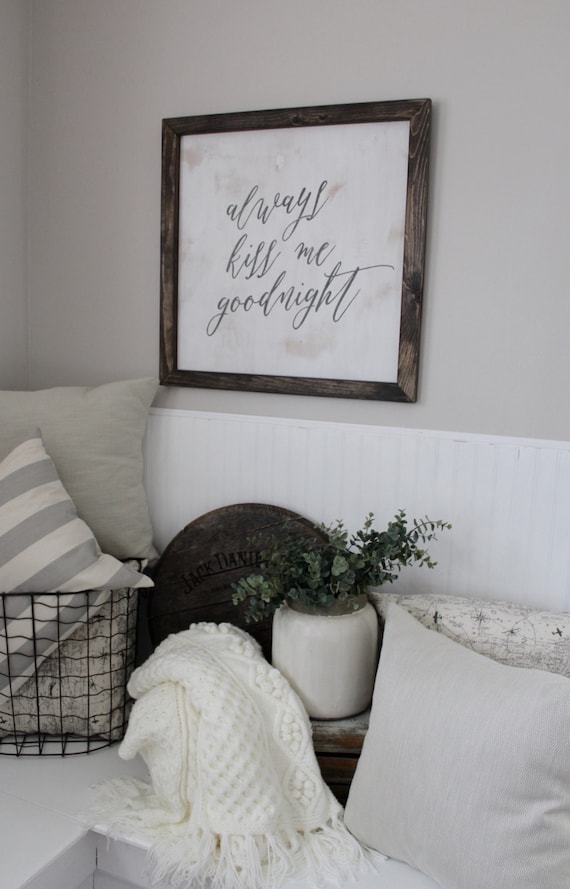 Etsy
Invest in attractive bedside lighting.
The nightstand by the bed is the perfect place to add a small lamp to use as a decorative accent as well as providing the light needed for bed time reading. Wall mounted lamps or sconces are also great choices. There are many affordable vintage lamps or popular industrial style lamps that will add charm and character to the bedroom and help tie all the design elements together.
Create a sitting area.
It's nice to have an area in the bedroom that's dedicated to relaxing. A small sitting area near a bookcase could provide a quiet place to read or simply unwind away from the noise in the rest of the home.
Use mirrors to extend visual space.
Mirrors are certainly worthy additions to a bedroom when space allows. They're great for bouncing natural light around and making a smaller room feel more spacious.
You can find antique mirrors that add character and interest, and a touch of vintage romance. Search for lovely old mirrors at yard sales, flea markets, antiques stores and thrift shops. You can always repaint frames to match your bedroom color scheme, so don't pass over a beautiful frame if the color isn't quite right.
To Promote Better Sleep:
Remove electronic distractions.
Finally, it is important to consider anything in your bedroom that might stop you from relaxing and taking things easy. After all, our bedrooms should be a place to rest and retreat. Studies have shown that a room must be dark in order for deep restorative sleep to occur, so be sure to turn off lights and unplug any devices that might have flashing lights. Install blinds or draperies to close at night to keep any lights from the outside from disturbing your sleep.
Diffuse essential oils.
Diffusing essential oils such as lavender has a very calming effect which will also help promote better sleep.
Premium, Essential Oil Diffuser, Quiet 5-In-1 Humidifier, Natural Home Fragrance Diffuser
Although there are many other things to consider when designing a bedroom such as furniture, what type of decor style you will choose, painting, textile patterns, etc., keep these basic elements in mind when working to create the perfect bedroom: comfort, style, and restorative sleep.
Now that I have the fundamentals out of the way, I can begin to think about what style of bedroom and color scheme we will be using. In the months ahead I will begin sharing the process of designing and decorating our bedroom along with some other home renovation projects, so if you love before and afters be sure to subscribe by email and follow the adventures!
Thanks for visiting today!
Amber