Hello friends! Let's talk all about vintage junk and antiques! Wait…isn't that what we always talk about? Actually today I am not showing any new finds or sharing a fun place to go junkin' for the best antiques. Instead I want to discuss how to find antiques, and then how to protcct those precious antiques and vintage treasures we already hold so dear. *This post contains affiliate links.
Whether you're exploring online auctions or are heading out for an in-person foray, vintage shopping is aways an adventure! Some of the vintage items we have may not be "worth" a lot of money, but there may be fun memories of junkin' adventures associated with them. It may have taken years to hunt down that particular piece which was a labor of love to restore. Other finds may simply have sentimental value. No matter what the actual, monetary value may be, our vintage pieces are precious to us. Over the years I have learned many ways to clean, display, and store antiques based on trial and error, and I am happy to share my experiences with you so that you can protect your vintage treasures too.
Gain a rough idea of what you need
While window-shopping in a traditional store can be great for inspiration, approaching competitive auctions in the same way could quickly see you missing out as you waste time considering whether you really need those items. To avoid this, it's crucial that you get a feel for roughly what you're looking for before arriving. That way, you'll be far better able to immerse yourself in the fast action of an auction house without risking delays that cost you items you'll never be able to find again!
Prepare your transport and storageIt's all well and good buying antiques that are typically heavier and better quality than modern household additions, but you also need to think about how you're going to transport and even store them before you find a place for them in your home. Admittedly, some auction houses will keep things for a set amount of time, while others may even post your items for you, but this can be incredibly expensive and is almost guaranteed to push you over your set budget. Instead, it's therefore worth considering things like van hire and affordable storage units that mean you can bring your pieces straight home for less. Then, you'll be able to get to work preparing your rooms for those new, undeniably striking additions without ever having to leave anything behind because it 'just wasn't practical'.
Placement
Placement of vintage, antiques and special upcycled items around the home is a vital element of preserving them in the long term. Older or restored pieces can be a lot more delicate than newer items. After all, they have already "lived a life" before. When decorating my home with vintage and antique finds, I still want to have a cozy and liveable space, so I try not to have any vintage items on display that are "off limits." While I do decorate with mostly vintage and antique finds, I never want our home to feel like a museum or stuffy.
Still, there are a few vintage items that do need to be kept out of harm's way even though they are part of the decor. I once lost a dear antique gravy boat when my son who was six at the time, hurled a house shoe across the kitchen! The gravy boat was sitting on a low shelf, so it was bound to happen with a rambunctious boy in the house! If there is a piece you truly love, just be sure to keep it out of the line of fire.
One of my favorite thrifted finds is an amazing 1914 Remington typewriter. At first I kept it on a small desk right by the front door. While my son never seemed to want to bother it, nearly every other child that has ever come in our home has had the irresistable urge to bang on the keys until they get all jumbled up. It would always take quite a while to get all of the hammers and ribbon back in place. I finally got smart and moved the typewriter to a higher shelf where it can still be seen and enjoyed.
Many years ago I was cat sitting for a friend at my house. The cat scratched the speaker of my great, great grandfather's antique radio. Other than having the radio professionally restored, the damage is irreparable.
Kids will be kids, and animals will be animals, and we love them dearly! Just remember to keep truly fragile, sentimental, or expensive antiques out of the way if children and pets will be around. Also remember that some older antiques and chippy salvage are likely to have lead paint, so be sure to keep those items away from pets and children.
Heat
Some antiques do not do well in extreme heat. Very old wood and veneer may split. Vintage photographs and heat do not mix! I have found this out the hard way. I kept some vintage and antique family photos in a wire photo display stand on a shelf very close to the vent. The hot air was not blowing directly on the photos, but I guess it was still too much for the fragile photos. Some of them became stiff and brittle, and cracked.
Light
Light is also a key factor to consider when positioning vintage items. This is because sunlight can fade fabrics or materials and shorten the life of a special piece. With that in mind, if at all possible try and display your more treasured vintage pieces out of direct sunlight to avoid this issue.
Cleaning
Cleaning is a tricky situation when it comes to vintage and antique finds. It is extremely important to give all items a thorough cleaning before dragging them into your house. I have had spiders hatch, molds grow, and even roaches crawl out of drawers and shelves that I thought were clean enough to bring into the basement until I had a chance to wipe them down. BE CAREFUL!
A collection of my Craigslist junkin' finds wiped down outside on the sidewalk, waiting to be primed.
Wooden furniture needs attention
If you've purchased your furniture from an antique shop or as a second-hand auction, you will need to protect them from damage before you start using them at home. Before bringing any items inside it should be a priority to clean and vacuum the item, opening all the drawers, and cleaning every corner. You can find a variety of pests, from spiders to mold as you inspect your furniture. During this cleaning step, you can also make a note of all marks, left by mold growth, transport scratches and chemical stains on the wood.
Not all marks can be removed in the same way. For instance, hot liquid stains, such as coffee, tend to leave a colored ring on the surface of the wood – these stains are common on small tables and chests of drawers. A pale stain means that the liquid hasn't penetrated deeply, which can be easy to fix by removing the stain with oil and replacing the wax on the area.
So how do you clean fragile items? If you scrub an object too vigorously you can actually damage it by wiping away the patina that it has collected over the years, which can devalue the piece. First and foremost you need to determine that a particular item can be cleaned. Pieces with chipping paint or veneer might only be able to handle a gentle wiping down with a damp cloth, and then sealed with a matte acrylic sealer to keep loose paint from flaking off.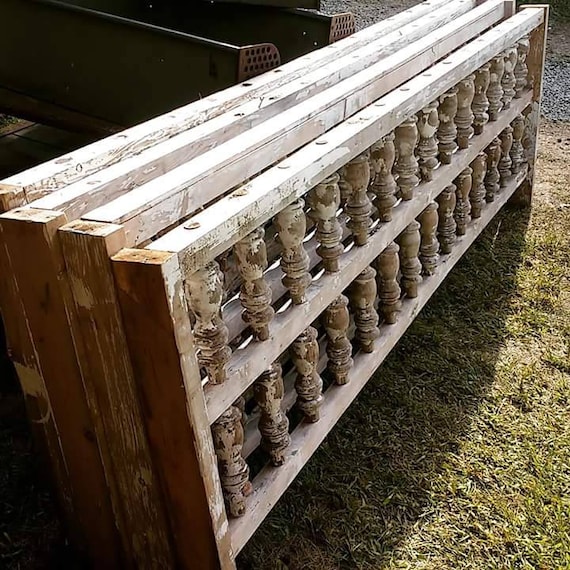 A collection of salvaged porch architecture Lynn Michelle Design Salvage
Spray Acrylic Sealer Matte Finish 6oz
Cleaning Wood
First I always SHOP VAC furniture, old toys, artwork, etc. to remove any debris, cob webs or spider eggs. This is truly the easiest, fastest, cleanest, and safest way (no critter bites or scrapes from loose wood) to prepare a vintage piece for cleaning.
I prefer to use Murphy oil soap and warm water to clean wood items before refinishing, painting, or leaving as is. I am careful not to saturate the wood. I just wipe it down really well with a dampened cloth dipped in the mixture.
Vintage linens can be gently hand washed or soaked in gentle soap mixture and hung on a line to dry, then ironed on a low setting. Some may able to withstand dry cleaning.
Storage
While many of our favorite collectibles and antiques are on display year round, there are some seasonal items or other miscellaneous antiques that may not have found the right spot yet in our homes, so we keep them hoarded packed away in closets, drawers, the garage, attics, basements or even storage sheds. If items are not sealed and packed properly, they can be damaged and lost for good. Here are some of my best tips for storage.
Linens and Paper Storage
When not in use, try to store vintage linens, old hats, scarves and purses in sealed plastic bags or totes, as moths seem to love any old fabric!
The same goes for old books. If you keep them in the basement or attic, seal them in plastic freezer bags to avoid moths and book lice ( I am sorry to have to say there is such a thing!) Sealing the books will also protect fragile papers from heat, or absorbing any type of moisture in the air. It might prevent them from smelling musty if they don't already.
In general, it is better to store all off season collectibles in plastic totes if they will fit rather than cardboard boxes which can absorb moisture and allow bugs and mice to take up residence. For larger furniture pieces that will be in storage, always cover with a large inexpensive plastic painter's drop cloth tightly wrapped and secured with duct tape.
Removing Dirt, Grime And Scuff Marks
STK 20 Pack Extra Thick Magic Cleaning Sponges – Eraser Sponge For All Surfaces – Kitchen-Bathroom-Furniture-Leather-Car-Steel – Just Add Water to Erase All Dirt – Melamine – Universal Cleaner
Magic erasers work very well for scuffs on so many things! I love using them on vintage dishes to remove grime and small marks. Always check in an inconspicuous area before scrubbing, and be careful of rubbing hard on a dish with a printed pattern or transfeware.
Regarding Mold:
Please, do not try to clean items that have a lot of visible mold and strong odors of mold or mildew. Working with moldy pieces can do damage to your health long term, even if you are only breathing in the spores for a few minutes. Do not bring moldy pieces inside your home under any circumstance, and that includes your garage, attic, or basement. Bleach DOES NOT kill all types of mold. If you absolutely think you can clean a small spot of mold off an old piece of furniture and salvage it, please wear a respirator mask, gloves, long sleeves, and safety glasses.
Use a solution of thieves cleaner or vinegar water mixture and a damp cloth to wipe down after vacuuming the dust, dirt and cobwebs, then SEAL THE PIECE with Zinsser or Kilz primer. Follow by painting it with several coats of paint in your desired color.
Rust-Oleum 286258 Zinsser Bulls Eye 1-2-3 Primer
The idea is to kill the mold and totally encapsulate it so that the spores cannot reactivate if exposed to humidity. You can also strip the piece down to bare wood and seal with several coats of stain and polyurethane, but sanding moldy wood is very dangerous so avoid that if at all possible. Personally, I no longer deal with any mold whatsoever after suffering mold biotoxin illness from a water damaged building and exposing myself to too many moldy basements and buildings hunting down vintage junk!
Junkin' is fun, but no antique piece is worth your health! If you discover mold in your junk stash…throw those unlucky treasures out, no matter how hard it may seem. JUST SAY NO TO MOLD!
Cleaning and Protect Old Hardwood Floors
Some of these same principles apply to cleaning old hardwood floors since they can develop marks and stains. Marks, such as scratch marks, can be removed through careful sanding of the surface. You will also need to reapply a protective varnish over the wood. Stains, such as water stains, can be more problematic. Spilled water is typically quickly cleared, using the tips shared above for superficial stains. However, when the stain is dark, the water (or pet waste) has penetrated through the wood or it can be an indication of a leak.
Typically, dark stains that are wet to the touch indicate an underfloor leakage, which can require under slab plumbing repair. Sometimes, water stains don't reach the surface, but you can notice the presence of mold as an indicator of excess humidity. Removing deeply ingrained mold can be tricky. It's sometimes safer to get rid of the floor area and replace the wood.
Repair
Lastly, don't forget that sometimes older pieces will need some repair work from time to time. Simple actions such as tightening screws in furniture and replacing wobbly chair spindles can actually keep a piece from breaking altogether. Almost anyone can make minor repairs, and there are many great websites such as werefinish.net which can offer guidance and tutorials. When in doubt, contact a professional restoration company to bring your vintage treasures back to life and to make sure they are protected, preserved, and age gracefully.
Well friends, I hope these tips will help save you the heartache of having to part with any of your favorite junkin' finds. Following these tips can actually help turn your yard sale treasures into family heirlooms that can be enjoyed for generations.
If you have any other great tips that you have picked up on over the years, I would love to hear about them.
Until next time, happy junkin'!
Amber
Looking for great vintage junk? Click here.