Happy Sunday and welcome to another Vintage Cottage Weekend! My friend Debra of Common Ground and I are enjoying getting together every weekend to share all the things we love about vintage cottage decor, gardening and cottage living. Today I am sharing a some plans for a vintage cottage family room makeover!
Yesterday my husband and I went to Home Goods for bed sheets, and ended up purchasing a leather sofa! The sofa is a little more contemporary/modern farmhouse style, but we loved the unique buttery-tan color and soft leather. We have been looking for sofa for our family room for about two years and the price was right on this one.
When searching for similar tan or mustard yellow leather sofas on Pinterest, almost every picture is modern farmhouse or boho style rooms. Neverthless, I think I can pull off at least a "refreshed cottage" look with vintage accents in the family room by combining the sofa with other vintage furnishings and accessories.
While the styling on our couch is more contemporary, I absolutley love the color. It is similar to Miss Mustard Seed's sofa shown here. I love how she paired the buttery-tan leather sofa with soft blues and neutral pillows.
Our family room has never been "bloggable" since we moved in and I have never even shared a pic of the room on the blog or Instagram. In the last two years it has become unusable as we used it as a catch all room while redoing the kitchen and mini-mudroom entrance. It's a small room that already has built-ins, so I will definitley be going for a cozy, library/den family room look with books galore.
I am going to keep the walls light and bright, but use lots of colorful accents to bring in that vintage-cottage charm. There will be some masculine, English country cottage vibes as well. I love the idea of a "Pottery Barn" look too, as it not too cluttered but incorporates interesting and stylish decorative accents and house plants.
Source
A colorful rug is a must!
I am not sure of the furniture placement at this time. If we work in an electric logs fireplace into the existing built-ins, we may place the sofa up close to the fireplace, leaving room behind for a console table. Our family room is very narrow, so this arrangement would not allow for any other chairs or side tables on each side of the sofa.
I love the idea of a sofa table behind, with a basket for storing extra pillows.
Since there wouldn't be room for side tables, the sofa/console table would be useful for lamps or even extra seats.
Really loving this desk idea! The back of the sofa looks completely traditional, so the view looking into the family room will still be in keeping with the rest of our house if we position the sofa facing the built-ins.
If there is walking space behind the sofa, it might be very nice to add some vintage-cottage chairs behind the sofa to provide some extra seating.
,
I have two salvaged leaded glass cabinet doors in my garage that have been needing a home. I would love to work them into the family room built-ins in some way. The family room is 1990's addition, so adding the old cabinet doors would go along way in tying the room in with the rest of our home.
Adding Vintage-Cottage Textiles
Before committing to purchasing the sofa, I immediately went to the throw pillow section to see if I could find pillows with the mustard-tan color to make it work in our home. I found some pretty yellow, ivory and gray-green plaid pillows that matched perfectly and will be great for the summer months.
Of course I am mad for plaid, so I want use as much plaid as possible to give the room traditional vibes. Most people are familar with the Royal Stewart red "Christmas" plaid, but there are many beautiful plaids with mustard yellow that will be gorgoues for fall and winter!
This plaid could on display in the family room as a table runner during the summer months with a pretty lavender bouquet on the sofa table.
Traditional Vintage (English-Country) Cottage Artwork Ideas
Pheasnt Print ~ Etsy
I will definitley want to incorporate artwork with vintage English country cottage vibes. Equestrain hunt scenes, wild game birds, vintage floral botanicals and landscape paintings are all possibilities.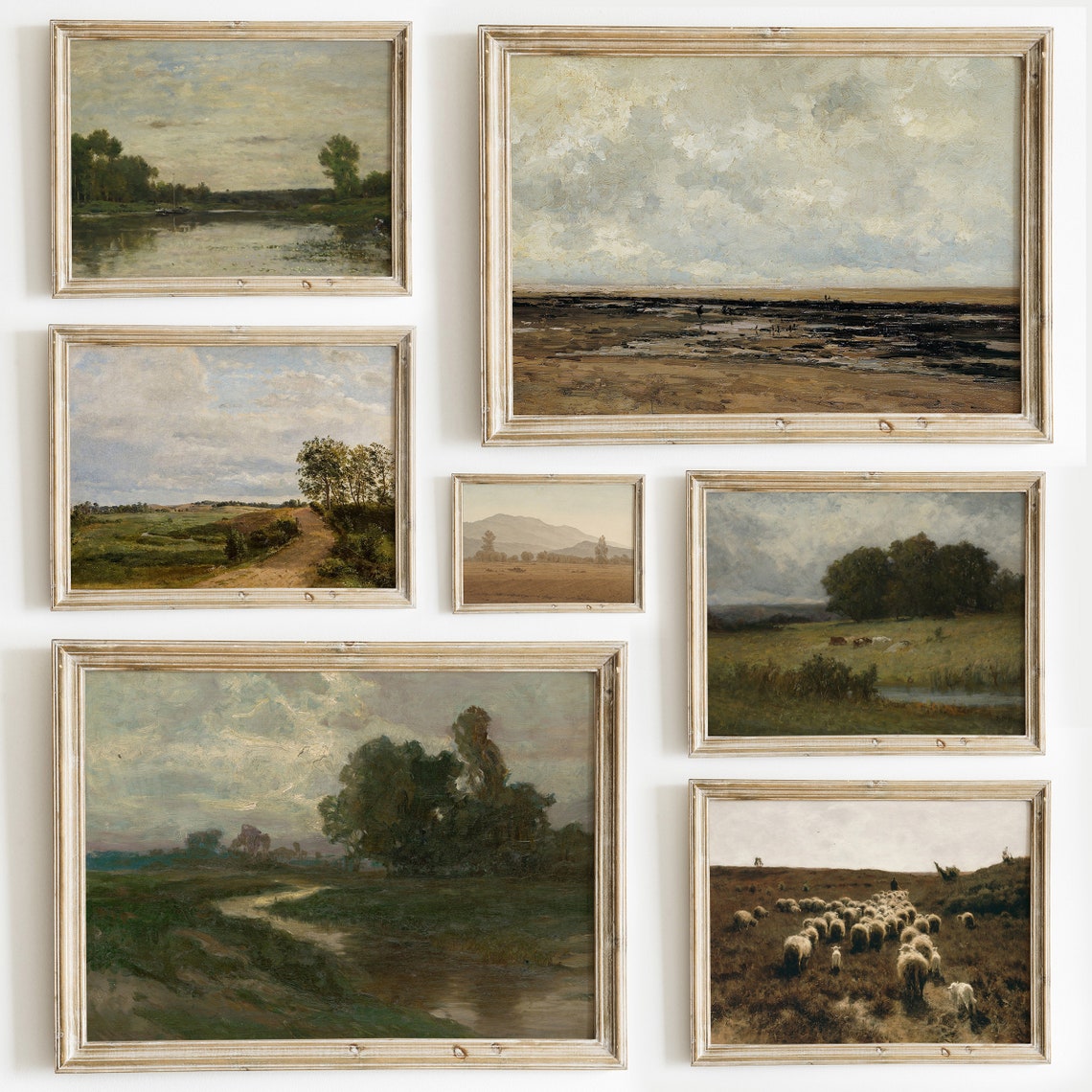 Vintage Printable Landscapes ~ Etsy
I have no idea when we will actually tackle this project, but we at least have to get started on cleaning out the room to even make room for the sofa delivery next week! I will take some before pictures and keep you updated on the progress.
I hope this post has given you ideas for how to incorporate furnishings with slightly modern styling into a vintage-cottage decorating scheme. It's never a bad idea to have a few "fresh" pieces of artwork or furniture mixed in with vintage decor to keep a home from looking dated. My goal is to have a room with a few updated modern twists that my teenage son will not think is "old lady" and will want to have friend over to watch movies. The sofa is a great starting point!
I have no idea when we will actually tackle this project, but we at least have to get started on cleaning out the room to even make room for the sofa delivery next week! I will take some before pictures and keep you updated on the progress.
For some beautiful spring vintage cottage inspo, check out Debra's beautiful Spring and Easter Mantels. Her spring decor is the best!
Have a beautiful weekend!
Amber