Welcome back everyone, I hope you are all having a wonderful Memorial Day! Today I am sharing my favorite photos from the Tea and Roses blog hop this past week.
Eleven blogging friends and I got together to share our interpretation of tea time with roses. Each post was so different and truly creative, making this one of the most enjoyable tours I have participated in. Let's take a look at some Tea and Roses Blog Hop Highlights!
The Painted Hinge~ A Farmhouse Style Tea and Roses Party
Michelle at The Painted Hinge created a bright and beautiful farmhouse tea party. Her choice of colorful roses got my attention right away, along with her lovely dishes. She also incorporated some Alice In Wonderland tea party references for fun. I just love this beautiful post and have visited several times just to see all the pretty details.
Floral Inspired Bedroom Refresh~ My Thrift Store Addicition
Cecilia at My Thrift Store Addiction recently refreshed her bedroom using floral inspiration, just in time for the blog hop. I love her gorgeous vintage pillow cases and hand made tea towel-turned-rose pillow. She added so many gorgeous and romantic touches to her bedroom. I would love to just relax there, sip some tea and read some beautiful decorating magazines, (probably several in which she has been featured!)
Spring Tea in the Garden~ Everyday Living
Pam at Everyday Living is always wowing us with her beautiful flowers and tablescapes! Her outdoor spring tea in the garden setting was absolutely perfect, from the dishes to the vivid pink roses on her table, to the sprawling roses in the background. Just lovely!
Follow The Yellow Brick Home~ A Classical Tea For Beethoven and Me
For The Tea And Roses Blog Hop I invited the great classical composer, Ludwig Van Beethoven to take high tea with me! As a music teacher and vintage decor collector and enthusiast, this was one of my most enjoyable posts so far. Blog readers were also invited to treat themselves to some beautiful classical music and to learn a few interesting facts about Beethoven. I also shared how I quickly and inexpensively made a vintage style tablecloth with pom pom trim that has been a hit with my readers. I hope you will get a chance to check out this quirky post if you haven't already!
Iced Tea, Fresh Cut Flowers, And Summer Hospitality~ Poofing The Pillows
Stacey at Poofing the Pillows treated us to some summer hospitality with iced tea, fresh cut flowers, and an easy living summer tea party! In her post she gives some great tips for throwing together a low-stress, simple summer get together with iced tea on the menu and fresh cut roses on the table. Taking a cue from Stacey's Texan tea party, I will be serving iced tea for get togethers during the hot Kentucky summer days ahead!
A Garden Tea for You and Me~Have A Daily Cup of Mrs. Olson
Jann at Have A Daily Cup of Mrs. Olson delighted us all with her whimsical poem which led us delightfully through each picture in her post! Because her roses were not yet in bloom, we were treated to some beautiful lilacs instead. I can almost smell their wonderful fragrance now! To incorporate the roses theme she used beautiful tea pots with roses in the design. So creative!
A Garden Tea Party~ Decor To Adore
Laura at Decor To Adore had me smiling from the minute I clicked on her post and saw the first picture of her dressed in an authentic Edwardian gown for an authentic Edwardian style garden tea party! Her playful pups were also VIP guests at the party. Laura's taste and style is elegant and exquisite and  her post is a must read for lovers of history and tea!
Rose Birthday Party~Petite Haus
Angelina at Petite Haus invited us around her table in her gorgeous new French Country home to share some of her beautiful birthday cake topped with David Austin Roses. Her table was set with a mix of the prettiest vintage dishes and a lovely blue grain stripe fabric remnant as a runner. As usual Angelina pulled together the most stunning post overflowing with French Country charm.  We are so thrilled that Angelina invited us to her birthday party, and we certainly wish her a most happy birthday and beautiful year ahead!
Carol at Art and Sand transported us blissfully away to the beach in her post as she took us on a little bike ride tour to look at all the lovely roses in her picturesque CA beach town. She ended her tour with a little iced tea and roses picnic on the beach. Be still my beach loving heart!
Tea and Roses Blog Tour~Katherine's Corner
Katherine at Katherine's Corner treated the vintage dish addicts to pure eye candy by sharing her collection of vintage tea cups which she photographed in beautiful and creative vignettes. She has such a stunning collection which she is down sizing a bit, only keeping those that are most sentimental. We are so glad that we got to see her large collection before she parts with some of them. Don't worry though, Katherine loves tea time, so she will still be sharing lovely tea party and tea cup posts in the future!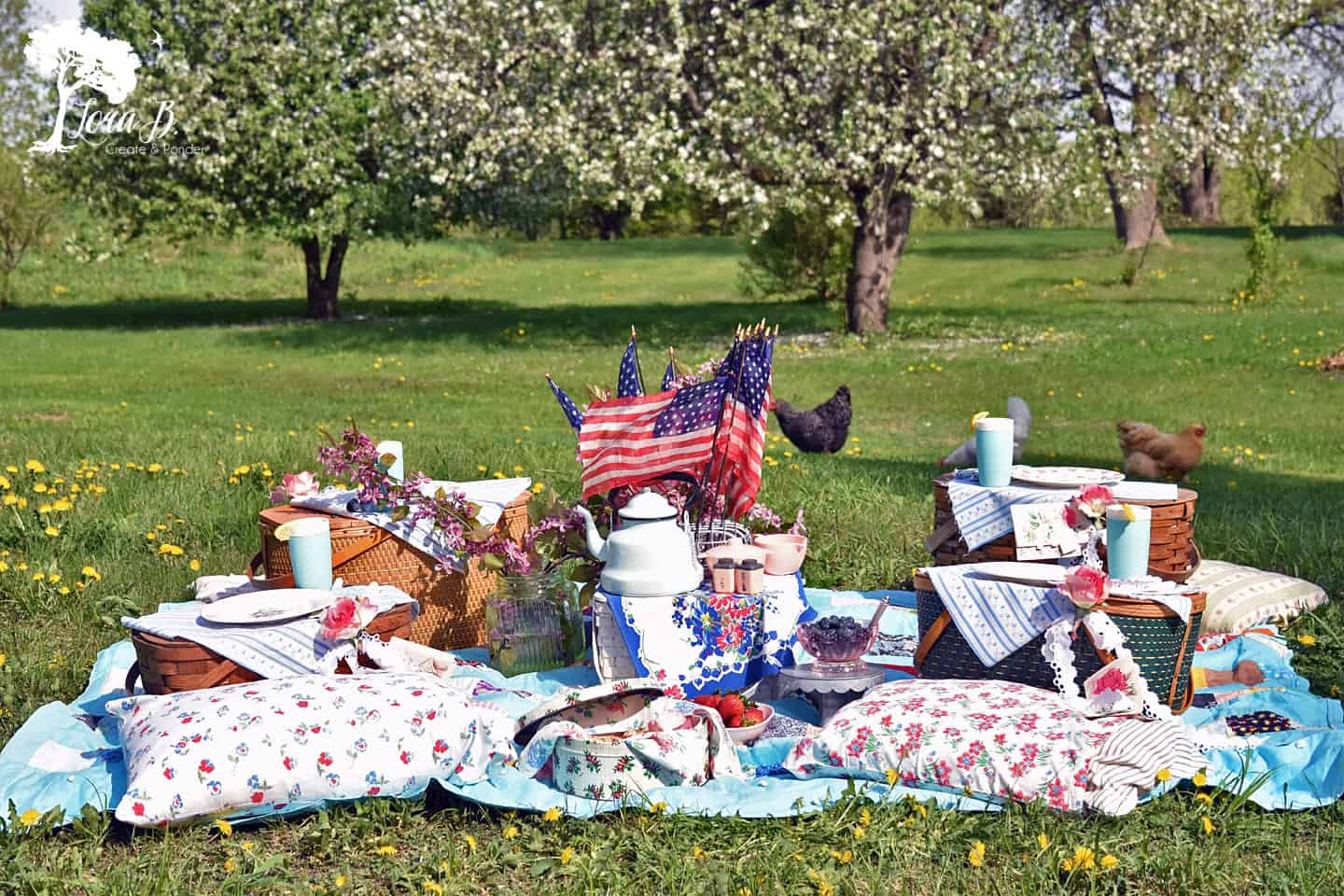 A Picnic Basket Picnic with Tea and Roses~Lora Bloomquist
Lora Bloomquist at Lora B. Create and Ponder transported us back to a simpler time with a picnic basket themed picnic with tea and roses! Her attention to detail in this post is just unbelievable! I would just love to relax on the vintage ticking pillows and eat fresh summer berries on vintage rose dishes with Lora in this picturesque country setting. I am sure we would just sit and talk about vintage junkin' finds and treasure hunting for hours! If you love vintage country style, don't miss this post!
Kristin at White Arrows Home continually amazes me as she finds interesting ways to incorporate vintage cottage style into her cozy Northwoods Log Cabin. Her posts are always so heartfelt making them a joy to read. For this hop she used her grandmother's heirloom teacup collection. She designed beautiful vignettes combining romantic roses and vintage tea cups with more rustic decorative accents which reflect her signature style of classy cabin and lakeside living.
Collages via Decor To Adore on Instagram
As you can see, the Tea and Roses blog hop was full of fun, creativity and individuality! I had such a wonderful time joining these ladies for tea and roses! If you didn't get a chance to check out all the tours, I highly encourage you to do so, for I am sure you won't be disappointed! By the way, if you are looking for fabulous information about roses, gardening or any other type of flowers you may want to enjoy at your next tea party or special event, I recommend this beautiful blog, Lamour Et Fleurs.
Thank you so much for visiting today. Please come back again soon!
Linking up: Thursday Favorite Things  Vintage Charm Party Share Your Style Share Your Cup Wow us Wednesdays Tuesdays At Our Home  Wonderful Wednesday  Inspire Me Tuesday