Happy spring! Wait…it's not spring? Well, happy ALMOST spring! It's the end of February, but it looks more like mid-March around here. Last week we had some high 70's days and it just seemed to make all the eager early spring flowers spring forth! I was so in awe when I drove around town this weekend that I decided to share some photos of what's in bloom here. Hopefully it will give you some early spring garden vibes to get you through until spring truly arrives!
Dainty crocuses are often the very first sign of spring in most regions. We have had them poking through the ground since late January.
They have naturalized at the base of trees and on hillsides all around our neighborhood.
This big patch of glorious hellebores is in full bloom in the back yard at our new house! When we bought the house last fall I did notice the foliage of hellebores, but of course they weren't in bloom and they hadn't been cut back or tended to in quite some time. I decided to just leave them alone to see what would happen in late winter and early spring this year. I am so glad I did!
This weekend I stopped by the house to check out my husband's renovation progress and I was so pleasantly surprised to find the hellebores in bloom! Aren't they just so beautiful and delicate? While I didn't inherit many heirloom plants or flowers at our new home, I am thrilled about the well-established hellebores there.
Hellebores are late winter and very early spring bloomers, but in shaded conditions they can bloom all through spring. I am hoping these beauties will be long lasting!
Hellebores are an old fashioned flower more commonly known as Christmas rose or Lenten rose since they bloom in winter. They have had a resurgence in popularity in recent years. To learn more about them, check out the post above full of beautiful photos.
Daffodils are among my favorite flowers, so I was thrilled to find several clumps growing in the back and side yard at the new house. I will certainly be planting more new fall.
The precious tete a tete mini daffodils are blooming all around the base of my weeping cherry in the back yard here at the yellow brick home. These were planted in late spring after they had finished blooming in my spring containers, and as you can see they did just fine!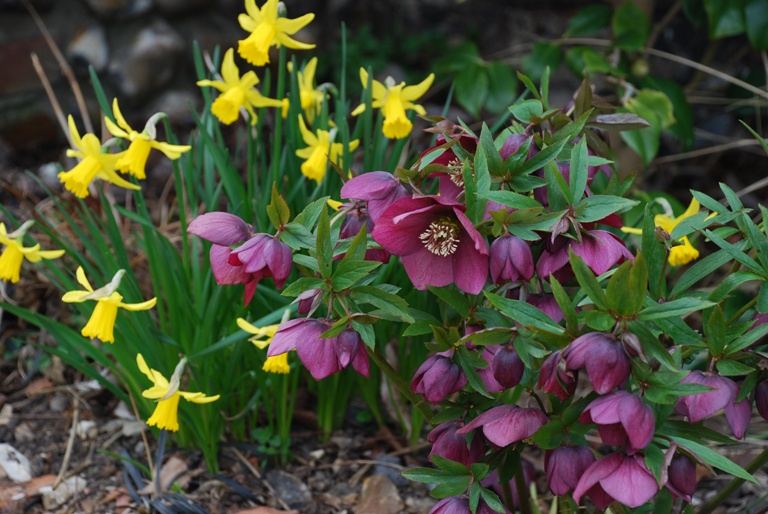 Hellebores and daffodils are such a pretty spring combo! As I am already planning for next year's spring garden at the new house, the photo above is giving me some great inspiration. In the fall I want to plant some groupings of daffodils near my big clumps of hellebores to enjoy next spring. Since my tete a tete daffodils survived their late spring planting, maybe I will just go ahead and try planting some daffodils next to my hellebores in the next few weeks and see how they fare.
Later this week I plan to make an early spring bouquet with the daffodils and hellebores gathered from both the new house and our current home. Isn't this arrangement so pretty in a simple white pitcher?
Oh my goodness, how darling! I can't wait to get out to the garden to cut some flowers for a pretty early spring arrangement to welcome March!
The Earliest Spring Around Town
Our local park has a daffodil meadow that is well known to local residents. Normally the daffodils are just starting to bloom in late Februrary, but as you can see, they are bursting out in full bloom already.
Both of my boys used to run and play in these daffodils when they were little. No picking allowed, per park rules! (Try to keep a todder from picking them though!)
Our new neighbor planted over 1000 tulip bulbs around his stately home and property. Eek! I LOVE seeing them all from the kitchen window of our new home! He is hosting a spring tea for all the neighbors to enjoy the gardens and socialize. I am required to wear a pretty spring hat and gloves. So fun! We absolutely love all the new neighbors we have met so far!
I will certainly miss this spring view out my current front window which is across the street in my neighbor's yard. Luckily we have just moved down the street so I can walk around the block and enjoy it during spring.
Ah, cheerful and sunny forstyhtia, the flowering shrub of my birthday month! My birthday is March 31st, so usually the forsythia bushes are still in full bloom during that time. They are a week or two early this year, so we will see.
The tulip trees are also blooming all around the neighborhood. I just can't believe it!
The Ann Magnolias are extremely early! I truly hope we don't get another freeze or snow that will damage the trees!
Is this another tulip poplar? Whatever it is, it's just a bit early here. Nevertheless, it's about to be gorgeous within a week or two!
Our lilac is budding out by the back door, but it still has a long way to go before blooming. Not sure if we will be moved out by then, as we do plan to start moving in early May.
Here come the chives in my raised cedar planter! I haven't been around back to my cottage garden yet, but I am sure there are several clumps of chives and parsley coming up back there too.
My hardy perennial succulents and sedums in the bird bath are also awakening! Luckily I will be taking the bird bath with all my little succulent babies with me to the new house.
My two weeping cherries are blooming out now too! They are so pretty, but I am very sad about these, because they were birthday and Easter gifts from my husband andthey are too large to move. I am going to research to see if I can take cuttings to start baby trees. Has anyone ever done this successfully?
It it REALLY the earliest spring though?
Of course, I know it isn't truly spring just yet just because we had a 77 degree day or two in February! It's more than likely a "fool's spring!" March and April are also the most wishy-washy months months here in KY as far as weather goes. Some years we have snow boots on for Easter Sunday, then other years it's flip flops! It could snow next week, but even if it does, the hellebores and daffodils will withstand the onslaught. As long as there is no ice, the trees should weather the finicky weather too.
I hope this post has made you excited to know that spring really is just around the corner! Even if we all have winter weather in the weeks to come, the true season of spring is less than 25 days away, and nature is waking up for the celebration. I am loving every minute of it!
How does your late winter/early spring garden grow in your neck of the woods? I love hearing from you!
Thanks for visiting!
Amber