Hello friends and welcome back for my week two update of my powder room makeover for the  official One Room Challenge!  If you are unfamiliar with the One Room Challenge (ORC), it is an event hosted by Better Homes and Gardens where bloggers and Instagrammers have just six weeks to complete a room makeover.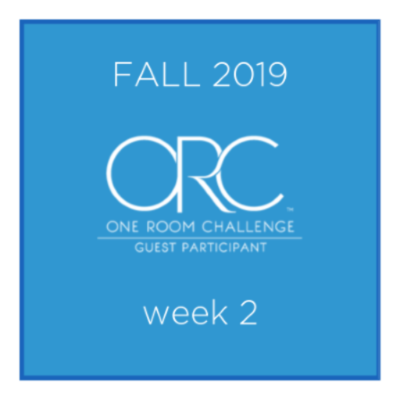 Participants are required to document the step-by-step process in a weekly blog post over the course of six weeks.  I participated in the spring ORC by completing a Teen Bonus Room Makeover in our basement and for this challenge I have decided (with my husband's help) to tackle the little powder room that is just at the top of the basement stairs.
For week one I shared a little bit about how the powder room looks currently and some inspiration for powder room makeovers.
One of my goals for week two was to find a new mirror to hang above the sink. I love the antique mirror that is currently in the bathroom but it is way too small. Although it is at eye level, there is too much negative space between the mirror and sink. I spent all week looking for a mirror that I really loved but I couldn't find the farmhouse style I was envisioning.
In order of importance, length and size came before style on my mirror wish list. I really love how this Anthropologie mirror looks above the sink and how it makes a statement without being overpowering.
We finally got some fall weather so I headed to Lowes this morning to pick up some mums. I realized that earlier this week when I was shopping there I had only looked in the bathroom section for mirrors, and I had forgotten to check the home decor section. Today I ended up finding this pretty oval scalloped mirror that is more like my French vintage style preference.
Lowes
Although it isn't exactly what I had in mind it might work well. We currently have brushed nickel fixtures that I was going to replace with farmhouse black fixtures, but there is a brushed nickel trim around the mirror that matches perfectly. I haven't hung it yet because that is going to be a big ordeal! I had completely forgotten until my husband reminded me that the wall behind the toilet and sink is a block exterior wall, so it is extremely difficult to drill through. That is why I had to settle for the smaller mirror when we moved in, since it would hang on the existing nail from the previous owner's mirror.
It also explains why the little shabby hook plaque is hanging in a weird spot. I had to use the existing screws from a cheapy towel bar to hang the hook plaque (which I never liked and intended to return, hence the price tag still hanging on it!)
Our powder room is really tiny so it doesn't have a lot of storage. A medicine cabinet would be a great choice if it weren't for the block walls. It would be a major undertaking to inset the cabinet into the wall.
I do like this mirror, but I just won't know until it is hanging  whether or not it's a keeper. After much discussion, my husband and I agreed that it is unecessary to replace the whole sink and cabinet with a pedestal sink. The sink is fine and the existing cabinet is still in good shape and provides bit of much needed storage underneath. We will see how this mirror looks hanging above our existing sink and cabinet and go from there. If it looks good, we'll keep it. If not, on with the mirror hunting!
I painted the plain wooden cabinet when we moved in six years ago with a DIY gray chalk paint and dark wax. I do still like it but it is time to repaint it. This week I am going to experiment with trying to give it a weathered gray wash look using the same technique I used on my Vintage French Farmhouse Gray Wash Basket Makeover to try to achieve a look similar to the Pottery Barn vanity below.
Vintage French Farmhouse Basket Makeover Easy DIY Gray Wash Paint Tutorial
There are still four weeks left in the challenge so I am not giving up on finding the perfect vintage mirror like the one pictured above.  I also love the fixtures in this photo and keep thinking I would like to change ours from brushed nickel to black.  What do you think about the chandelier? I have a very old small chandelier that I have been hanging on to for years hoping to find the perfect space. It is tarnished brass like the one in this picture however, and that would be a lot of mixed metals in such a small space.
If I would happen to decide to keep the oval mirror with the brushed nickel trim and change over to a black faucet and use the brass chandy, I am not sure how all that would look together. Mixing metals in the bathroom and kitchen seems to be a design trend however and many homeowners are doing it with beautiful results.
Hanging the chandy in the powder room would give it a touch of vintage glam and I think it would look so pretty with these vintage crystal door knobs that we will be using to replace the current vintage door knobs. With the exception of the powder room and the hall closet in the entry, all of the doors in our home have the original 1921 crystal knobs, so I wanted to match the powder room door with the rest of them. I also have a set of crystal knobs to replace the closet knobs.
I had planned to repaint the bathroom  and trim this weekend, but my husband pointed out that that would be a waste of time since he is going to be making a mess as he rips up the groutable floor tile this week, probably dinging up the walls and woodwork a bit. I did bring home a few paint samples and then ended up going back to our local hardware store to get a quart to get started on repainting the trim around the outside top and sides of the door where he wouldn't be working.
There is quite a bit of peeling paint and scuffs on the top and I have absolutely no clue why, but it needs a fresh coat of pain nonetheless! Here you can also see the little vintage light fixture that I am hoping to replace with my vintage (will be re-wired) chandelier or a new vintage style chandy.
This week will be the moment of truth when my husband starts tearing up the vinyl tile to reveal whether or not the original 1920's hex tile underneath can be salvaged. I love hex tile so I truly hope it can be! We only were able to see a very small bit around the toilet when my husband ripped up the bathroom carpet when we moved in six years ago. He had already started laying the vinyl floor before the discovery so we just decided to leave it until sometime in the future when it was time to replace the vinyl tile. Well, that sometime is time is now!
While it would be wonderful to find black and white tile or even plain white tile, there is a possibility that it could be ivory, green, or any other number of colors that were popular in the 1920's.
source
Our home does have some Craftsman elements, so colored hex tile is a possibility. There was so much carpet glue on just the little bit of tile that we saw that it was too hard too tell at the time. We just won't know until he starts the tedious process of stripping (using the least toxic thing we know of, Citri-Strip) and scraping all that gunk away.
ORC Week 3 Goals:
Hang mirror and decide to whether to keep it or look for a different one
Rip up floor tile (will probably take all week and then part of next week)
Start making some decisions about a new light
If you love makeovers as much as I do I really hope you will follow along to see the outcome of our little powder room makeover in November!  You can also find some stunning makeovers on the  ORC website including past makeovers and the current ones in progress. I will be posting week three updates next Sunday so I hope you will stop back by again at least to find out what the state of the original hex tile is! You can also subscribe by email to receive a weekly newsletter which will keep you up-to-date with this makeover and all my latest posts.
Thanks so much for visiting today!
Amber
Sharing at these great link parties: