Hello friends are you ready to get your hoo-gah on? Before you think I am speaking in a different language… well, I am! I'm actually referring the popular Danish "Hygge" style and I am crazy about it! (Pronounced "hoo-gah) Hygge is the Danish concept of coziness or togetherness, although there really isn't an English translation. It is more of a feeling or mood which is created by celebrating all things cozy and natural. It is one of the biggest design and fashion trends today, but really many of us have been incorporating Hygge style and way of life for many years without even realizing it, especially in the fall and winter months.
Savory warming foods, hot coffee and tea or rustic and natural textures juxtaposed with soft textiles such as woolen blankets, scarves and sweaters in neutral tones all define the Hygge aesthetic.
Hygge living is also about simplifying and relaxing for better health and quality of life.
Yesterday I shared my Cozy Neutral Winter Home Tour as part of the Neutral Winter Decor Blog Hop. I incorporated Hygge style by using natural textures, woodsy themes and other accents to make my winter home feel warm and welcoming. I would love to invite you to take the tour after linking up here at the party today to see how I have gotten my HOO-GAH on this winter!
This week I also shared my Charming Vintage Recipe Card collection and a few pics from my winter kitchen. There are so many old fashioned "feel-good" recipes from a simpler time that are also in keeping with the Hygge concept, such as "Chocolate For Drinking" (Homemade Hot Cocoa).
Since I have been in a Hygge frame of mind preparing for my home tour and keeping cozy during our first big winter snow of the year, I decided to feature a round-up of Hygge posts from last week's party.  Here we go!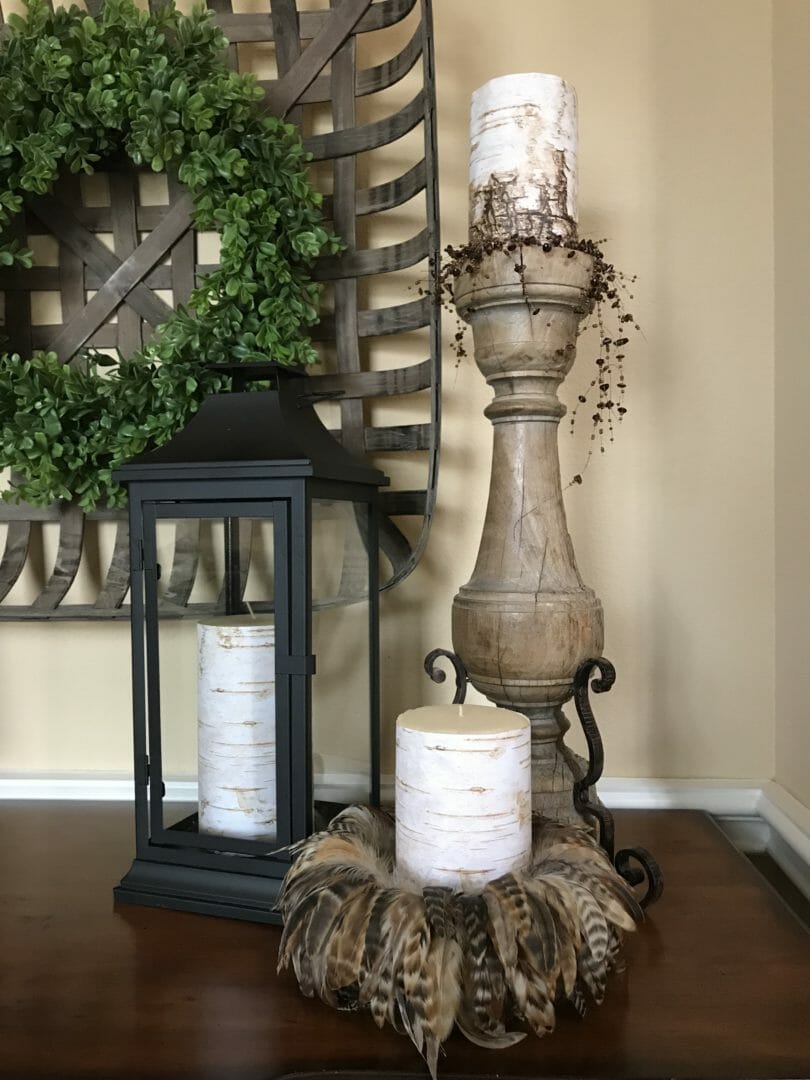 Cindy at County Road 407 shared an amazing idea for DIY Birch Bark Candles. I will definitely be making these soon!
Rita at Panoply shared her November and December vintage junkin' finds. I am crazy about these little lambs! With all their different neutral colors and textures, they would be beautiful styled for winter in a cozy Hygge style themed vignette.
Debra at Common ground shared an amazing crate makeover with a rustic and woodsy hygge style vignette. Her birch candle and moss in an ironstone tureen is perfect for winter.
Warming cinnamon is a staple of hygge foods and drinks and it also smells so good! Tina at The Healer's Nook shared about the many interesting using for cinnamon beyond baking, including the medicinal benefits of cinnamon.
Of course, cooking with cinnamon is wonderful too! I am delighted to share this recipe for sugar free crock pot cinnamon apples by Rosann at This Autoimmune Life. As I deal with many chronic health issues, sugar free eating is a mandatory way of life for me. Cinnamon apples are one of my favorite treats! I will be trying this recipe soon!
Using essential oils has also made a difference in my quality of life. I love to use them for cleaning and diffusing. Life In Reflection shared more ideas in her lovely post, How To Hygge With Essential Oils.
I hope you have enjoyed my little hygge themed round-up today! Thank you to everyone who shared last week!
Now on to this week's party. Link away your Thursday Favorite Things!