The sun is shining, the weather has finally warmed up and that happy spring feeling is in the air! There is just something about spring that energizes us and makes us want to "nest" around our homes. It's a great time to do some deep cleaning and to update the decor. The great news is that there are a few simple and inexpensive ways to create a whole new look for spring, and it's especially easy in a living room. Here are three inexpensive ways to refresh your living room for spring.
Embrace The Sunshine
Switch out heavy winter drapes or curtains with dark colors or patterns for light weight sheers or neutral, natural fabrics. You can also simply remove blinds and curtains altogether if privacy isn't a concern. The goal is to let in as much natural light  as possible.
Rearrange The Furniture
This time of year it's also nice to change things around a bit by trying out a new furniture arrangement. There are different ways to arrange just about any room, and if your living room is feeling a bit "tired" you can move furniture around to create a whole new look and feel…for free!
Swanson Homes | Photo: PK/Schneiderman's
To save time (and your back!) practice drawing out different arrangements, using precise measurements when possible. This way you are not wearing yourself out or scratching up your floors moving things back and forth trying to see what fits where.
Change Up The Decorative Accents
Use inexpensive pillow covers in light neutrals or bright, springy colors to refresh your living room for spring.
Along with trendy farmhouse or boho chic style covers, there are also many beautiful spring themed covers.
  Bicycle Flower Vintage Spring Home Decorative Throw Pillow Cover 
In addition to pillows, using a new (or different) area rug can make a space look brand new. If a new rug is not in your budget, you can purchase a gently used rug from a clean consignment shop and have it professionally cleaned by a carpet cleaning company, or simply buy or rent a carpet cleaner to DIY.  In most cases this will be a lot cheaper than purchasing a new rug. Still there are many inexpensive options online.
If you are looking for other decorative accent pieces but don't want to spend a fortune, then it's time to treat yourself to a day of junkin! Search for old artwork with floral graphics or botanical prints, pretty baskets, or vintage dishes with spring colors or floral patterns. You can also use some free printables online and frame them for your mantel or to hang as wall art.
Enjoy Spring Flowers 
Don't forget to refresh the living room with some spring flowers or branches, fresh or faux!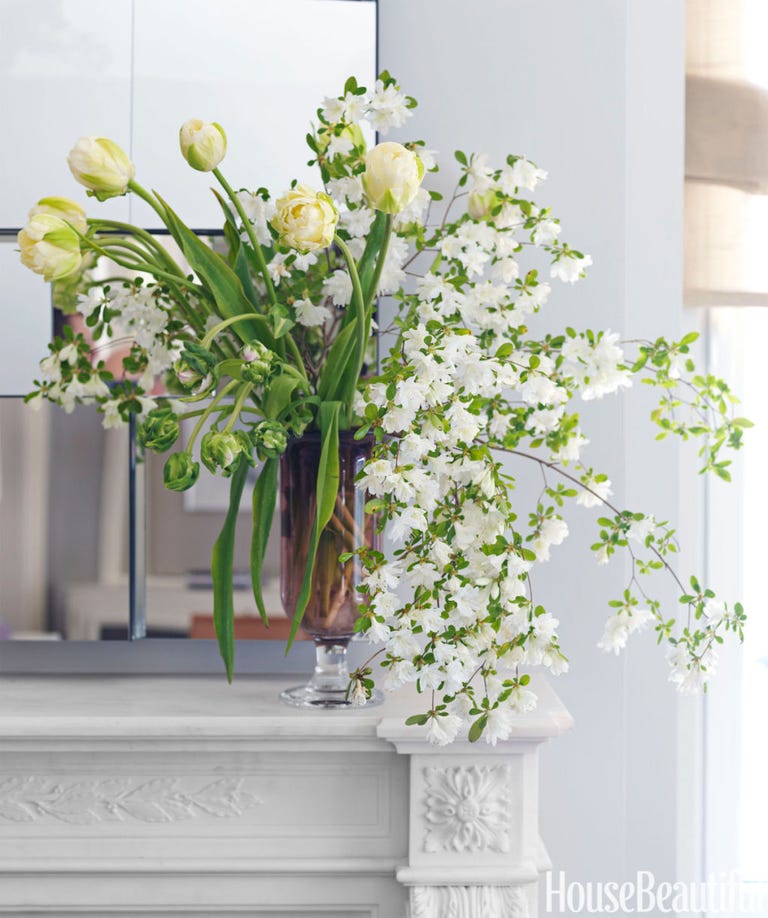 Dogwood Stem Hearth & Hand With Magnolia 
Today I have shared some simple and inexpensive ways to refresh a living room for spring. I am trying all of these ideas out this week and hopefully I will be sharing my spring living room refresh post soon and I would love to have you back for a visit to see what I have come up with.
How is your spring decorating coming along? I love to hear from you my friends!
Enjoy the sunshine!
Amber