As a vintage decorator I have a major pet peeve…technology! That's a pretty big issue considering we live in a tech based society, and I am a blogger. It's not that I don't like the convenience of technology, but modern tech devices and cords cluttering things up just don't compliment vintage decor! I am on a major de-cluttering and organizing kick, so I have been looking for specific ways to organize and hide technology in a vintage style home. *This post contains affiliate links.
I am craving a simpler, less cluttered look around the house in order to create more relaxing and happy home vibes. Organizing tech is a major goal. The good news is that there are lots of simple ways to incorporate and hide technology at the same time. With some creative design and storage, it is very easy to integrate tech into your rooms without it looking too modern and contemporary. 
First things first…
Have a clear out and de-clutter, taking a minimalist approach. You might be shocked at all the extra cords and broken device you don't need anymore. You will also want to invest in lots of attractive baskets and bins for hiding and organizing techy things.
Smith Hawkin Rectangular Storage Basket
Handmade Woven Maize and Hyacinth Storage Basket,Kingwillow, (Set of 3)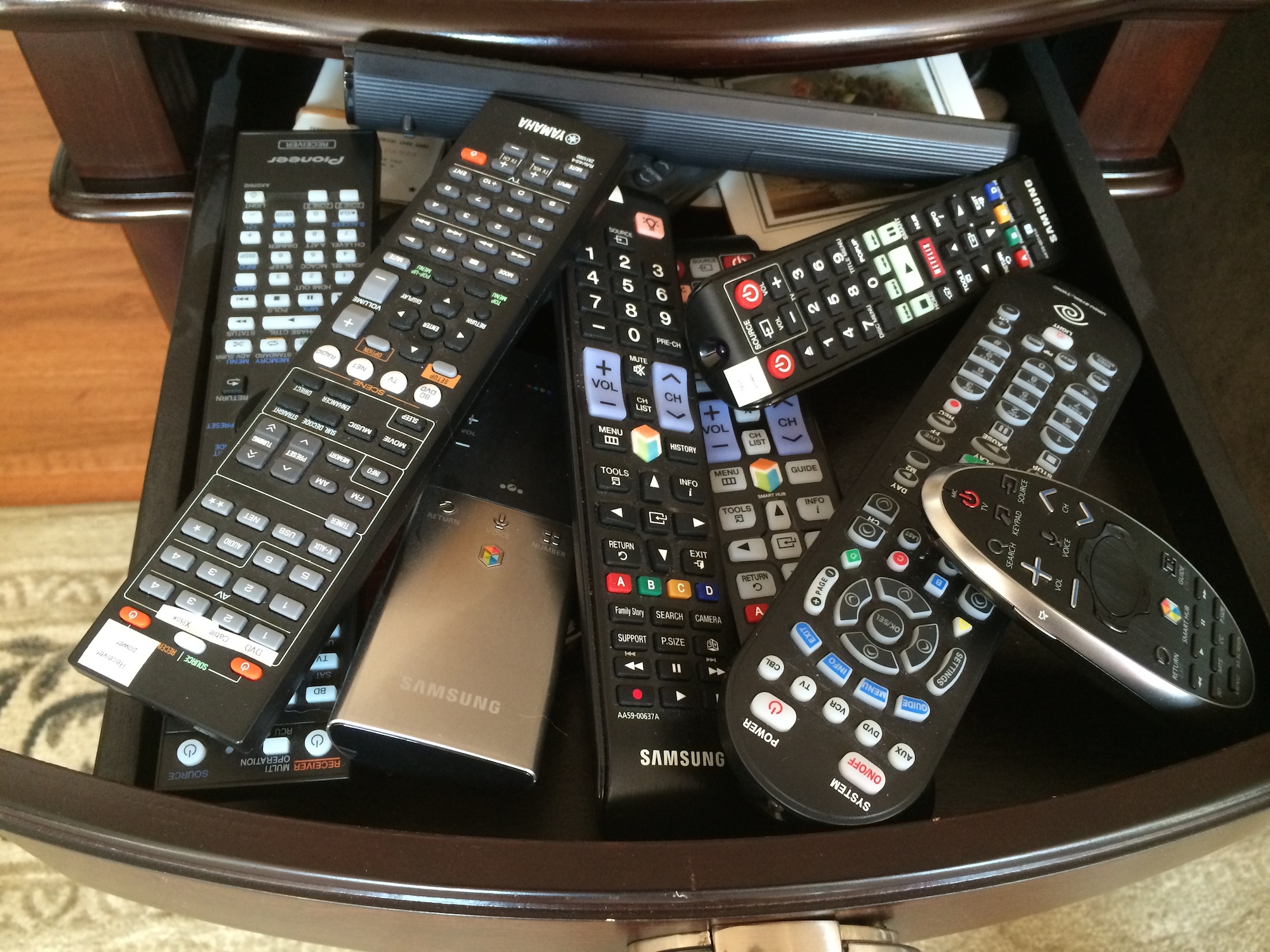 What about all those remotes scattered everywhere? You can simply organize them in a remote control holder and conceal it inside a basket or crate on the coffee table or beside the couch. This works great if you are are always losing the remote down in the cushions like our family does!
You might also want to keep an eye out for old curios and wardrobes at yard sales and thrift shops that can be used to conceal technology and organize junk.
Hide The T.V.
Nothing will distract from a collection of vintage antiques and cottage style decor like a big modern television! Barn doors are all the rage these days, and they are great for hiding the t.v. and other electronics.
Of course you can also repurpose vintage cabinets or clothing armoires with doors as entertainment centers.
You can even conceal a t.v. above the fireplace by installing cabinet style doors with hinges. Stunning!
This creative folding screen with pictures is such a great idea too. So beautiful!
Create A Home Office
There will be some rooms in which you won't need any tech. For instance, we all know that bedrooms really shouldn't have any TVs, computers, or mobile tablet devices as they have been proven to reduce the quality of your sleep. If you would rather keep all of your laptops, TVs, and other devices out of the majority of your rooms, you could put them all into a home office.
Creating a dedicated home office will give you somewhere where you can store your contemporary belongings out of the way of your vintage rooms.
Add Plenty Of Storage
Don't have the space for a home office in your house? No problem; you just need to add plenty of storage to your rooms. That way, you can easily organize your laptops and mobile devices when you aren't using them. When they are out of sight they won't infringe on your vintage design at all, as they do when they are left out on coffee tables and dining room tables. 
Basket and crates are perfect for corraling lap tops and other small techie gadgets. Marilyn at Mustard Seed Interiors shared a fabulous blog post on how to "Hide Ugly Office Stuff" so be sure to check it out.
Use Vintage Tech Items
Of course, there are some vintage tech pieces that you could add to your rooms. These will be period pieces, so they won't look too out of place surrounded by vintage decor. They are so much fun too! For instance, you could install a vintage telephone, or instead of using a modern sound system, you might choose to use a record player. That way you can keep up the happy home vibes by listening to some cool retro vinyl instead of having modern sound equipment or tech streaming devices on display.
Go Wireless
Ideally, you need to minimize the number of wires and cables that are in your home. Obviously, these aren't vintage features and just look messy. For instance, when it comes to the internet, make the switch to wireless broadband instead of a cabled connection.
Hide Any Wires You Can't Do Without
Of course, there will be some wires that you won't be able to get rid of completely. But that doesn't mean that they need to be visible in your rooms. There are plenty of ways you can hide them. If it is possible, you can run them behind large pieces of furniture, such as your sofa.
This will also prevent anyone from tripping up over them by accident. You might also want to try making a DIY baseboard. Ideally, leave a small gap between the baseboard and the skirting board so that you can run your cables and wires in between them. Use cord clips when possible to tidy things up.
You can also purchase decorative storage boxes to hide wires and cables. You will just need to create a small hole in the back of the boxes so that the cables can run in and out of the boxes to the electric source.
Decorative Faux Wood Storage Box With Lid
As you can see, all of your home tech doesn't have to distract from the beauty of a vintage-inspired home. With a little creativity and ingenuity, you can have the best of both vintage style and modern tech conveniences. Do you have any other tips for hiding technology in your home? I love hearing from you!
Amber