Hello dear readers and welcome back for another post in my Home Ownership 101 Series. Winter is now upon us which means we will all be wanting to keep our homes warm and cozy during the holidays and the cold months ahead. Unfortunately that could mean higher energy bills. Today I am sharing some heating and cooling trends that may save you some time, money and energy when it comes to your HVAC system.
Whether you're doing up your home for a sale or planning some renovations to update and make your house feel more suited to your own family, it's wise to spend enough time considering heating and cooling options. This may not affect the overall design of the property that much, but it certainly has an impact on comfort levels. Living in the home, you want to be comfortable year-round, plus any potential buyers will be looking to see if there are adequate HVAC options in the house to please them, too. If you need to buy new heating and cooling systems to finish renovations at your property, it pays to be up to date on the latest trends in this arena.
HVAC that Improves Air Quality
With so many people dealing with respiratory issues such as asthma and various allergies these days, the quality of air in a home is more important than ever. Thankfully, newer HVAC systems are having a positive impact in this arena since many now both monitor and control air quality.
With the integration of smart sensors, they can track ventilation, air distribution, and filtration, as well as notice VOCs in a room (volatile organic compounds that can cause respiratory problems) and other problematic particles, such as too-high carbon dioxide levels.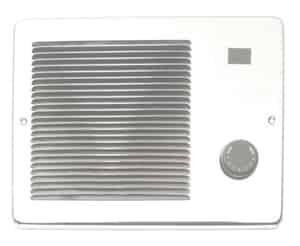 If you want to boost the air quality in your home, choose a modern wall heater or another unit that will push fresh air into rooms as needed by making use of the system's ventilation or by turning on a fan. Also, if you want to stay on top of readings, note that newer products also feature information about real-time air quality statistics.
Motion Sensor Products
Another useful addition to heating and cooling systems is motion sensors. Such sensors are well-known as being in cameras and lights, but many people don't realize that HVAC units also incorporate them now. The main benefit of this is that the functionality helps people to lower their energy consumption and in turn live more sustainably and cut power bills.
Heating and cooling systems that include motion sensors don't waste so much energy getting rooms to a particular temperature if no one is actually around. They only switch on if they sense movement, due to occupancy sensors installed around a property that pass necessary information on to HVAC units.
Smart Systems
With the growth in smart-home gear, it's not surprising to know that more and more HVAC products are now designed to connect with the internet, too. Many systems can be controlled by residents on their tablets, smartphones, laptops, or other computers, due to internet-enabled thermostats.
Users can do things like switch on their heating and cooling units to function while they're out of the house, so the home reaches the optimum temperature by the time they or other family members get to the property. Also, there are benefits like being able to change temperature settings from the comfort of bed or another location in a house, by controlling the HVAC on a related app.
Helpful Maintenance Alerts in Real-Time
To get the most life and value out of your gadgets, you must service them properly over the years. Maintenance should be regular, and repairs need to be completed ASAP so small problems don't turn into big ones. Today, modern products last longer due to the inclusion of real-time maintenance alert functionality.
The latest HVAC systems possess intuitive monitoring, which means users can set them up to send out alerts (to smartphone or other device applications) anytime the machine's sensors pick up operational data indicating there is an issue or another service is due.
Devices Catering to the Needs of Seniors and Other Less-Abled Consumers
The latest heating and cooling devices also make life easier for seniors and other less-abled consumers who don't have a lot of mobility. Newer machines often include voice-controlled thermostats and related features. These enable people to read information, make changes to temperatures or other settings, and complete a variety of additional tasks all without having to rise or get up close to a unit.
An HVAC system is something you'll use a lot throughout the year, especially if you live in a hot or cold part of the country. As such, it's important to choose a quality product that will provide all the features you require now and into the future. Thankfully, today's machines are more function-rich than ever, and provide something for all tastes and needs, with many budgets catered to as well.
I hope you have found these trends to be helpful if you are deciding to install a new HVAC or if you are considering a updating your existing HVAC system or switching to a smart thermostat.
Thanks for visiting today!
Amber