Hello friends and welcome back for another post in my Interior Decor and Style series! Today's post is also a part of the cleaning, organizing and great ideas category. As I have been giving our home a deep clean as I have been on a major decluttering and organizing binge, and it feels so good to get things in order. I am looking for mudroom ideas and storage solutions for our front hall closet and landing area just off from the kitchen. *This post contains affiliate links.
Even though it isn't a "mudroom" I can still maximize the space using creative storage options. In the future I hope to have a separate mudroom on the back of the house. Today I am sharing eight great mudrooms that I love.
Via Liz Marie
This beautiful mudroom area is full of farmhouse charm! I love the creative use of corbels for shelf brackets and the big metal tray as a shoe tray. Faux flowers and plants like the little olive tree or a few real houseplants make great accents in an entry way or mudroom just off from the garden.
Using free standing lockers, cabinets and armoires in mudrooms is a great way to organize personal belongings. If you are building a new mudroom, fitted, bespoke furniture and cabinetry is an investment, but can be perfectly designed to fit your custom space, design style and storage needs.Finishing off a hallway with a coat rack, artwork, and trinkets on a shelf can be a simple way to create the "feeling" of a mudroom or entryway.
As I have been spring cleaning, boy am I ready to approach more of the Minimalists' philosophy to design and lifestyle in general, which is to live meaningful with less. I love the simplicity of this mudroom which keeps everything neatly hidden behind closed closet doors and drawers. Walking into a cluttered mudroom can be overwhelming, but coming home to a clean welcome can be so inviting! We do have a small mud entry off our side door, and I seriously need to declutter it.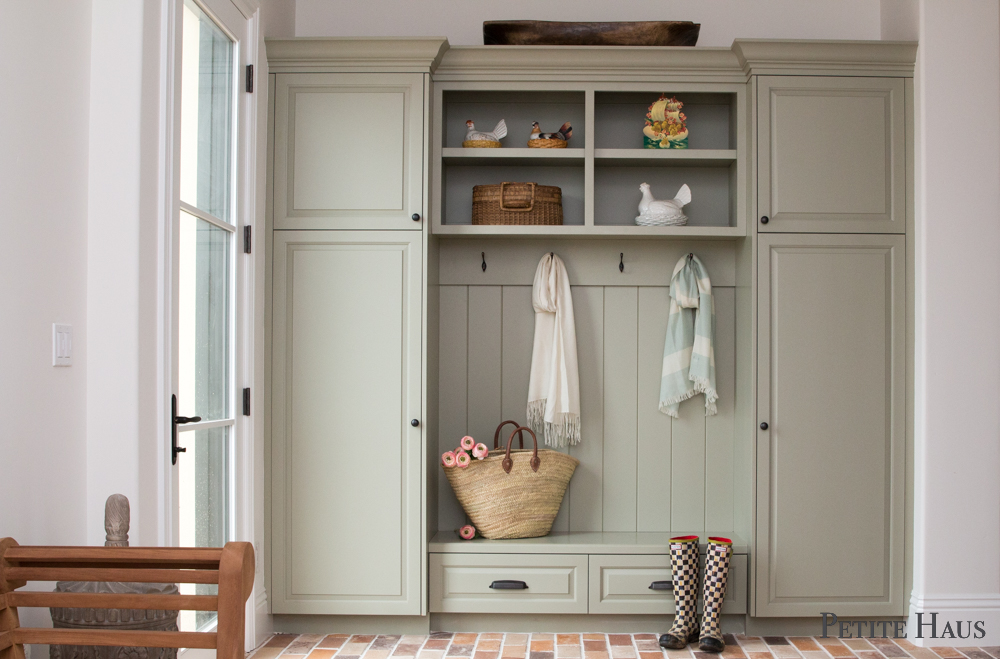 We are planning to redo our patio this summer and updating it with new patio furniture. I am hoping to cover a small part of the porch to serve as a mudroom entry. I dream of having a brick floor in our mudroom.
Of course there are many storage tips and tricks like using baskets, crates, containers, and buckets to keep things organized and clean in a mudroom or entry way, all they while keeping the space stylish and welcoming. You can also look for multi-purpose furniture from such as an entry bench that doubles at storage. Freshhome even has tables and chairs that double as storage.
Right now we have faux shiplap in our side "mud entry" but I am wanting to install real tongue and groove or beadboard when it gets a makeover this spring. Usingthe best cordless drill and a nail gain will help make the job go much faster.
A mudroom is especially good if you live in a place out in the country, where people are more likely to track mud into the house. The good news is that you don't need a lot of space for a mudroom, either.I absolutely love the addition of a "mini" shower to spray off muddy boots and dirty pet paws. After all, it isn't called a mudroom for nothing!
I love the idea of adding a laundry/mudroom combo onto our house, just off from a guest room. We are looking at design options for the future. There are some tricky aspects to remodeling a nearly 100 year old home, which means taking special care and safety precautions when tearing down walls to open up space. Teams like Integrity Restoration show plenty of examples on their website of how to maximize space by opening up walls and creating new spaces altogether.
I hope you have enjoyed these eight great mudroom ideas today! Do you have a mudroom or a space that you use specifically for organizing backpacks, shoes, coats and purses? Let's talk more about mudrooms. I love hearing from you!
Have a great week!
Amber