Add vintage style and character to cabinets, doors, and furniture with beautiful cremone bolts.
When it comes to historic homes and buildings, it's the architecture and hardware that most of us are crazy about! Over the years as I "studied" French and vintage decor in interior design books and magazines, I started noticing interesting cremone bolt hardware on windows, cabinets and furniture and I knew I wanted to incorporate them somewhere in our 100 year-old home. For inspiration, I did some research on cremone bolts and found some beautiful images of how cremone bolts have been used historically as well as how they are making a comeback in decor.
Crushing on Cremone Bolts
A cremone bolt is type of decorative hardware used to lock or clasp together a pair of windows or cabinet doors.
Antique and/or reproduction cremone bolts are commonly made of brass, copper or iron. Often times they have been painted over the years.
Sometimes only one cremone bolt is used on one single window or door which fastens to a traditional lock on the adjacent window when closed. More commonly, two cremone bolts are positioned to meet up side by side when both doors or windows are closed.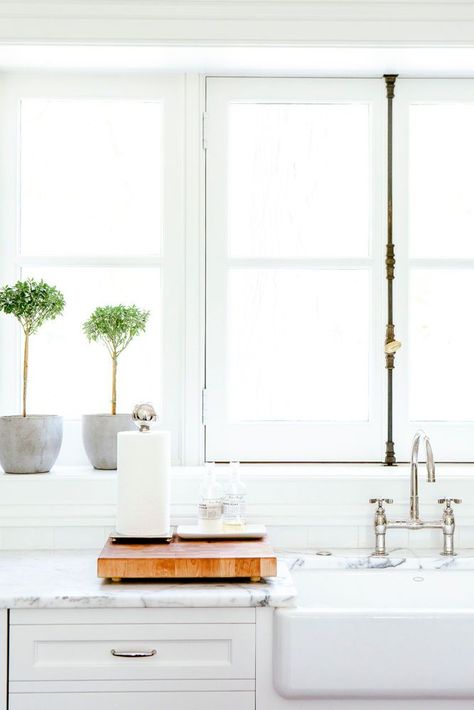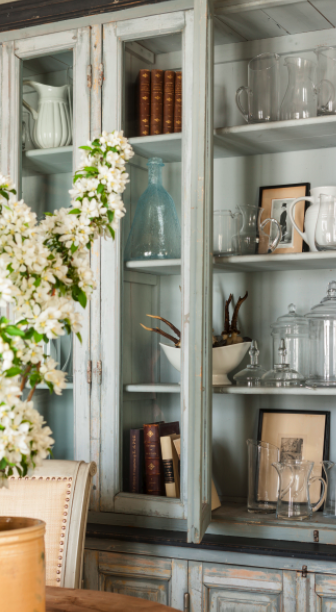 Such gorgeous details!
Vintage or reproduction cremone bolts definitely help create a French vintage or European farmhouse vibe in any room.
Newer furniture pieces with cremone bolt hardware can fit right in with vintage decor or a modern boho-farmhouse aesthetic.
There has been a huge resurgence in popularity over the past few years, particularly for use as kitchen cabinet hardware.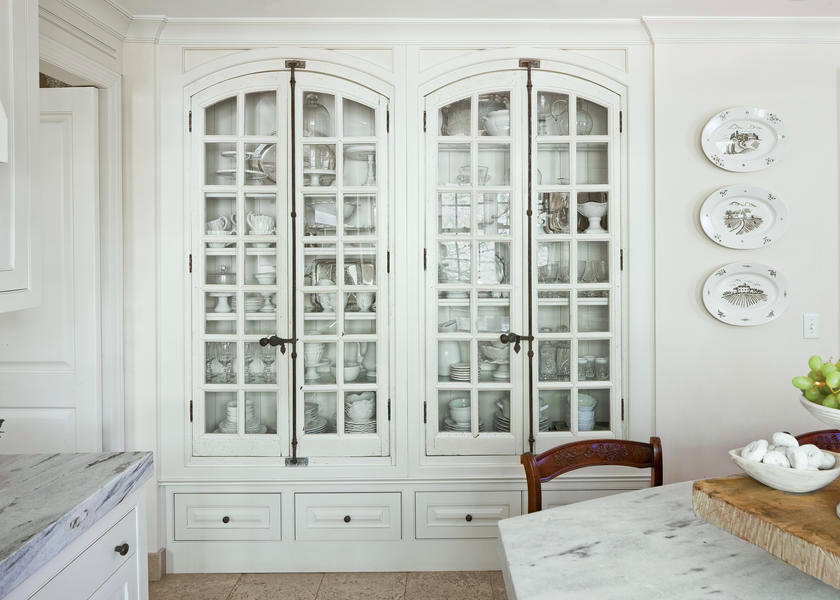 Southern Living – photo: Laurey W. Glenn
source
After seeing so many beautiful photos of cremone bolts on kitchen cabinets, china cabinets and hutches, I knew I definitely wanted to incorporate them somehow in our 1920's kitchen makeover.
We used reproduction cremone bolts from Hobby Lobby that my husband installed on the salvaged 100 year-old glass cabinet doors on our kitchen china cabinet built-in. They look so authentic! (You'll read about my Hobby Lobby hack below.)
I originally looked online for antique and reproduction cremone bolts, but the longer size needed for the cabinets were a bit over our budget for hardware. Still, there were so many beautiful designs to choose from!
I remembered seeing some cremone bolts attached to decorative pieces at Hobby Lobby and even on an entertainment center at Big Lots. I had a "eureka" moment and decided to shop around to see if I could swipe some cremone bolts from some other affordable piece of furniture or decor and then resuse them on our cabinets.
Affordable Cremone Bolt (Hobby Lobby) Hack!
Distressed White Window with Cremone Bolts Hobby Lobby
I lucked into two decorative farmhouse faux window panes with long cremone bolts at Hobby Lobby for $52.00 each. I didn't need the windows (even though I kept them for a future decorative project.) So for $104 I ended up with two cremone bolts for less than the price of one cremone bolt that I had priced elsewhere.
My husband removed the bolts from the faux windows and cut down the metal rods to the size needed to fit our doors (the rods turned out to be hollow metal pipes so they were easy to cut) and then mounted the hardward to the cabinet doors and slid the resized bars right into place. I orignally wanted black cremone bolts, but I loved the chippy white factory finish on the Hobby Lobby cremone bolts and decided to keep them white. I think they are perfect!
I hope you have enjoyed these beautiful images of cremone bolts and how they are used both in vintage and modern decor and architecture. I love them so much that I am already thinking of other ways to incorporate them in our home. Are you crushing on cremone bolts too? I love hearing from you, dear readers!
Thanks for visiting today!
Amber