Welcome back to the Interior Decor and Styling Series! Today's post is all about designing a chic home office. With the pandemic continuing, many people are having to work from home. Now that I am teaching from home and blogging at the same time, I definitely need a more organized and designated office space. We have an extra room in our basement that is dry and mold free, and it is relatively bright due to two basement windows in the room. I have been using it as a craft (and junk hoarding) room for some time, but I really would like to turn it into a more usable office space. I have found some great ideas online, so today I decided to share some chic home office inspiration with you. *This post contains affiliate and/or sponsored links.
Source
Even though my primary decor style is vintage, I also love to add a few trendy and modern elements in home to keep things updated. I think a home office would be a great place to play around with more modern, stylish and chic decorating ideas.
I love how today's home offices are anything but dark and boring work spaces. From modern minimalist to shabby chic or even farmhouse styles, the office has become an important room in modern homes and the popularity of chic home offices on Pinterest and in magazines certainly reflects this idea.
The office is a great place to add artwork that reflects personal style and interests. You may even choose to use the office as a place to display more contemporary or bolder artwork which you can find here. This allows you to enjoy art that might not typically be used in other areas of your home. Choose mood-boosting colors to keep your spirits up as you work. To relieve stress, it's also a good idea to think about ways to minimize external noise. There are programs that play binaural beats and external noise blocking equipment like headphones that can work to create the ideal environment for you.
If you are looking for unique artwork I always recommend thrift stores, consignment shops and antiques shops. There is also a great article at Huffington Post with recommendations for the six best places to buy art online.
Don't forget some glam desk accessories! A touch of bling always brightens up any space!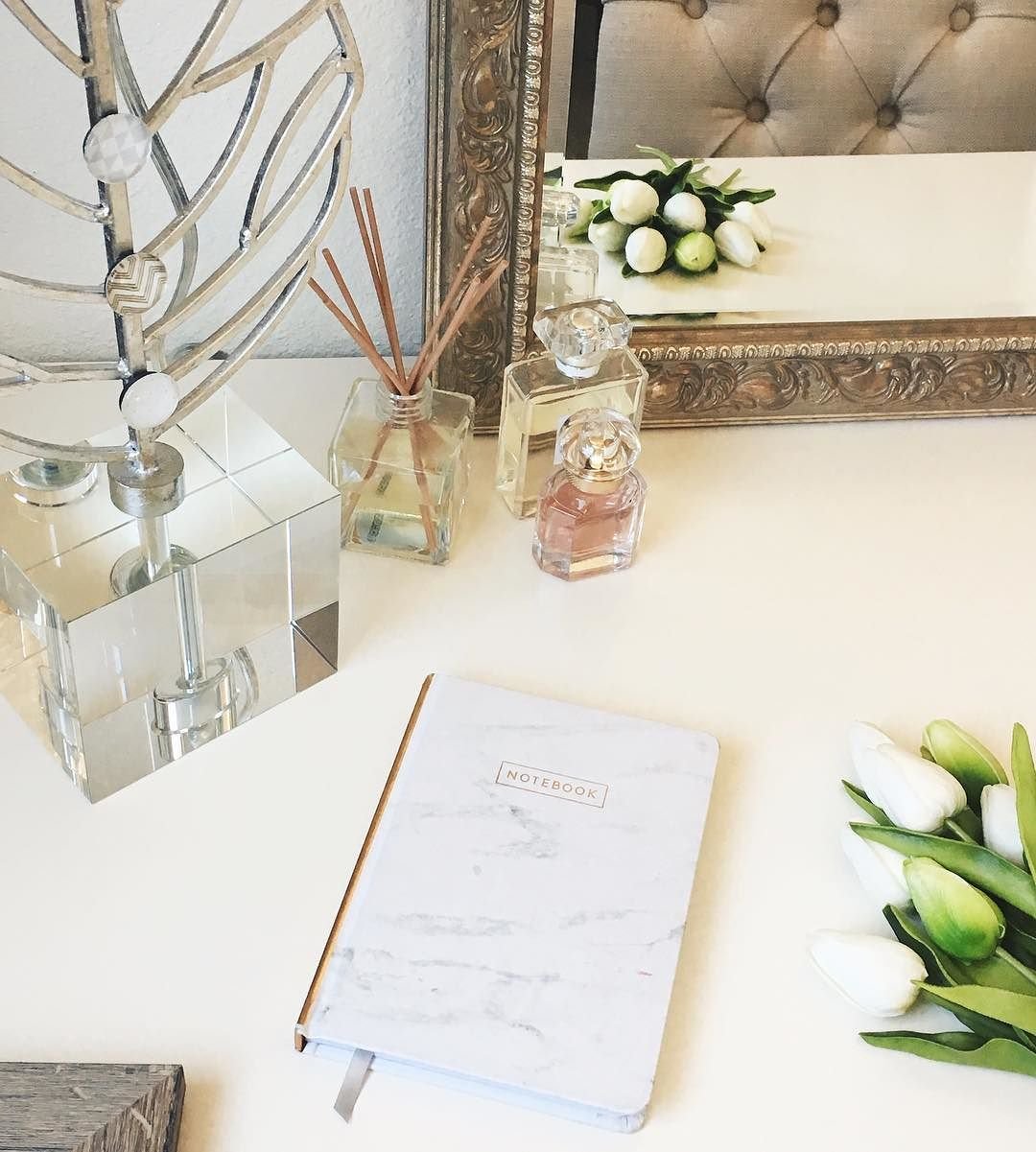 Today's chic home offices can also be extensions of the home providing another space to showcase beautiful home decor and collectibles. In addition to a work space, this gorgeous chic office also doubles as a place to read and relax in style.
Of course a stylish and functional desk lamp is a chic home office essential! Designers at Dusk Motion have even created a smart lamp that would be a useful piece of office technology while providing light at the same time.
If you are short on floor space, there is the possibility of incorporating a stand-up desk within your office space. For example, if you make a lot of blogs or long-form content you may be better off investing in dictation software or a microphone so you can stand up and write without having to sit hunched over at your computer screen. Keeping the office (and your computer itself) free of clutter is important to creating a productive working environment. This review of MacKeeper can give you some information on how to declutter your hard drive or clean out pointless programs.
Creating a chic home office is really just a matter of adding personal and stylish touches that make you happy! Choosing a few modern and trendy decorative accessories will keep the space looking fresh, while plants and bright artwork can create a positive vibe and will make long hours of studying or working less of a drudgery.
I hope you have been inspired by these chic home offices today! Do you have a designated office space that you have decorated in your favorite style? I love hearing from you!
Thanks so much for visiting today!