Happy Good Friday everyone! Today I am excited to be joining a few of my sweet blogging friends on this blessed day as we share some ways we are celebrating Easter around our homes.
As you can see from the collage above, there are some beautiful ideas to explore on our "mini-hop!" You can visit each of the participant's gorgeous blogs via the link up at the end of this post.
"Peep, Peep Peep! It's Easter Time!"
Ever since I was a little girl I have associated little baby chicks with Easter time! On many Easter mornings during my grade school years I would wake up to the surprising sounds of peeping in the living room, coming from a cardboard box sitting next to my Easter basket. Hurriedly I would rush over to find the box full of several little baby chicks. Some years there would be a baby duck or two as well! We raised those chickens and ducks as pets (and for eggs) while I was growing up. Such happy memories!
Sweet baby chicks are just adorable!
Late last summer on one of my junkin' adventures at a local antiques shop, I scored this very old picture of a little girl admiring her baby chicks. The gorgeous frame is just perfectly imperfect! I absolutely fell in love with the picture and knew it would be perfect for spring and Easter decorating. In reality, I forgot all about the picture until just a few days ago, so for now it is just propped on top of the piano in my music room.
Interesting note: The antiques store owner informed me that this picture was originally purchased from the estate sale of Alex Haley, author of the book, Roots.
I put together a very quick vignette in front of the picture using a stack of antique books, green paper "grass," my favorite little trio of chicks (temporarily swiped from the kitchen) and bouquet of dried roses that match the little toddler's dress. Even though Easter will be over this weekend, spring is just getting underway so I will be leaving the picture on display for several more weeks.
Last week in my Simple Spring Home Refresh I shared how I am using my three favorite little chicks in a vignette on the stove.
I actually found the vintage-looking chicks at Hobby Lobby a few years ago. They look even more vintage when grouped with the Bon Ami soap tin.
Shortly after Easter last year I found this larger baby chick figurine on one of my thrifting adventures. So cute!
In this photo from last week's tour I had just quickly placed the chick, a couple of mossy eggs and faux daffodils inside the kitchen China cabinet. The sun was going down and I was trying to quickly capture some photos for the tour.
This week I tweaked the cabinets a bit and added some additional faux herbs and daffodils to the shelf.
I was going to add more color to the kitchen as Easter approached, but I ended up just loving the simplicity of a mostly green and yellow color scheme, inspired by the daffodils and other green signs of spring just outside the kitchen windows. The yellow baby chicks just fit right in!
The yellow baby chicks just fit right in!
Additional Ideas for Spring and Easter Decorating with Baby Chicks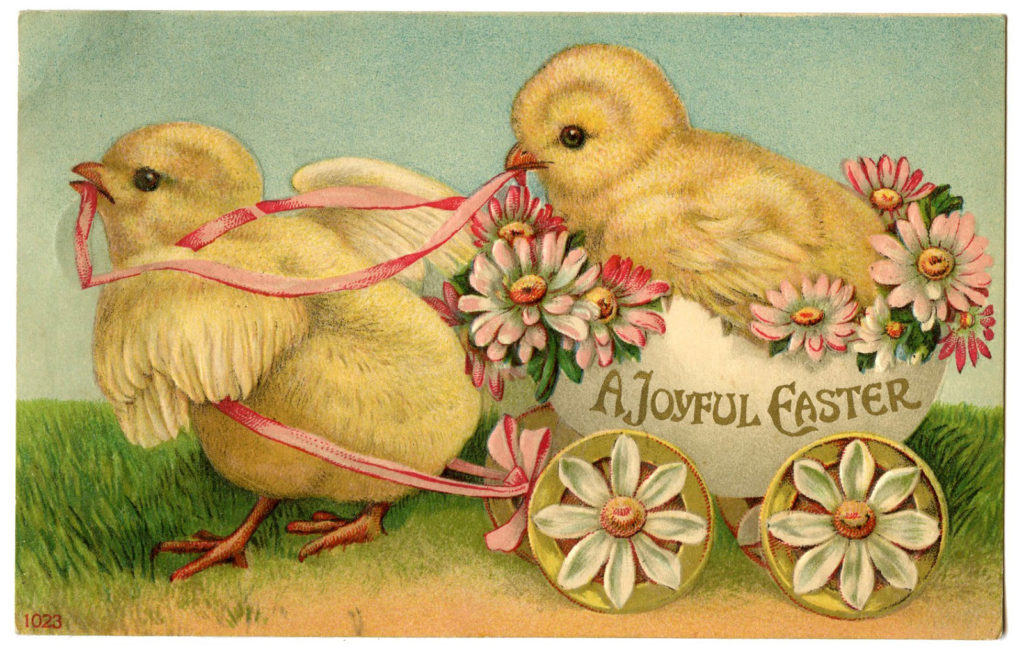 I love antique and vintage Easter postcards, especially sacred ones or those that feature baby chickens!
This antique postcard inspired me to use the little chickens theme as part of my Vintage Cottage Style Easter Tablescape last year.
The combination of the Bon Ami tin with the chicks is just too cute not to repeat year after year!
Hip! Hop! It's Easter in the Kitchen!
In 2019 the little chicks were part of a tobacco basket vignette on the table in former kitchen nook. I loved all this colorful "Easter fun with Rae Dunn!"
I think the chicks looked so cute nesting down in the ceramic egg holder.
Vintage Dishes and Daffodils Easter Table for Two
In 2019 I also used the chicks in my Vintage Dishes and Daffodils Easter Tables for Two (one of my favorite tablescapes!)
I love how versatile the baby chicks are for tablescapes or vignettes. They seem to look perfect everywhere, making them some of my favorite little Easter treasures.
Bright and Festive Vintage Easter Joys
For the "Vintage Easter Joys" Blog Hop in 2018 I had so much fun styling the cubbies and shelves of an old secretary cabinet with all kinds of bright and festive Easter treasures. Baby chickens "roosting" in the cubbies, vintage dishes, and peat pots created a whimsical theme.
A few vintage style chocolate chicks were also part of the brood. My mom always put similar foil wrapped baby chickens in my Easter baskets.
I really enjoy decorating with baby chicks for Easter due to the fond memories I have of Easters past. It is also fun to search for little chicks or Easter decorations featuring chicks on my junkin' adventures, since they aren't as common as bunnies and Easter eggs.
I have purged a lot of store bought Easter decorations over the last few years in an effort to keep my spring and Easter decor simpler, but these little peeps are definitely for keeps!
Good news…it's Good Friday!
You can read all about the "good news" of the gospel and Easter story beginning with the events of Christ's crucifixion on Good Friday through His resurrection on Easter Sunday in the following Bible passages: Matthew 27 1-54, Mark 15:1-40, Luke 23: 1-48 John 19:1-30. If you have any questions about these passages or if you would like to hear more about the gospel message, feel free to email me or leave a comment below.
Good Friday: Scriptures for Reflection
I hope you have enjoyed seeing how I have used sweet little baby chicks in my spring and Easter decorating! Now it's time to continue "Celebrating Easter" with beautiful ideas over at Common Ground. Don't forget to check out the other beautiful posts on today's mini-hop via the links below.
I hope you all have a wonderful and blessed Good Friday and a very happy Easter! Thanks for visiting today!
Amber
You are invited to the Inlinkz link party!