Hello friends! Did you get a chance to check out my Cottage Bedroom Reveal that I shared as part of the Beautiful Bedrooms Tour? Because I only had about two weeks to get the room ready for the tour, I didn't have a chance to do any posts about the progress as I went along, so today I am going to show you my quick and easy bedroom makeover. *This post contains affiliate links.
Even though I only made decorative changes, the room has completely been transformed with very little effort. Last fall my husband and I switched bedrooms with our son and gave his room a teen makeover, but ours has always been boring and disorganized since we moved here four years ago. A bedroom makeover was on the agenda for late summer or fall, but when I had the opportunity to join the Beautiful Bedrooms Tour, I decided to give myself a super fast one room makeover challenge…with only about ten days to do it!
This is how our master bedroom looked just two weeks ago. Now you can see why I never shared this room on the blog or Instagram! My husband and I have always wanted an English cottage style bedroom with a mix of masculine and feminine elements so that was the look I hoped to achieve, similar to the picture below.
To begin, we needed a headboard! But what kind? Wood, metal, upholstered? Traditional, farmhouse or modern? The only other pieces of furniture in the bedroom at the time the makeover started was a dark stained antique chifferobe, a medium dark bookcase, and two very traditional wing back recliners. Because there is original, unpainted stained woodwork in the bedroom and wood blinds, I was concerned that it would be hard to find a traditional wooden headboard that would match or at least not clash with the other furniture and trim in the room. I decided that an upholstered, tufted headboard would be best.
I knew a linen tufted headboard would be a great choice because it would add a touch of "vintage glam" to the room, but still give it a traditional cottage look without clashing with the wood tones. My husband was going to make a tufted headboard eventually, but he really didn't have any free time over the past two weeks. Luckily while I was hurriedly working to get the bedroom pulled together for the tour, I found the perfect headboard at Marshalls, and it was cheaper than the price of the materials for a DIY headboard. Score! Turns out that it was a very lucky shopping day, since I also found the perfect bedding on clearance at Kohl's!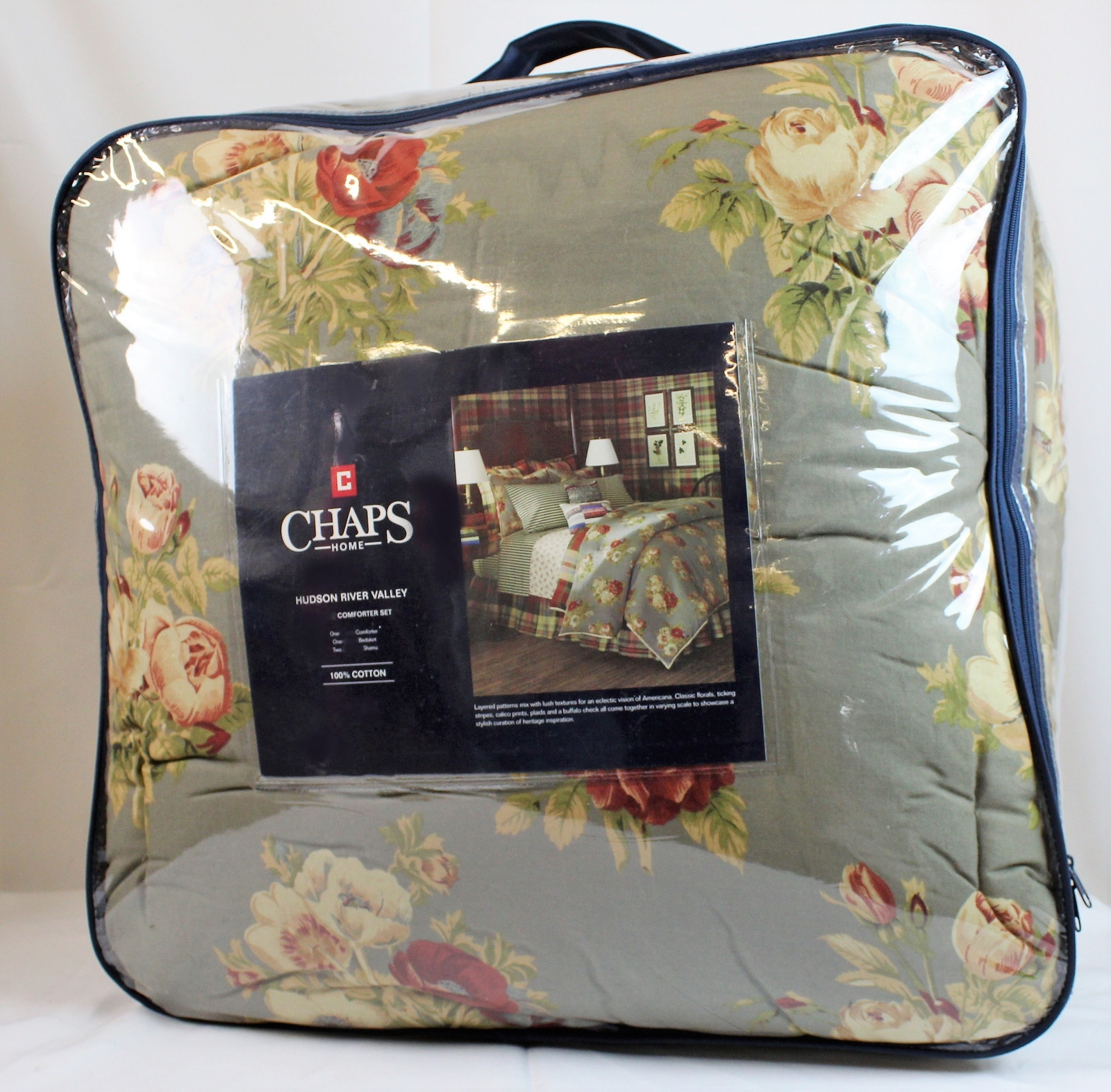 The bedding and headboard paired beautifully, and almost immediately the room started coming together. I have already slept better due to the high quality and comfort of the bedding. Now I am checking out Down & Feather Company for the perfect pillows too.
I already had the buck pillow which was perfect for the theme of the bedroom (we also wanted to give the room a wee bit of Scottish flair). I also picked up a couple of smaller velvet pillows to give the bed even more of a luxurious style and feel.
Next I needed a bedside table, and a lamp. I shopped my house and tried out some gorgeous vintage Florentine nesting tables that I had stashed away in the basement and they did look pretty, but in the end I decide they were a little too French and ornate for the look I was wanting to create. I really didn't want to spend much more money on the makeover, so I headed to my favorite thrift shop to see if I could find a good deal on a small side table, and I did!
This little beauty was super cheap, and it had just enough vintage cottage charm to work in the bedroom. Although it was beautiful with the chippy wood stain, I knew I wanted to paint it a linen color similar to the headboard in order to keep from having another wood tone in the room.
I quickly gave the table a makeover with some DIY chalk paint and Rustoleum dark wax to bring out all the details and I love how the table turned out! I did want just a touch of  my beloved French Country style in the room, so the table and basket underneath worked perfectly.
I also found this beautiful table lamp for only $10 at the same thrift shop. The prisms added just a bit of shabby chic femininity. Choosing  lighting for bedrooms can be tricky because you want to find the right style and size, but it should also provide enough light for reading while being soft enough for ambient light as well. The lampshade on this lamp filters light to a soft glow, and at the same time is bright enough to read by.
Now that all the basics were in place, it was time for the fun part…accessories and styling! First I decorated the blank space above the headboard using some initial plaques from Hobby Lobby for my husband, William, and myself, Amber. I love the simple and elegant look of the letters.
Next I cleared the clutter from my husband's chifferobe and used a simple styled tray with our engagement picture and a baby picture of our son. I hung a faux deer head in a vintage frame to tie in the romantic highland theme, and again to balance the masculine and feminine style elements in the room.
Speaking of clutter, I had to do some serious decluttering and organizing in order to pull of the bedroom makeover. Before the makeover I was storing extra clothes and shoes in totes around the room and it was just a mess! We have a small walk-in closet that wasn't being utilized to it's full potential so I did some rearranging and reorganizing there first. I looked at some walk-in ideas on Pinterest for organizing small closets, and I purged anything we weren't wearing anymore or any other junk that was just cluttering up the closet.
For extra storage and organizing I also invested in several hyacinth storage baskets to make the bookshelves in our room more useful. I was able to move scarves and other accessories out of the closet to free up space and store them instead in the baskets on the bookshelves.
After styling the bookshelves with books, baskets and other decorative accessories from my junk stash, the room was "finished" in time for the Beautiful Bedrooms Tour.
I really love how the room turned out! With two wing recliners in the room, my husband and I each have a place to sit and unwind in the evenings with a good book, and the bedroom has become a little relaxing sanctuary.
There are still some things to be done to completely finish up the makeover. Even though the neutral wall color is okay, I had planned on repainting but I didn't have time before the Beautiful Bedrooms Tour. I am still undecided on the exact color. According to House Beautiful there are 40 bedroom colors that will make you wake up happier, so I am definitely looking into those colors! For now however, I am so happy with the changes that have been made and I am just enjoying the new look and feel of the room before rushing into the next "phase" of the bedroom makeover.
I hope you have enjoyed this "behind the scenes" look at how I was able to give our bedroom a quick and easy makeover. I hope you will check out the full bedroom tour if you haven't already. As you can see, with just a few changes and creative organization you easily transform a bedroom.  Because I purchased nearly all the items on clearance or at the thrift shop (or shopped my house for free items) the makeover was fairly inexpensive too! I do plan to finish up this makeover later in the summer or fall, so be sure to subscribe by email so you don't miss the bedroom makeover follow-up post.
If you are looking for more bedroom ideas, you might enjoy my Dreamy Bedroom Inspiration post too.
Thanks for visiting today!
Amber
Linking up: