Memorial Day is only a few weeks which means it's time to start firing up the grill for a summer full of delicious outdoor grilling! Today I am sharing Ten Delicious Gluten Free Grilling Recipes that are full of nutrition, and they are also free of nuts, dairy, soy, and refined sugar. They are perfect for anyone following an autoimmune diet or those who just want to eat clean and healthy. You can even use fresh herbs and veggies right out of your garden or from your local farmer's market in many of these recipes! They look so delicious, I think I will try one of these recipes out tonight! *This pot contains affiliate links.
10 Delicious Gluten Free Grilling Recipes
Grilled Fajita Chicken Kabobs~ Evolving Table
Grilled Salmon With Spring Greens~ The View From Great Island
Grilled Avocado Stuffed With Corn and Black Bean Salsa~ Jessica Levinson
Smashed Grilled Sweet Potatoes With Chimichurri~Camille's Kitchen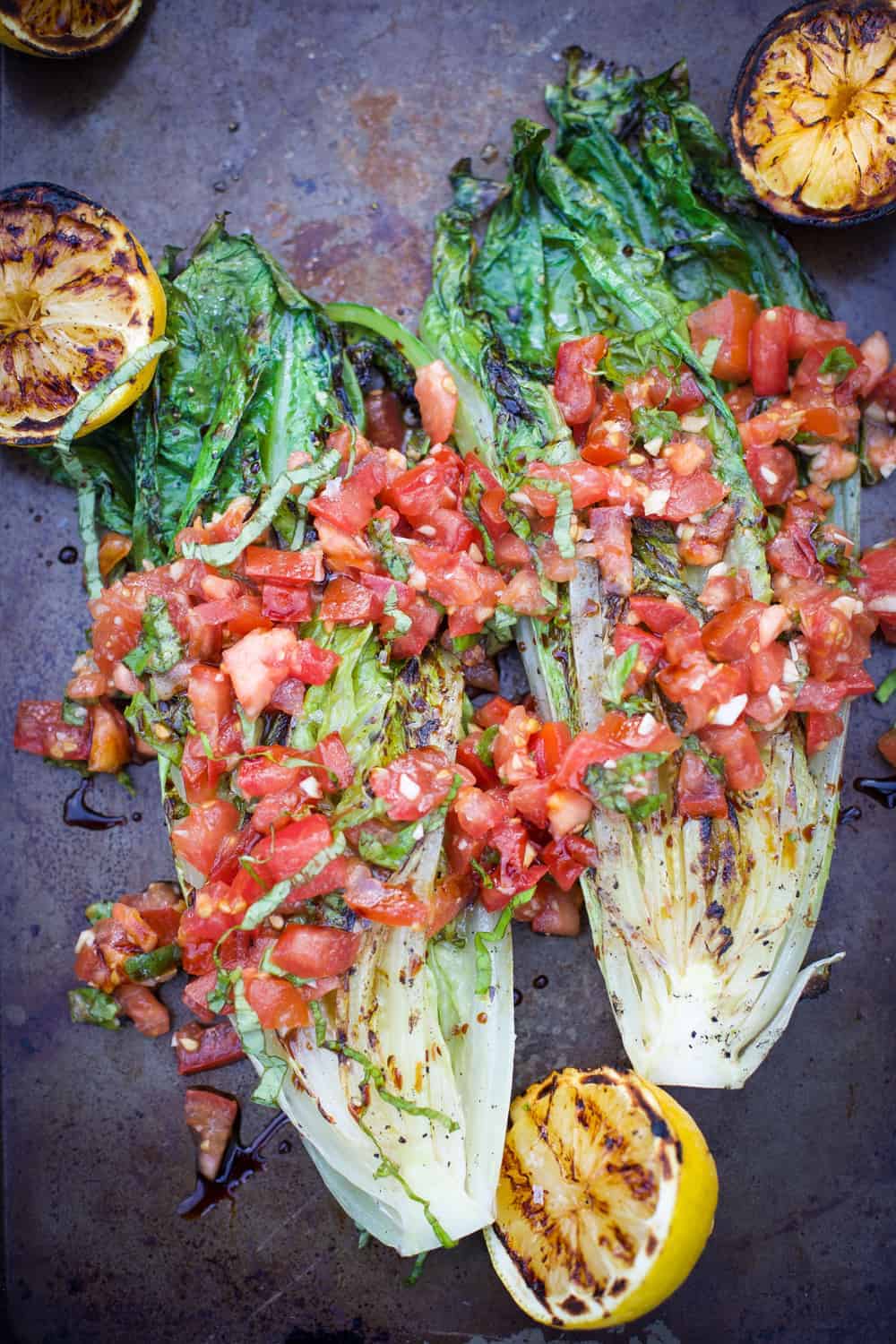 Grilled Romaine, Lettuce, Tomatoes, Basil~Vindulge
Balsamic Grilled Vegetables~Neighborhood Food Blog 
*Omit feta cheese  for dairy free/casein free diets
Grilled Orange Chicken~The Whole Cook
World's Easiest Grilled Vegetables~ Kayln's Kitchen
Grilled Garlic Herb Shrimp Skewers~Isabel Eats
Pesto Turkey Burger Sliders On Sweet Potato Buns~ Ambitious Kitchen
Yummy! I can't wait to try all ten of these delicious recipes on the grill this summer! My husband and I have decided to spruce up the patio area and we are looking to design a new fire pit too. I love the idea of adding a cooking grill right over the fire pit! If you decide to cook over an open fire, just remember to use clean, high quality wood.  Premier Firewood Company  is a great source.
I am so excited about putting together this round up of ten delicious gluten free grilling recipes because I have really been wanting to expand our family menu and to learn how to cook delicious meats and fish on the grill as well as a variety of vegetables. Each of the ten websites I shared here today are full of lots of other delicious looking recipes to try!
I can't wait to explore them in more detail and to pin some new recipes to my Allergy Free Cooking and Recipes Pinterest board. Of course any time I get a chance to use my beloved herbs in recipes, I am happy!
Fresh Summer Herbs: Grow. Harvest. Enjoy!
Well friends, who else is ready for some gluten free grilling? Which recipe would you like to try? Do you have any other allergy-friendly grilling recipes to suggest? I love hearing from you!
Happy grilling!
Linking Up:  Wow Us Wednesday Reader Tip Tuesdsay Talk of The Town Waste Not Wednesday Merry Monday Amaze Me Monday Inspiration Monday Metamorphasis Monday Celebrate Your Story Make It Pretty Monday
Linking Up: Merry Monday Amaze Me Monday Inspiration Monday Metamorphasis Monday Celebrate Your Story Make It Pretty Monday