Hello friends! Today I am sharing a quick post about the vintage cornucopia planter I scored just a couple of weeks ago. I love vintage planters and anything vintage fall or Thanksgiving, so for $2.oo, I was excited to add this little junkin' find to my collection. *This post contains affiliate links.
I have a small collection of vintage McCoy pots and other unique and kitschy figural planters such as the beautiul lady planter by Haeger. A few are unmarked, but from the same time period (1940's-1960's.) I can never pass them up!
This piece is unmarked, so I still need to do some research to find more info. Pieces like this are fairly common but still highly collectible.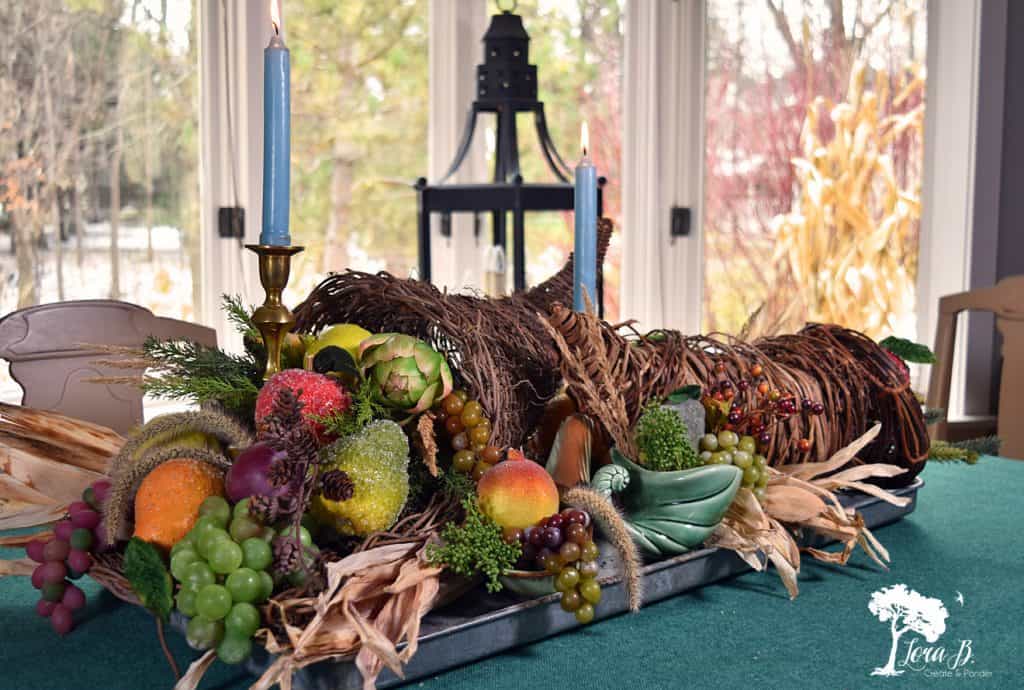 I noticed that my friend Lora used her vintage green cornucopia planter in her gorgeous Thanksgiving centerpiece that she shared for A Season of Thanks blog hop this weekend. I love Lora's vintage style! Check out her Favorite Thanksgiving Table Setting Ideas for lots of great inspiration.
I was going to fill the planter with some kind of fall florals, but changed my mind when I spotted some of my faux herbs in my craft room.
I am a crazy herb lady and I love growing, cooking and decorating with fresh herbs, dried herbs and realistic faux herbs. This cute mix of faux rosemary, thyme and a leafy mint or sage plant that reminds me of my garden sage was perfect for filling the cornucopia planter.
Green is my favorite color, so I really love this all green arrangement! I started by filling the planter with the largest plant which was the sage/mint, and then filled in the gaps with the faux rosemary and thyme. Even though it is monochromotic, all the textures keep it interesting.
I hadn't planned on putting together a vignette with the planter, but it turned out so cute I couldn't resist! I grabbed my round hyacinth basket to corral the mixed herbs planter, a pretty green and white striped gourd, my faux rosemary in a weathered terra cotta pot, a chippy "sage" garden marker, Bell's turkey seasoning, and some nuts as a tray filler.
Even though it's not traditional fall plaid colors, the cute plaid napkin from Pier One added a bit of texture and color to this impromptu vignette. My "fresh herbs" sign needs some touch ups, but I still thought it would look cute as a backdrop for this little gathering. I typically display the sign in the spring and summer, but it works for fall, considering that fresh (and dried) herbs are such an important part of a tasty Thanksgiving dinner!
The Bell's seasoning includes sage, marjoram, oregano, cloves, and thyme. I actually only picked up this little box because I thought it had a cute vintage look, but since it is all-natural I might try sprinkling some on my turkey this year. Rosemary is my favorite herb, but I also love using lots and lots of sage in my cornbread stuffing. Only two weeks away until Thanksgiving! I can't wait, can you? What is your favorite herb?
I hope you enjoyed seeing my vintage cornucopia planter filled with faux herbs! Do you collect vintage planters? I love hearing from you, dear readers!
Thanks for visiting today!
Amber
Sharing at these great link parties: