Tis the season for baking and sharing all the Christmas cookies and sweet treats!
Nevertheless, if you have food allergies, or know someone who does, then you know it can also be difficult to find or make delicious treats that are safe to eat and actually taste good. Today I will be sharing the cookies I discovered last Christmas that have been a game changer for enjoying holidays and special occasions again. *This post contains affiliate links.
Christmas Cookie Platter Kristin Jones.Co
Imagine having a food allergy and showing up at a Christmas party hungry (to find that the host has created a beautiful cookies and candy platter like the one above, but there is not one thing you can eat! When I was first diagnosed with gluten, egg, dairy, and soy allergies (corn sensitive) 10 years ago I didn't know where to begin with eating every day foods, much less baked goods and sweets. As a result, the first couple of years I would just sit around at family parties watching everyone else eat the goodies I used to love and enjoy. Not fun!
Another issue was hurting someone's feelings when they had gone out of their way to make a gluten free treat for me but I still couldn't eat it due to it having dairy, eggs, or not understanding cross contamination in the kitchen (see graphic above.) Even prior to my own food allergy diagnosis, I was the one who went through all the trouble to make the special treat and my guest still couldn't eat it. There is so much to remember cooking with allergies in mind, and it can be overwhelming (and expensive!) Even if you baked something with 100% safe ingredients, chances are it will still not be safe for your guests with allergies unless you used strict kitchen protocols.
Well, those stressful, confusing or isolating days may just be over, because I have discovered a brand of cookies that is fail proof to bake, and is allergy-friendly for the top allergens: gluten, dairy, eggs, soy, corn, and tree nuts, and even some frosting and candy canes!
Sweet Loren's Cookie Dough
I was invited to join a fun cookie exchange blog hop, but I almost backed out since I have allergies and don't do much baking and sweet treat making. Then I got the idea to take this opportunity to share my experiences with these cookies, hoping maybe it could help make someone's holiday a little merrier! This is NOT a sponsored post, but I absolutely love Sweet Loren's cookie and discovering them has been a game changer! No more sitting hungry at Christmas parties!! I just bake and take some with me! Additionally if someone asks if there are any treats they can easily make for me, I FINALLY have an answer!
For this post I just baked some of the delicious oatmeal cranberry cookies, but I have tried the sugar cookies, double chocolate, and chocolate chunk and they are all winners!
Oatmeal Cranberry is absolutely the perfect breakfast cookie for the holidays! Okay, it's waaaay too much sugar for breakfast, but it does taste "break-fasty" and is oh so yummy with a cuppa hot coffee.
Ingredients: Gluten Free Flour Blend (rolled oats, oat, tapioca), Cane Sugar, Palm Oil*, Dried Cranberries (cranberries, sugar, sunflower oil), Filtered Water, Molasses, Sea Salt, Baking Soda, Cinnamon.
*Sustainably Sourced, RSPO Certified.
All of the flavors of cookie dough come in perfectly bite sized balls that you just plop on a pan, stick in the oven for 13 minutes at 350 degrees. Or, open the oven half way through because the smell is heavenly and you are impatient and then use a spoon to scoop out a spoonful of the hot, gooey, half-baked dough and burn your mouth and singe your teeth…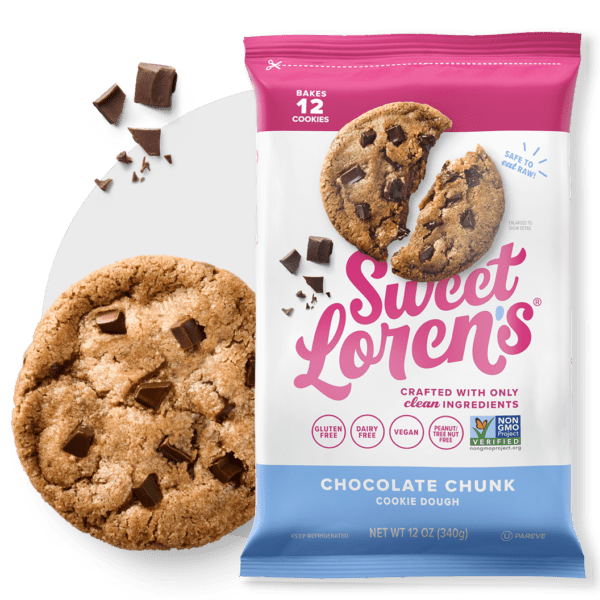 The chocolate chunk cookies are THE BEST chocolate chip cookies I have ever had! I was quite the connoisseur of slice and bake chocolate chip cookies bake in my pre-food allergy days, and I definitely think these are better than any of the famous brands. They are also better than a lot of homemade chocolate chip cookies in my opinion. If you love brownies more than chocolate chip cookies, definitely try the Fudge Brownie Cookies too!
Now for the BEST PART…drum roll…
You can eat them raw! Since there are no eggs or dairy, the dough is safe to eat. Just warning you, you might never get them in the oven! I love that these cookies are organic and non-gmo without added chemicals. While they are far healthier than nearly all of the popular cookie brands out there, but these definitely are full of sugar, no sugar coating that! After Christmas I won't be eating these for a while as I get back to clean eating and a reduced sugar diet to help with autoimmune issues, but for the holidays I will be eating my fair share of these cookies!
Sugar Cookies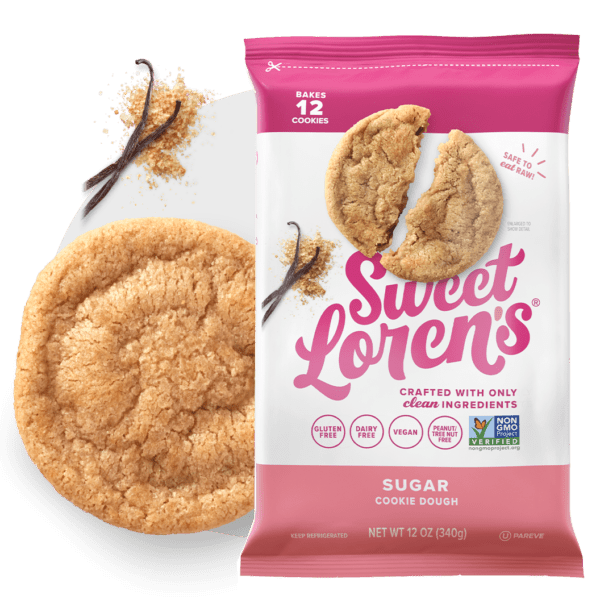 The sugar cookies are PERFECTION! I have two packs in the freezer that I am saving for closer to Christmas. I did want to bake a few and ice them to take pictures for today's post (and eat!) but our local Kroger was out of the Simple Mills icing. I will certainly be making some for Christmas Eve!
Here's a beautiful iced sugar cookie for inspiration by Dessert for Two. So pretty!
Simple Mills Icing
Simple Mills is a brand that I also love. I eat their snack crackers, boxed cookies (very good!) and gluten free bread mix (the best I have found.) Most of their products do contain almond flour, so those wouldn't be suitable for people with nut allergies. The vanilla frosting is safe for most folks with allergies, unless there is a coconut allergy involved. You can find it on Amazon.
As you can see, there are very few ingredients, but it tastes very good! The consistency is not great for icing cookies when it is cold, but it is fine at room temperature.
Duncan Hines icing is gluten free, but there are so many other ingredients and chemicals that I don't tolerate it well. It also isn't safe for people with corn allergies.
There are plenty of organic and allergy-friendly/vegan sprinkles to decorate sugar cookies these days. I am going to try these Supernatural Jingle Pop Sprinkles I found on Amazon.
As an alternative to traditional colored sprinkles which are full of dyes and other possible allergens, I crush up small pieces of Yum Earth Candy Canes to sprinkle on top of the sugar cookies.
Every year I put these candy canes in my sons' stockings since they both have food sensitivites. The candy canes are great to have on hand for kids during the holidays. A lot of children have red dye allergies, but these candy canes use fruit and vegetable concentrate for coloring. They are delicious!
Ingredients: organic cane sugar, organic brown rice syrup, natural peppermint flavor, colored with organic fruit and vegetable concentrate (radish. apple, blackcurrant).
Isn't all of this organic, allergy-friendly stuff expensive?
YES, by comparion. But, buying the pre-made sweet Loren's dough for example is far less expensive than buying all of the allergy-friendly and healthy ingredients it would take to make just a dozen cookies. You can find Sweet Loren's at Target for $5.99. Six dollars for 12 delicious and allergy-friendly cookies is a bargain in my opinon!
I hope this post has encouraged you to try Sweet Loren's cookies or the other products I have suggested. If you do, I would love to have your feedback!
Now, it's time to enjoy those oatmeal cranberry cookies!
Thanks for visiting today and Merry Christmas!
Amber