Creating a cozy reading nook is a great way to utilize extra space and create charm in your home at the same time. Whether large or small, a reading nook is a place to escape the stress of every day life and do a little extra dreaming. Just before selling our previous home, we converted an underused coat closet into a beautiful and useable book nook. It became one of our family's favorite features of the home, but we didn't get to use it for long. Since we enjoyed it so much I am looking for ways to incorporate a book nook or reading area into our current home. Here are 10 cozy reading nook ideas I am using for inspiration.
Location
There are a few great options for creating a reading nook. Some people like to choose a  space under the stairs to convert, and others like to choose a window seat that gets tons of natural light. Even a closet can be converted into a book nook. Make sure that your planned area will blend well with the aesthetic of your home.
Shelving and Storage
A reading nook needs lots of books, so storage shelves and built-ins are the way to go. You can also keep plenty of attractive baskets and crates for book storage around the reading nook.
Seating
Seating for a book nook can be a simple platform box with a DIY foam seat upholstered in the fabric of your choice. Be sure to use lots of pillows and cushions and even a cozy blanket or throw. Create comfortable seating area that allows you to relax and to get lost in the pages of a book.  
Even an oversized bean bag   https://www.fombag.com/6_Foot_Fombag_Giant_Bean_Bag.html  placed in cornernext to a book shelf can create  a cozy reading area. This idea is perfect for a child or teen room that may not have a place to build a window seat nook.
S0urce: Jeanne Oliver 
Lighting
 If you choose a window seat, you'll get plenty of natural light in the day, but you'll still need to add some over head lamps like these that can shine over your exact seat. If your nook is under the stairs or away from a window, you'll want plenty of light to keep your eyes from straining too much.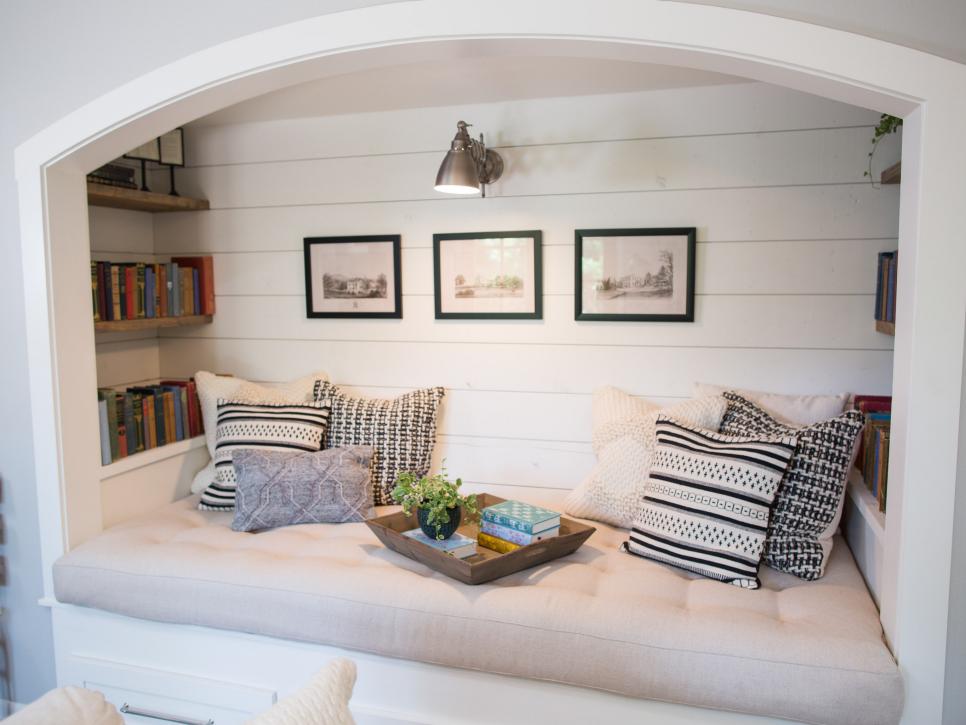 I hope you have enjoyed these 10 cozy reading nook ideas. Reading is a great way to relax, but a reading nook, book nook or reading corner is also a way to add a little comfort and charm to your home. I have decided to design a reading nook for my teenage son by converting an unused space in  a portion of the closet in his bedroom. Of course I will be sharing the before and after here on the blog. Check back soon!
Until then, happy reading!
Amber