Happy spring everyone! The birds are singing, the forsythia is in bloom, and it's the perfect time to enjoy a little time outdoors to celebrate spring's arrival! I am thrilled to be joining my friend Cindy of County Road 407 and several blogging friends for our monthly Pinterest challenge. If you are coming over from Bricks and Blooms or if you are just stopping by for a visit, I am so happy to have you here!
Each month Cindy chooses a photo from Pinterest for inspiration, then each of the hop participants comes up with her own interpretation using similar elements, but with a bit of personal flair too.
March Pinterest Challenge Inspiration Photo
This month's theme is a beautiful Spring Bird House Tablescape by the talented Doreen of Hymns and Verses. Here are some of the elements she used:
Basket tray with handles
Birdhouse as a focal point
Spring flowering branches in a teal mason jar
Teal rusty bucket with flowers
Bird nest and various eggs
Vintage style bird plates
Burlap runner
Teal-blue drinking glasses glasses
Napkins folded into little nests
Layered ironstone and teal dishes
Silverware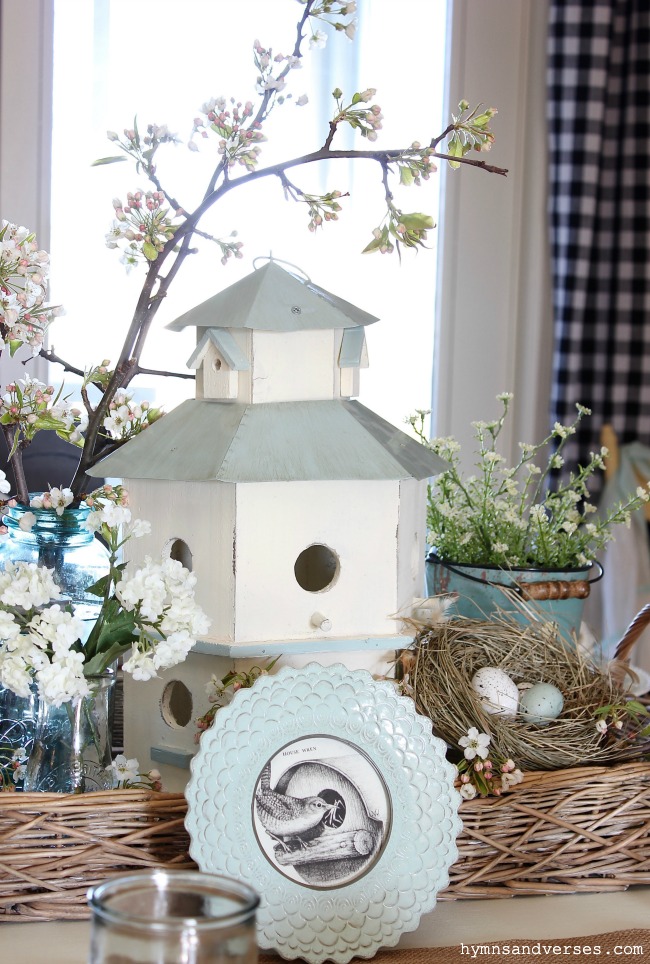 I returned to in-person teaching this week after being virtual for almost six months! I was so busy getting things ready to return to work this past weekend that I didn't really have time to deconstruct my current spring tablescape in the dining room to set up a new one just for this challenge. With all that is on my (vintage) plate, I decided to set up a simple spring tea just for me (and the birds) outside on the patio, using Doreen's beautiful design elements as inspiration. I shopped my home and used free gifts from nature to come up with a similar look.
My French gray washed basket tray is very similar to Doreen's basket so it was perfect for this challenge. I always enjoy styling it with various vintage garden-themed treasures for my spring and summer tablescapes. Can you believe that with all the JUNK in my stash and garden that I don't actually have a decorative birdhouse? Instead, I am using a large, chippy white birdcage as my focal point. Works for me!
As you may have seen in my recent post, Collecting Vintage Ironstone Dishes, I have plenty of dishes for use in just about any kind of table setting. Here I am using a beautiful embossed ironstone teacup and matching saucer with a smaller green transferware saucer in between for interest and color.
Doreen used grapevine wreaths under her plates which I absolutely love. I had just made a little grapevine and moss wreath last week to hang on a mirror, so I just temporarily swiped it to use under my teacup and saucers. A green striped napkin, small ironstone salad plate and jute place mat complete my simple place setting. (The sweet antique tarnished silverplate spoon is just "for looks" and extra vintage goodness.)
I just love this realistic nest I found at a local boutique a few years ago. I filled it with a couple of tiny eggs and some blooms from the freshly foraged forsythia branches. I have several small birds around my home, but I think this particular rustic bird looks perfect beside the nest.
In keeping with the theme, I did find a spot for my one and only rusty garden birdhouse, "perched" on top of a shabby cast iron bird candle holder. It ties right in with the rusty patina on the candle holder and the handles on the galvanized bucket filled with white pansies.
You might recall the tiny little birdhouse from my "Free Thyme" Thrifted Basket Makeover post.
This sweet bird saucer was found for less than a dollar on one of my junkin' adventures. The colors are perfect for this tablescape.
This weekend I picked up some variegated ivy for an urn on our front porch but I didn't get around to planting it. I needed something to fill negative space in the basket, so I simply tucked the potted ivy down in one of my chippy chalk painted pots to use as part of the display. A little peat pot filled with Spanish moss and speckled eggs along with a few other scattered eggs add extra texture and interest in the basket.
I lieu of a teal mason jar with white flowering branches, I used a green glass vase with forsythia branches "foraged" from a bush that is growing wildly near our home.
Simple Spring Decorating with Forsythia Branches
I love decorating with Forsythia in early spring!
This pretty French farmhouse style botanical bird eggs and nest table runner was purchased from Tuesday morning a few years ago. I also have four matching place mats that I plan to use in a future spring or summer tablescape in the dining room.
After my busy first day back to work I am certainly ready to spend some "me" time on the patio enjoying the spring weather, a good cup of tea, and sweet bird song as the sun is going down!
I hope my post has inspired you to shop your home for items you can use to create your own bird-themed table setting indoors or out. Of course there are so many other wonderful ideas on this hop you won't want to miss via the link up below. Next up is Crissy from First Day of Home. I can't wait to see her pastel spring table decor!
Thanks so much for visiting!
Amber
You are invited to the Inlinkz link party!