Welcome everyone! Is spring "springing" in your area? Pops of yellow forsythia bushes are flowering all over town which means that spring truly has arrived here in Kentucky! I have a bit of a sentimental attachment to forsythia. My grandparents had a beautiful forsythia bush by their side porch that I always loved. The blooming of the forsythia each year in March meant that my birthday and Easter were close at hand! My decorating is inspired by sentiment and what is going on seasonally in nature, so using forsythia to brighten up our home for early spring is something I always do. Even if you don't want to drag out a lot of elaborate spring or Easter decor, faux or fresh forsythia branches can easily add some spring vibes to your home. Today I am sharing several ideas for simple spring decorating with forsythia.
"Forsythias are popular early spring flowering shrubs in gardens and parks, especially during Easter; Forsythias are nicknamed the Easter Tree because its branches appear to be waving in praise of the resurrection of Jesus. Two are commonly cultivated for ornament, Forsythia × intermedia and Forsythia suspensa. They are both spring flowering shrubs, with yellow flowers. They are grown and prized for being tough, reliable garden plants. Forsythia × intermedia is the more commonly grown, is smaller, has an upright habit, and produces strongly coloured flowers. Forsythia suspensa is a large to very large shrub, can be grown as a weeping shrub on banks, and has paler flowers. Many named garden cultivars can also be found. Forsythia is frequently forced indoors in the early spring." Source: Wikipedia
Ideas For Simple Spring Decorating with Forsythia Branches
In my recent Spring Home Tour: Easy Spring Decorating with Bunnies, Birds and Blooms, I shared my front door basket filled with faux forsythia branches, pussy willow branches, fresh picked daffodils and trailing greenery. Yellow flowers look great on our porch with our yellow bricks so I like to use yellow flowers are seasonally appropriate when decorating the porch.
Last year for my Early Spring Home Tour Part 2 I combined forsythia with thistle, purple tulips, small purple flowers and various grasses in a basket arrangement I made for my back door .
I also displayed my Hunter Boots filled with faux forsythia branches in our little back door entry area just off from the kitchen.
A basket of forsythia branches is another beautiful way to brighten up a mudroom or entryway.
Tall forsythia branches are often styled in glass vases or demijohns.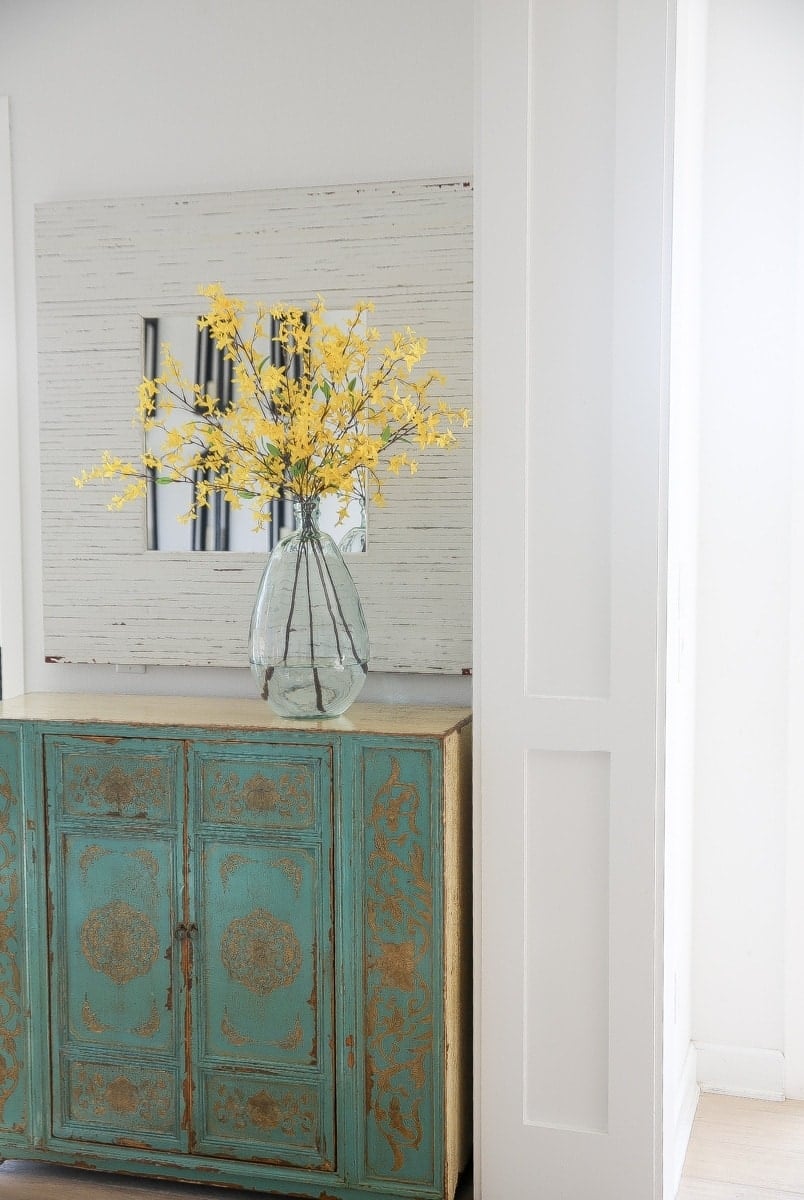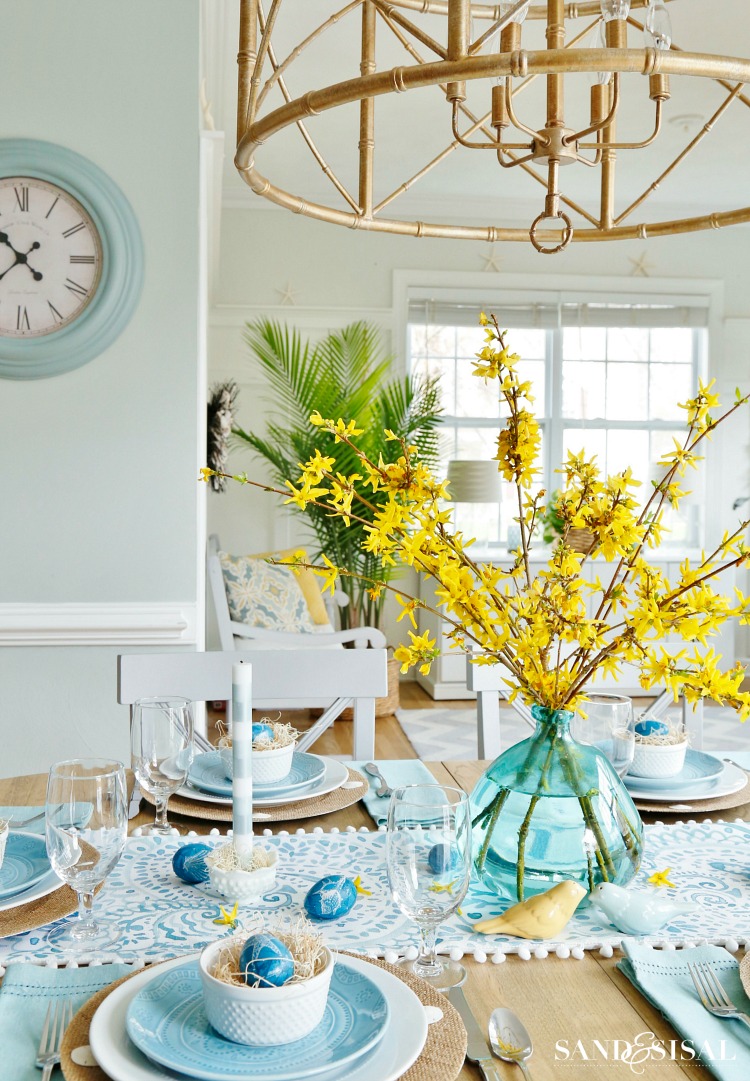 Small cuttings of fresh forsythia branches look so pretty in little vases too.
Embellished Spring Nest~ Stonegable
You can also add a bit of forsythia to a spring nest for a little color…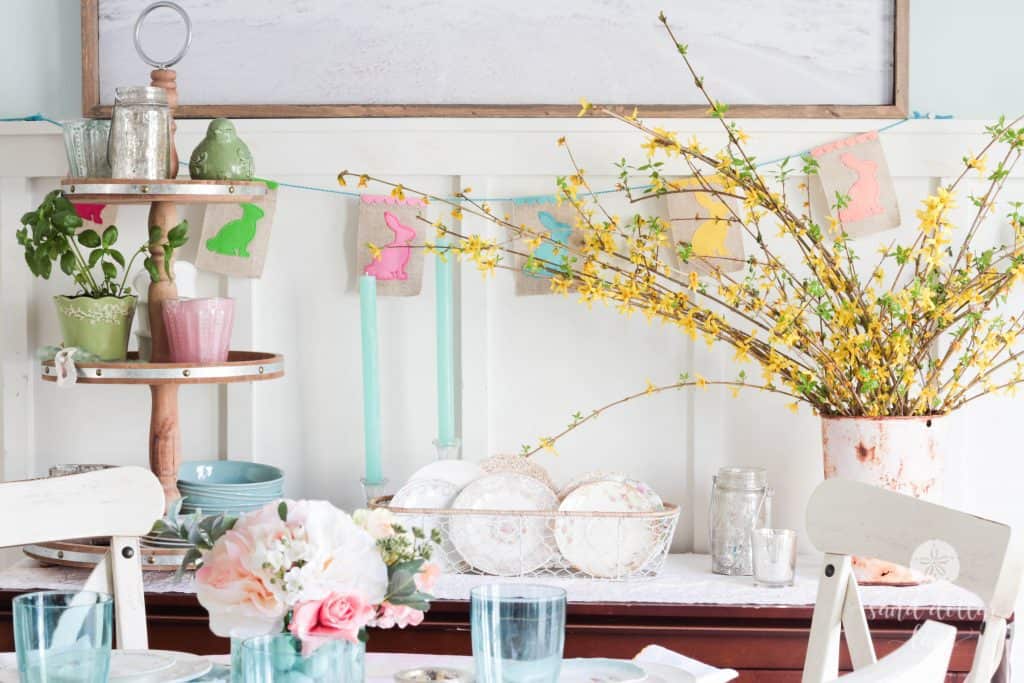 …or use forsythia to add lots of extra spring color in with other festive Easter decor.
A galvanized bucket of forsythia branches is perfect for a simple farmhouse spring centerpiece.
The house where I grew up was rural and "country"  and we had lots of forsythia bushes blooming on the hillside in the spring. While my grandparents had a stately brick home in the city with the my favorite forsythia bush, I also associate forsythia with spring in the country. I think simple forsythia branches looks great in vintage farmhouse style vignettes.
I am a big fan of spring cottage-garden style indoors and out. I love the look of forsythia displayed in old watering cans.
A classic white pitcher filled towering forsythia branches just looks so simple and elegant for spring.
Ironstone and forsythia? Yes please!
I also love the look of forsythia displayed in chippy old enamelware pitchers.
When forsythia is displayed in a ginger jar or a blue and white vase the look is chic and timeless.
source
Lemons and forsythia add a double punch of bright, sunny spring color when combined in a tablescape.
Using forsythia on the mantel is an easy and elegant way to add simple spring elegance.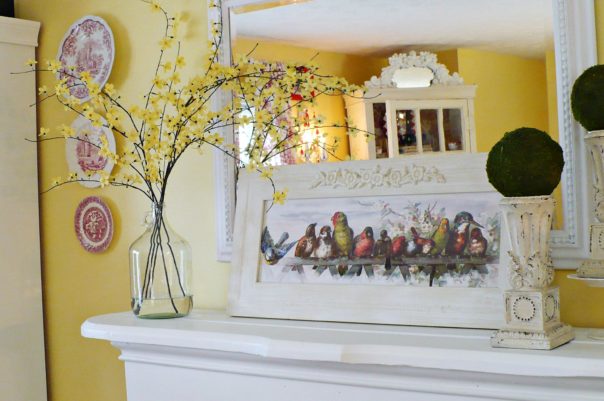 The Frugal Homemaker
A simple forsythia wreath also looks beautiful hanging above a mantel.
For extra spring color, try mixing forsythia with brightly colored tulips in a flower arrangement. Depending on your region, forsythia might be blooming along with tulips and other trees and flowers.
You can also use forsythia to add height and visual interest to your outdoor spring urns and containers. Isn't this spring urn just amazing?
Forsythia branches can be forced in winter if you can't wait for spring! Next year I might try to force some branches in February. Have you ever forced forsythia branches in late winter for early spring color?
Here is pretty vintage forsythia image that could be framed or used somehow in spring crafts.
I hope this post has inspired you to use fresh or faux forsythia branches to brighten up your home for spring. Is the forsythia blooming in your neck of the woods? I love hearing from you, dear readers!
Thanks for visiting, Happy Spring!
Amber
Sharing at these great link parties: