Welcome back to my Pin Away Wednesday series! In just a few days our family will be at the beach for our annual vacation and I can hardly contain my excitement! I thought today would be a perfect time to share highlights from my Coastal Style and Beach Cottage Decor Pinterest Board. Because I am a beach lover and dreamer of coastal dreams, (one day we plan to retire near the beach) this is one of my favorite boards. If you love beautiful beach decor and vintage coastal treasures too, get ready to pin away!
…For the love of the Sea and all things beachy!
One of my favorite decorating styles is French vintage coastal, or at least that is what I call it. Bascially it's a combination of coastal treasures and vintage shabby chic, brocante and vintage French found objects. There is something so romantic and magical about this style!
Dreamy…absolutely dreamy!
Old farmhouse treasures also look gorgeous mixed in with nautical inspired decor.
Ever since my very first beach vacation at age four I have been a collector of shells. I think seashells are truly the most amazing free gifts of nature. There are so many creative ways to display them, even in homes with more traditional decor.
Shells in a gorgeous chippy urn? Yes please!!!
The Easter bunny could trade out eggs for a basket full of beautiful shells and beach treasures and I would be perfectly content!
I love the simplicity of displaying tiny seashells in glass bottles.
A few years ago I made several keepsake bottles filled with seashells from our trips to Wrightsville Beach. For vintage whimsy I topped each bottle with salvaged vintage salt and pepper shaker lids.
I adore this simple beach vignette with seashells under a cloche and a vintage Ball jar full of beach treasures.
Decorating For Summer With Vintage Beach Decor~ Virginia Sweet Pea
Coastal Dining Room Decor~The Turqouise Home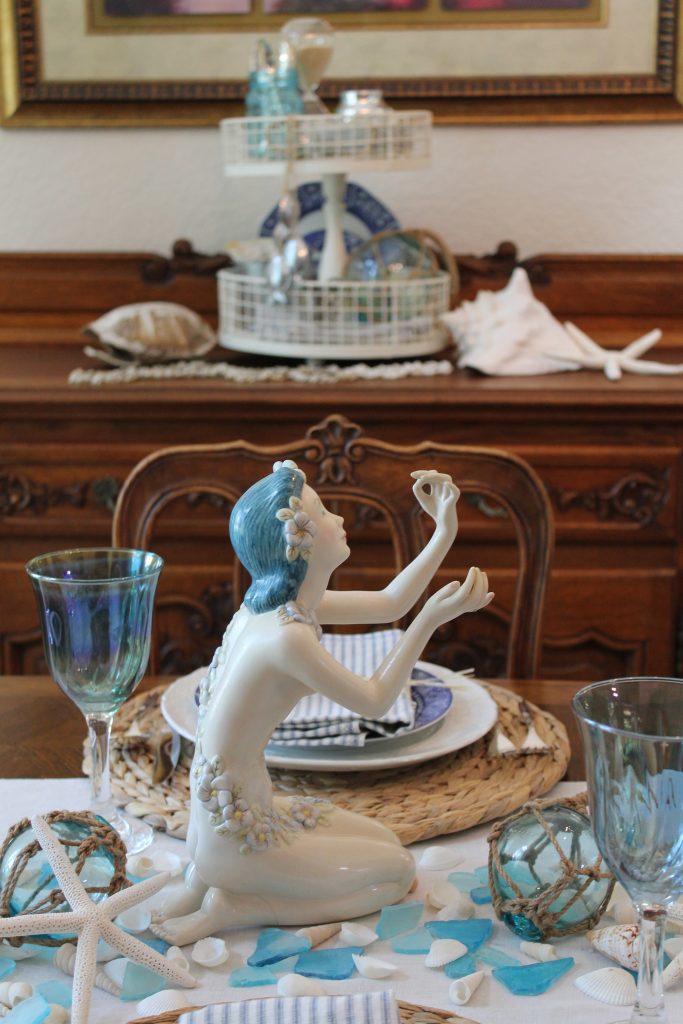 In addition to collections of seashells and creative seashell displays, I also pin lots of pretty rooms with coastal decor and beach vibes.
Gorgeous bedroom with nautical vibes~ The Lilypad Cottage
Every year on our beach vacation my husband and I scope out the area for possible retirement cottages. Many of the pins on this board will be used as inspiration for decorating our beach home.
One of my favorite parts of our beach trips is visiting the local antiques and thrift shops and shopping for nautical treasures like these sweet vintage mermaids that my friend Larissa of Welch House 1900 just shared on her summer mantel.
Vintage Marketplace in Wilmington, NC is my absolute favorite stop on our beach trip! I will certainly find some treasures there to share with you when I get back from vacation. Check out my previous post all about Vintage Marketplace to see more of this beautiful shop.
Patina White
For more dreamy beach decorating inspiration, check out my post, Easy Breezy Coastal Cottage Style.
I hope you enjoyed all of this beach "pinspiration" today! Don't forget to follow along on Pinterest for more vintage- coastal inspired pins too. I am sure I will be pinning lots of beach related photos over the next couple of weeks since I will be in total beach vacation mode!
Thanks for visiting today!
Amber