Hello everyone! Lately I have been doing a little "island dreaming" as our kitchen renovation is in progress. We recently removed the 5 foot island with traditional cabinet base and repositioned it in a new spot in the kitchen. While it was nice having such a huge island, it ate up the entire center of the kitchen and made it hard to get in and out of the oven and dishwasher. I knew I wanted a smaller island of some kind, so I started doing some Pinterest searching for inspiration. It wasn't long before I realized that an old world, European style work table or farmhouse pastry table would be perfect for our kitchen, not only for size and function, but for style as well. Here are some of the gorgeous examples of Euro-inspired farmhouse work tables and pastry tables that I found on Pinterest. Enjoy! *This post contains affiliate links.
When I started browsing Pinterest I noticed that most of the islands I loved weren't really traditional islands, but rather tables of some kind. Most of them are narrow with a wooden base and some kind of natural stone top. Upon research I found that these types of tables are known as work tables or traditional pastry tables.
Decor to Adore
Our previous island was a solid cabinet base with lots of drawers and storage. It was nice having the large countertop space, but it was overall just too clunky. The drawers were crammed with every utensil you need for cooking but it still seemed like they would also accumulate clutter. I love how the openess of the pastry table design creates more visual space and a cleaner look. However, I still wouldn't mind some small drawers on the island to keep it clean and organized.
These old tables just have such a light and airy, old European farmhouse look.
Our island will probably be a bit smaller, similar to the one shown here. I love the idea of using quartz kitchen countertops on top of a wooden base for the island.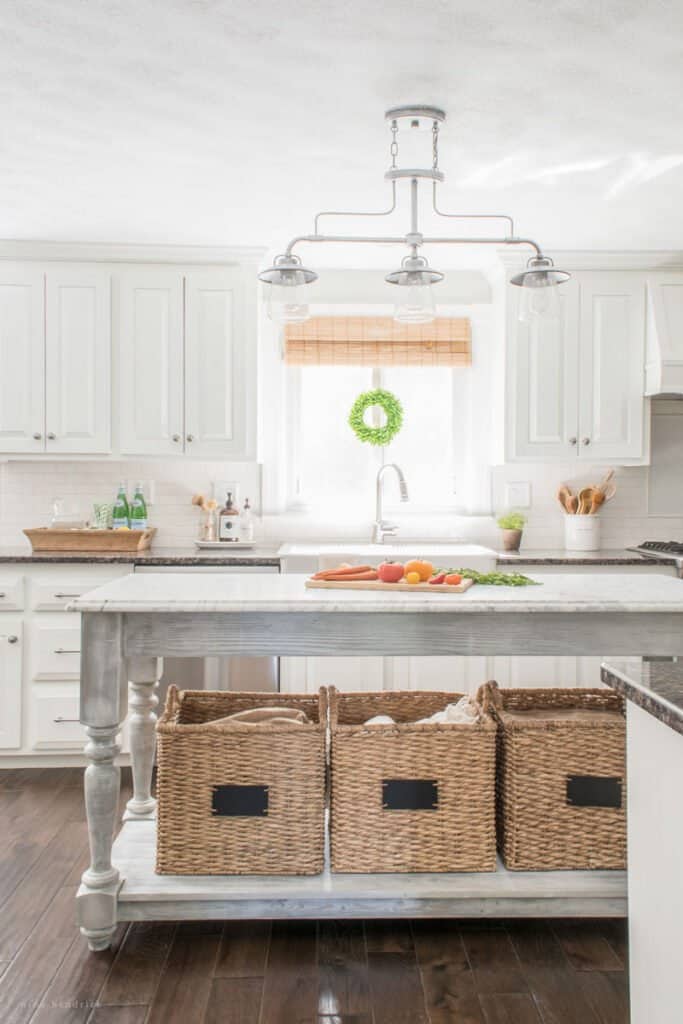 This DIY Kitchen Island by Nina Hedrick is very close to what I am envisioning, only smaller. I have been looking around for an console table could possibly be made into an island, but to make it countertop height it would need casters or an extra thick wooden or marble top. The way the bottom shelf is open provides an extra storage area which is much needed in any kitchen.
I love the idea of having casters so the island can be moved into the dining room for serving. I definitely want to have a little stool so I can sit and chop too. The reality of having a brick floor is that while beautiful, I know that it won't be too kind to my feet and back so having a stool will be nice.
BHG
Even a small farm table can work beautifully as an island if the kitchen is spacious.
This is Joanna Gaines' dreamy kitchen for her upcoming cooking show. I love that big chunky marble top!
Here is another example of a slab of marble on top of a French pastry table. I also want my island to have a bottom shelf like this for vintage French country kitchen treasures like crocks, copper pots, dough bowls, baskets, and extra cutting boards.
Old work tables make fabulous islands too, as they often have drawer space and tons of character.
I am undecided as to whether I want a stained wood base, or whether I want to paint it the same color as our cabinets, or maybe even my favorite green for an unexpected pop of color! Isn't this distressed bluish-gray so pretty?
I like that a work table can actually double as little breakfast bar with the addition of small bar stools.
I love the look of the marble countertop but I think it would just be too much maintenance for me. In addition to quartz, I still like the look of granite. I am considering contacting a reputable granite countertop company for more information on the care and upkeep of granite.
These kitchen islands have old world elegance, but also a bit of relaxed, traditional farmhouse country charm. Combined with the space saving aspect of the design, this type of island will be perfect for our kitchen.
As you can see from all of these examples, the old European style kitchen islands, French Farmhouse work tables and pastry tables are both beautiful and functional. Ours will have to be custom built to fit our space. Hopefully it will be finished by fall so I can display a few French heirloom pumpkins right in the center of my new kitchen island!
Or, instead of just decorating the island, perhaps I will use it for it's intended purpose and finally learn how to make some edible gluten-free pastries! GF biscuits with crock pot apple butter sure would be delicious for fall breakfasts!
I hope you have enjoyed this round up of kitchen islands. Which was your favorite? I love hearing from you, dear readers!
Thanks for visiting today!
Amber
*Affiliate disclosure: If you purchase an item I may receive compensation at no additional cost to you. See my full affiliate disclosure for details.
Sharing at these great link parties:
All About Home Thursday Favorite Things