Are looking for an easy, healthy dessert to enjoy without guilt? Do you or a friend or family member want to eat a little bit cleaner or have a gluten or dairy allergy issue? I've got you covered with my Healthy, Gluten Free Crock Pot Peaches!
Hello friends and welcome to another fun Pinterest challenge! This month we are switching things up a bit with a peaches dessert recipe hop instead of our typical decor or DIY theme. If you love peaches as much as I do you will find plenty of recipes to pin today!
I am excited to once again be joining this talented group of blogging friends for this monthly hop hosted by my sweet friend, Cindy of County Road 407. If you are coming over from White Arrows Home or if you just happened to stop by today, I am so glad you are here!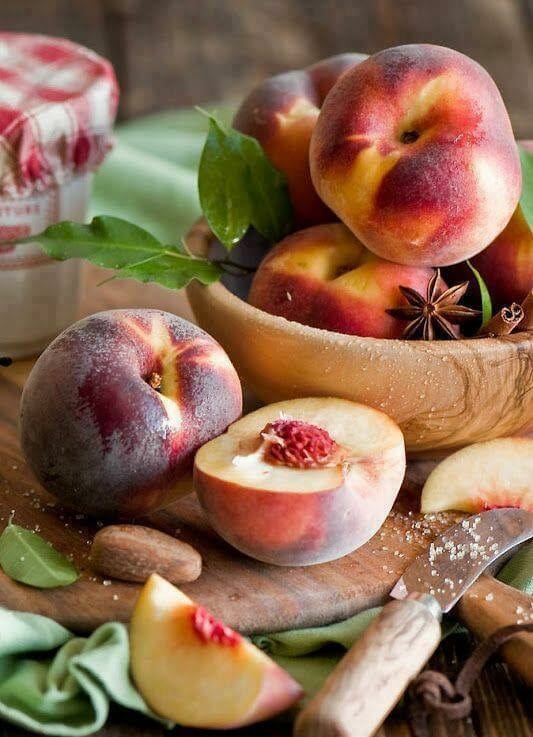 Our inspiration photo comes from Organic Facts. There are 17 different peaches recipes to check out on the hop today, so prepare to be inspired…and hungry!
Enjoy Fresh, Delicious Peaches In Season!
Every late summer I head to the quaint town of Worthington, Ohio to visit family and attend their Saturday morning farmers and artisan market. I always bring home organically grown peaches and apples, along with handmade soap and honey. This Pinterest hop was just one week early from my trip, so I used grocery store peaches and honey for this hop recipe, but next weekend I will definitely be making more crock pot peaches with my fresh peaches and honey picked up on my trip.
I picked up about 10-12 peaches from the grocery store. This will serve four (if folks will want seconds, which they probably will!) This will also be enough if you want to use the peaches for cobbler or peach pie filling.
How to Make Healthy Crock Pot Peaches (Gluten and Dairy Free Option)
A few years ago when I was really having a hard time dealing with autoimmune issues, I switched to a 100 percent refined sugar free diet for about two years. I was still eating some fruits, but in early fall I would really start craving something with more of a traditional dessert taste. One day I just decided to try making cinnamon peaches in the crock pot to put on top of my oatmeal. The peaches turned out so amazing that they were an instant hit with me and the family and I have been making them ever since. They are perfect as a dessert on their own, but they also make the perfect filling for crock pot peach cobbler! *Just make up a batter of regular or gluten free biscuit mix and pour the batter on top of the peaches in the crock pot until it forms a delicious cobbler crust on top. YUM!!!!
I digress…on to the recipe!
Healthy Crock Pot Peaches Allergy Friendly (Gluten Free, Soy Free, Dairy Free) (But not taste free!) Ingredients
10-12 peaches (organic if possible)
Honey
Cinnamon
Pure Vanilla
Earth Balance Dairy and Soy Free Butter (I actually can't BELIEVE it's not butter!)
Gluten Free Granola for topping (optional)
Crock Pot Peaches are as easy as 1-2-3!
1. Wash, peel and quarter the peaches and pour them in the crock pot. (Remove and discard pits.)
2. Add ingredients.
Use 1/4 "cuppish" of butter. (I think I just made that word up!) Of course I am using the Earth Balance gluten, dairy and soy free butter but you can use regular butter if you don't need to make an allergy-friendly version.
Plop the butter on top of the peaches
Add 2 tsp cinnamon (more of less to personal taste preference)
Add 1 tsp pure vanilla extract
Drizzle a generous amount of honey all over the peaches. Probably about three tablespoons if measured out. I just drizzle until it looks like it will be yummy. I know that isn't very precise!
*Without refined sugar, these crock pot peaches are very sweet with a slight tartness that makes them so good and fresh! Of course if they aren't sweet enough to your taste, simply add a bit of brown sugar to the recipe.
3. Cook the peaches!
*This isn't exactly a "fix it and forget it" recipe since you need to stir the peaches once. However, you can still fix it and go off and do laundry, gardening, or blog hopping while it is cooking, and just taste test them multiple times check on them off and on during the cooking process.
Set the crock pot on low medium for 2 hours-4 hours. You may need to experiment with your own crock pot to find what time/temp work best for you. A longer cook time and lower temperature is the best bet to start. In my crock pot the peaches are perfect after one hour on high heat (I stir at the point to keep the peaches form sticking to the bottom) and then switch to low heat and cook for two more hours or until the peaches start to caramelize (as in the pic above.) They are done when they can easily be cut through with a fork. Usually there is plenty of liquid from the peaches and butter to keep them from scorching, but you can add a little water if at any point in the cooking process they seem too dry.
TIME TO ENJOY!
When the peaches are ready, grab your favorite vanilla ice cream! Since I have a casein (dairy) allergy, I eat So Delicious Coconut Ice Cream. So Delicious brand also has oat milk and almond milk ice cream. Normally I do not get sugar free but I picked up this pint by accident. It doesn't contain aspartame or any other scary artificial sweetener so it was still safe for me to eat and plenty sweet with the addition of the peaches.
Alternatively, use the hot peaches as delicious topping for oatmeal, or just enjoy them straight from the crock pot!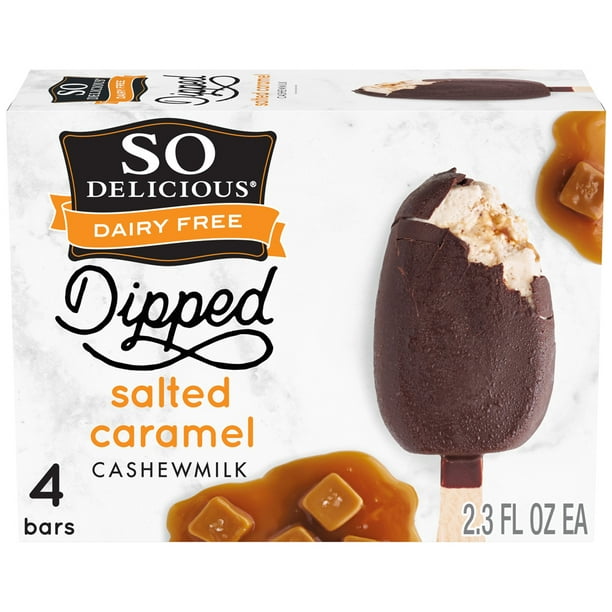 While we are on the subject I just had to show you my latest indulgence! These dipped salted caramel cashew bars are AMAZING! I just discovered them this past week. They remind me of my pre-gluten-and-dairy-free childhood ice cream eating days, like something I would enjoy off the ice cream truck or at a carnival. Yum! But truly, they are not nearly as tasty as…
…these scrumptious, wholesome, clean, healthy gluten and dairy free crock pot peaches! Seriously, I prefer real, fresh sweet treats from nature above processed sweets. Here they are in "country club" menu form. I was just going to put the ice cream in a bowl and then spoon the peaches on top, but my 17 year-old son Liam jumped in and "styled" peaches and ice cream as he would while on the job at the local country club.
While he sent me out to pick fresh mint (his idea), he artfully arranged the dessert on a small white Fiesta plate and topped the ice cream with a gluten free granola and nut mix. He even grabbed this bright green and white buffalo check napkin from my stash to coordinate with the mint. The dairy free coconut ice cream doesn't "spoon out" into an ice cream scoop shape as easily as regular ice cream and the hot peaches were starting to melt it, but I still think it all looks fabulous!
Liam is a senior in high school and works full time as a cook at a well-known country club restaurant in our area where he has picked up wonderful skills and knowledge that he will take with him when attends culinary school for college next fall. You might recall seeing his strawberry roses in the June/July 2022 issue of Cottages and Bungalows magazine along with a few of my photos of a styled strawberry roses bouquet.
Liam was hurrying out the door for some friend time, so he didn't stop to eat the peaches and ice cream. It was my husband's birthday when I made the peaches, so I let him enjoy Liam's styled plate while I scarfed down enjoyed a small cup full of my own gluten- free crock pot peaches and ice cream while doing my routine evening stroll in the cottage garden.
The sun had gone down but it was still like 1000 degrees in the shade here, so the ice cream started to melt quickly. This made the dessert even more delicious!!!! I can't wait to make more crock pot peaches with my Worthington Market peaches this weekend!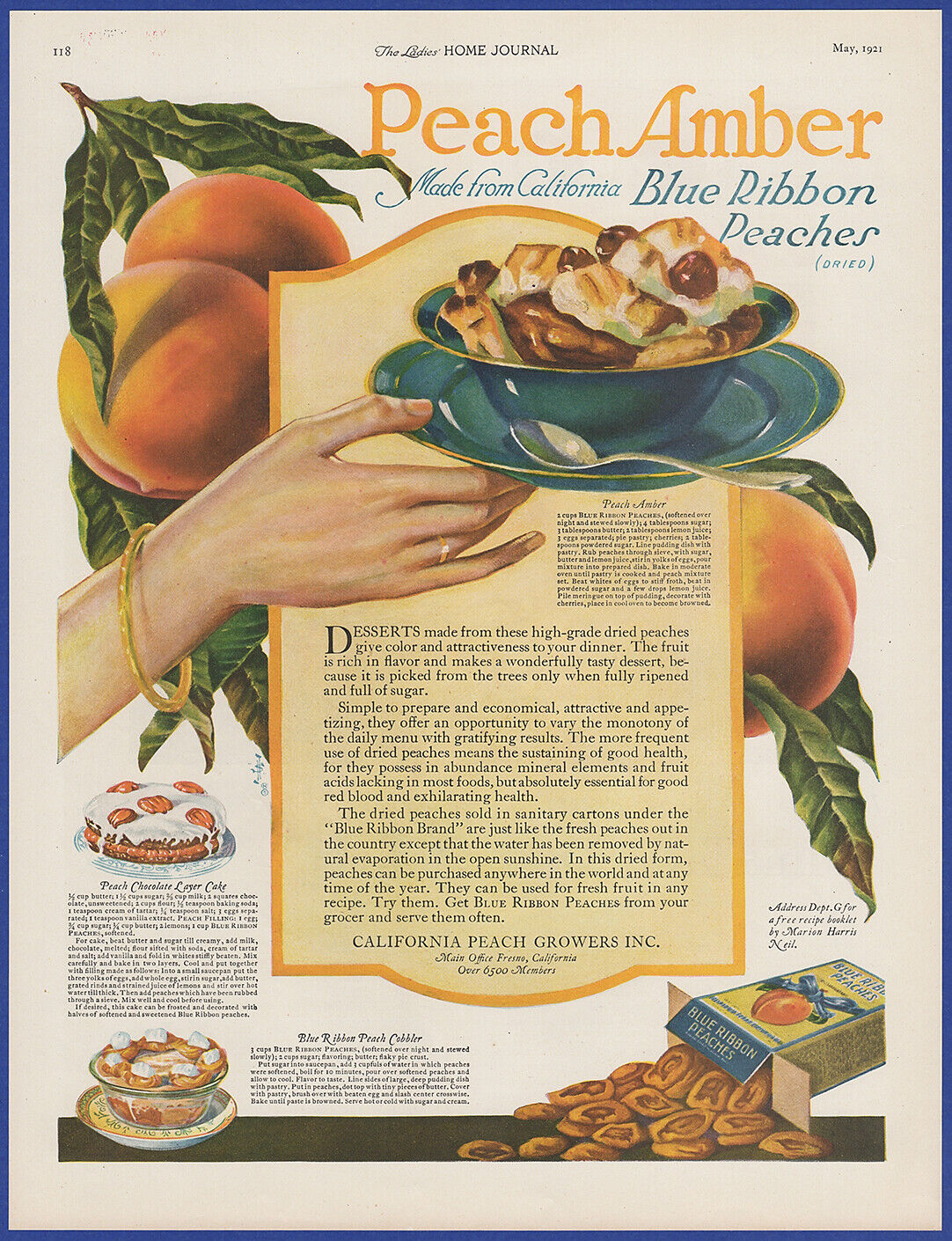 While looking for some vintage graphics to pretty up my post, I came across this old magazine "Peach Amber" ad on Ebay. I had to have it! It's from 1921, the same year our house was built. I actually purchased the original and it will be here next week. I am going to use it somewhere in my kitchen for summer-to-fall decorating.
Because they are in season and their skins do have orange orange undertones, I think peaches are a lovely transitional fruit to use in summer to fall decorating, along with pears another delectable "harvest" fruit.
Of course peaches never last long around here, so I have picked up a couple of realistic faux peaches to use in my decorating like the one shown here under the cloche.
By the way, did you know that August is National Peaches Month? It's the time of year when peaches are most in season in the Eastern US at least. I love peaches so much that I even dedicated a post to them for National Peaches Month! It is full of of beautiful styled peaches images, recipes, and interesting facts about them.
I'll wrap up this post by leaving you with a craving for a peaches and this beautiful free Peaches Botanical Printable from The Graphics Fairy.
I hope you have enjoyed this Healthy Crock Pot Peaches Recipe! Now it's time to get hungrier by checking heading over to DIY Beautify for another delicious peaches recipe. If you missed any of the other recipes on today's hop, just click the links below to check them out.
Have a peachy summer!
Amber
You are invited to the Inlinkz link party!