Hello friend and welcome back for another post for my Interior Decor and Styling series. This fall my husband and I plan to finish up our kitchen remodel! One of my main goals of the renovation is to maximize space and minimize clutter, without sacrificing style. While our kitchen is larger than those in most other 1920's homes, it is long. With that in mind, I always like to check out small kitchens and galley kitchens for inspiration. As I was browsing Pinterest I came across five small kitchens with big style that I will be sharing today. *This post contains affiliate links.
Although this is a super small kitchen, it has all the cozy kitchen elements I dream of! I love the brick floors, and the brick wall behind the stove especially. The mix of beautiful cottage colors and and all the quaint, vintage and country cottage accents on display create big French Country style in this small kitchen. There also seems to be ample cabinet and drawer space, which is crucial for such a small kitchen. If you have a small space, you might have to think outside the box when it comes to kitchen furnishings and check for space saving appliances from an appliance store. You can also repurpose furniture, such as a beautiful table from DLR as a kitchen island or work station.
While I love French Country and European style kitchens, this bright and beautiful boho chic-vintage kitchen also gives me all the feels! I guess I actually just love so many different styles of kitchens. All the bright natural light and white walls, cabinets, and appliances make this small kitchen space seem open and expansive. Open shelves are great for keeping every day dishes, cookware or even small appliances such as soup makers in reach, while keeping the counters clear for cooking space. A colorful rug adds big style to this small kitchen. It's important to have hygienic flooring in a kitchen, so if you choose to use a rug then be sure it is washable.
This stunning kitchen is a little French, a little modern, and a whole lot of chic! It may be small but it is certainly big on style! The trendy greige cabinets with gold drawer pulls topped by an amazing marble countertop is a gorgeous combination. There is still plenty of counter top space for cooking tasty meals and growing herbs. The cabinets extend all the way to the ceiling giving the illusion of greater height, and the glass cabinet doors keep things looking fresh and airy while providing food storage.
Storage can be a problem in small spaces. But, nowadays there are plenty of clever alternatives. Think hooks on the back of kitchen cabinet doors or even fitting drawers into your skirting boards.
Source: loftandeco.com
This industrial style small kitchen is one of my favorites! The open shelving and bright white subway tile and industrial pendants are right on trend. The teal SMEG refrigerator just pops and makes a big style statement! Of course you can always purchase a small vintage refrigerator and hire someone from a refrigerator repair company to modernize it. Incorporating the sink into the kitchen island which also doubles as a bar is such a creative way to maximize space.
Would you believe the kitchen pictured above is in an attic? I love the idea of creating an attic apartment with a small kitchen! Because we have a huge attic with tons of potential, an attic apartment is a possibility down the road. It is big project however and a little out of our DIY experience, so we will certainly consider using a plumbing service if we decide to add a kitchen and bathroom to the attic.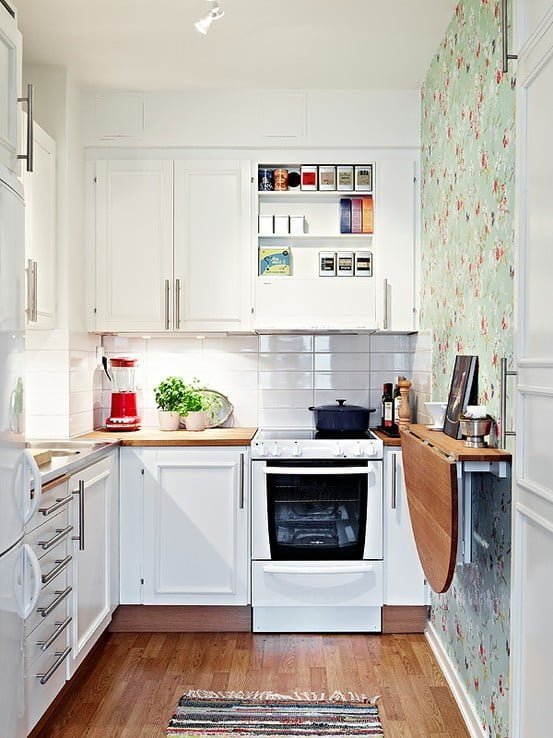 ource: homedecorest.com
This small kitchen is big on style and charm too. Because it is super tiny, white is a great choice for the cabinets, tile back splash and appliances, but the use of wallpaper on one wall creates stylish wow factor! Since there isn't a window behind the sink, the extra use of lights under the cabinets keep things bright and provides light for growing fresh herbs too. There are so many interesting and stylish kitchen lighting options available through various LED lighting manufacturers. Using LED lighting has the adding bonus of reducing energy costs which is always a good thing!
Via Romantic Prairie Style Mag
This small kitchen is one of my all time favorites! I fell in love with it the when I opened the premier issue of Romantic Prairie Style magazine several years ago. Because it is decorated in vintage cottage style, it is timeless! It is a very small kitchen but it is filled with amazing vintage finds that are perfectly curated without looking cluttered. The shelving across the top of kitchen provides space for decorative accents and collectibles while keeping the countertops clutter free. Since this small kitchen is white with double windows behind the sink it is very bright and open. The red accents and chippy salvaged junk really give this small kitchen big style!
While our kitchen is not really small and has plenty of cabinet space, it's always good to have extra storage. I have been thinking about repurposing an old armoire in our family room which is just around the corner from our kitchen with non-perishable food items or kitchen supplies I buy in bulk such as paper towels. If you are short on cabinet space in your kitchen you can make the most of a tiny wardrobe that doesn't hold a lot of clothes by repurposing into cabinet storage for your kitchen. You can also incorporate some of the shelving from closet systems to custom fit your kitchen cabinets which will help you make the most of the space inside your cabinets.
I have really enjoyed exploring these small kitchens with big style and I am looking forward to the changes we will be making to the kitchen. I will be posting the kitchen makeover process on the blog so keep watching for updates! Which small kitchen share here today is your favorite? I love hearing your opinions and ideas!
Thanks for stopping by today!
Amber