Welcome friends! Do you have spring fever yet? I normally enjoy cozy winter months after the hectic holidays, but with the crazy warm weather we have been having and the birds singing outside my window, I can't help but to think spring! While spring is actually still a while away, the long winter months gives us all time to gather ideas and craft supplies for spring and Easter DIYs. Today I am sharing some easy-springy little ideas for upcyling and repurposing old bed springs (or chair springs) into unique spring or Easter decorations. *This post contains affiliate links.
I have been using bed springs creatively in vintage and seasonal vignettes for many years. I think they are just so fun and whimsical when repurposed as unique decorative accent pieces. With the play on words, spring is the perfect season to get creative with rusty old springs. Simply including an old spring in a spring vignette adds a touch of vintage whimsy.
Last spring I put together a quick DIY spring craft using an old bed spring, a chalk painted peat pot, moss, and a handwritten #spring tag. I used it as an accent in my "Spring is in the Air" Dough Bowl Display.
I am so honored that my springy bed spring was just featured in the spring 2020 issue of Country Sampler Farmhouse Style magazine!
You can find my little mossy #spring peat pot bed spring on pgs. 83 and 88.
The spring issue is just packed full of beautiful farmhouse and cottage decor and diys!
It's surreal and humbling to be considered a Country Sampler " featured designer" in the Do-It-Yourself Farmhouse section. I love designer Christy Crafton's mossy nest "coiled creations" too!
If you read my recent post 2020 Interior Design Forecast: Expect a Blue-tiful Year!, then you already have seen how blue is going to be big for spring and summer 2020. You will definitely find plenty of blue in this magazine to inspire. I am totally crushing on that gorgeous blue chest of drawers!
Easy-Springy Bed Spring Ideas
I always have fun using old bed springs in creative ways. I usually had a few for sale in my antiques booths and they were always popular with customers.
Several years ago I came up with a fun spring decoration using an old bed spring and a rusty old bundt pan. It quickly sold in my antiques booth, and every spring since then I have had a wee bit of seller's remorse. Of course when you are an antiques vendor who just loves vintage junk, you have seller's remorse quite often!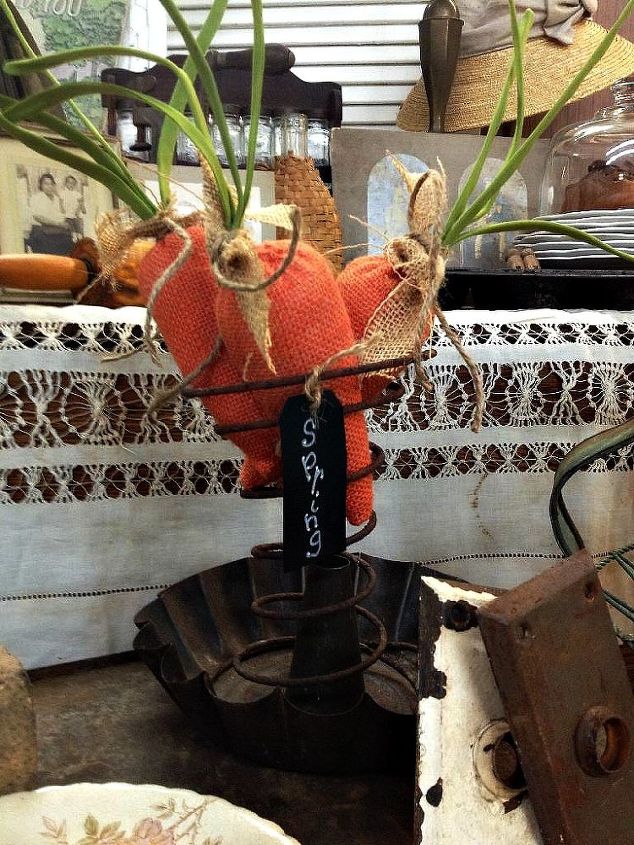 For this design I used some cute orange burlap carrots from a local wholesale craft store. I dressed them up by adding some extra burlap and jute on the top because they were a little plain. Then I simply tucked the carrots down into the spring and placed the spring on top of an old bundt pan. I made a "spring" tag out of a chalkboard paper tag. You can easily make some DIY burlap carrots or purchase them on amazon or your local craft shop.
More Creative Repuposed Bed Spring Ideas for Spring and Easter
A simple moss sphere on a rusty spring would look great for spring but it could also be used in vintage vignettes year round.
I think an old rusty bed spring topped with a nest full of natural elements and shabby vintage treasures is just adorable.
You can use a bed spring to display a lovely handmade Easter egg.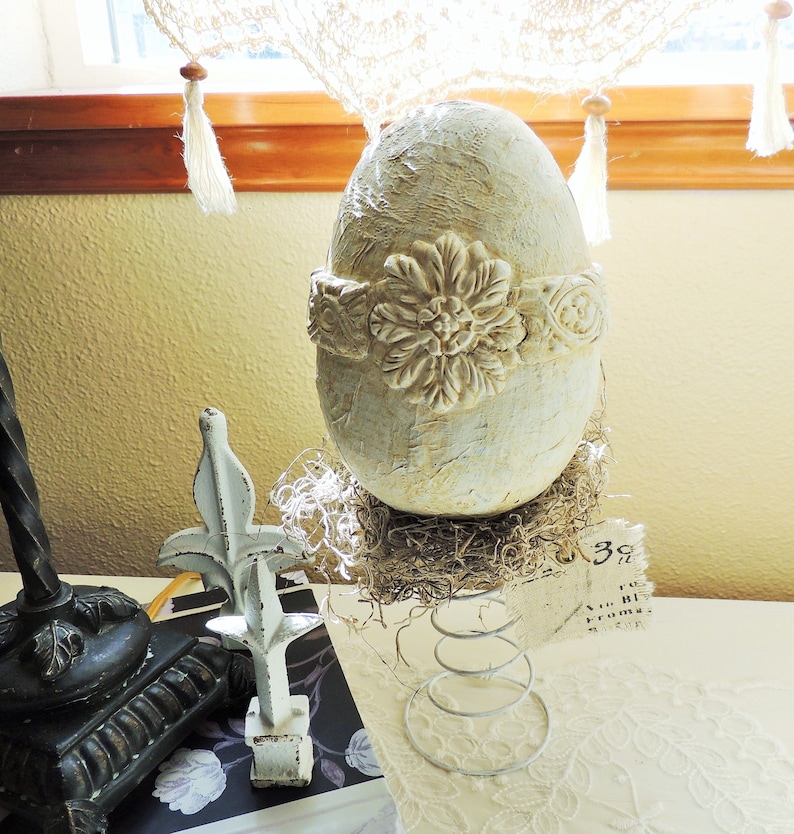 I love the idea of whitewashing an old bed spring with paint too! So shabby-vintage!
Votive Bedspring Flora Centerpiece
This rusty old spring looks anything but junky when used to hold a glass votive candle holder and surrounded by a lovely faux floral ring at the base. Of course you could use fresh florals too. I included a link at a pretty pansy ring in my suggested products section at the end of this post.
I can't wait to try this idea! I adore this little mossy terra cotta pot filled with succulents in an old bed spring.
A bed spring can double as a unique "vase" or vase holder.
I think a bed spring-spring wreath is such a fun idea!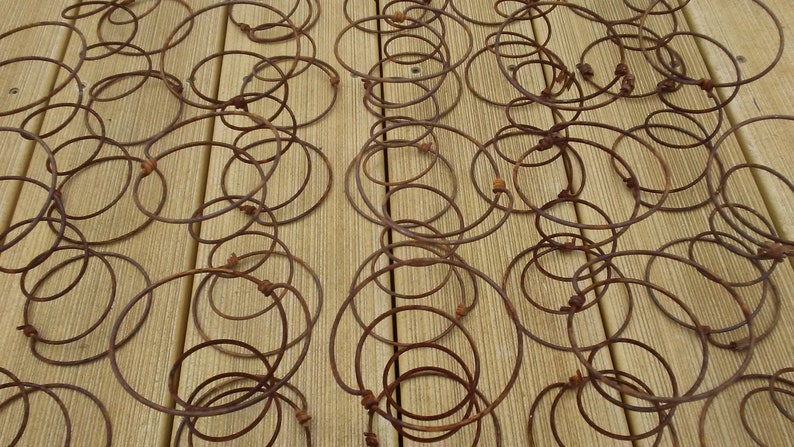 Of course there are many other ways to decorate with bed springs and creative bed spring crafts to make for all the seasons. You can often find old bed springs at online at Etsy or ebay or locally at flea makets and thrift shops. If you want quite a few, consider removing them from an inexpensive old chair that may be headed for the trash. New springs can be made to look old by spraying them with vinegar and letting them sit overnight or by "distressing" them with craft paint.
I hope you have enjoying seeing some of these "coiled creations" for spring and Easter and that you are inspired to design a springy bed spring decoration for your own home or as sweet Easter gift for a vintage junk lover. If you are looking for more amazing farmhouse ideas don't forget to pick up a copy of the latest issue of Country Sampler Farmhouse Style at your local Joann or bookstore. You can also find tons of ideas by searching "spring" here on my blog or checking out my Spring category on my sidebar.
Thank you so much for visting today!
Amber
If you purchase any of these suggested products I may receive a small commission at no additional cost to you. See my full affiliate disclosure policy for details.
Sharing at great link parties: