Well friends, we have made it through the longest part of winter and spring is just around four weeks away! While there may be plenty of snow and winter weather before the warm temperatures come to stay, the daffodils are beginning to poke through the ground—a sure sign that spring will arrive one way or another!
In just a couple of weeks I will be able to pick fresh daffodils from our yard! I always love how daffodils bring such happiness to our home and garden after a long winter. Today I am doing a little dreaming of daffodils and sharing early spring decorating ideas from Pinterest. Here are some of my favorite photos.

Tulips are my absolute favorite flowers, but daffodils of all varieties are also beloved. There are clumps of classic heirloom yellow daffodils growing all around our property, but I would love to plant some different colors and newer varieties this fall. Grouping several different varieties together in a garden vignette is so pretty!
All through March I pick small bouquets of daffodils to place in little vases and bottles around our home.
These tiny daffodils grow right outside our back door and I love them so much!
Aren't all of these colors and shapes just so beautiful? I love flowering bulbs of all kinds. This winter I also shared a post all about Winter Decorating with Paperwhites. Paperwhites are also members of the genus Narcissus.
Daffodil is the official common name for any plant that falls under the genus Narcissus, including jonquils, paperwhites, and others. But most people use the term "daffodil" to refer to the familiar trumpet-shaped springtime blooms. Source: Country Living
Early Spring Decorating with Daffodils
Tulips begin to bloom in mid-April through May in our region, while daffodils welcome the arrival of spring in late Februrary- April. No matter the variety or color, daffodils are perfect for bringing the outdoors in during early spring. Whether fresh or faux, they are perfect for use in vignettes and tablescapes or just brightening up any space.
A big pot of daffodils exudes classic spring elegance. Yellow daffodils and blue decorative accents create the feel of a bright sunshiny spring day indoors!
If you can't wait for spring, then daffodil bulbs can be forced in late winter. Often times you can purchase them from the grocery store or flower shop, or order online from a reputable garden company. The forced bulbs look especially beautiful in old tureens, dishes, urns or natural baskets lined with grapevine or moss.
HGTV
No matter how they are displayed, daffodils can definitely add a touch of spring garden style indoors.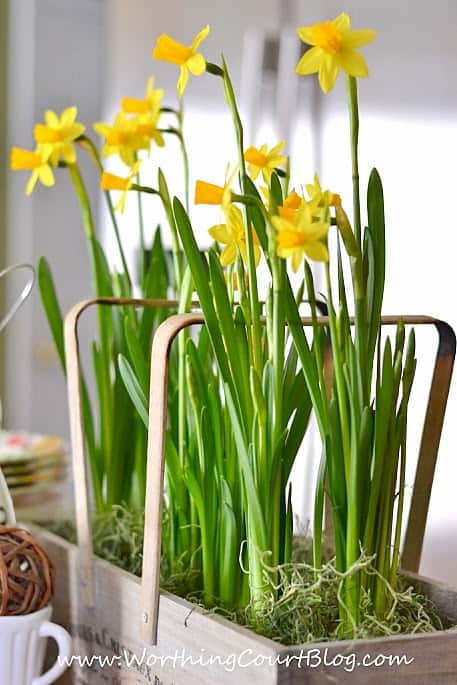 Daffodils on Display
A few clumps of tiny daffodils infuse this pretty farmhouse style tiered tray with life and color.
I love the simplicity of a grouping of several daffodils displayed in vintage milk glass vases.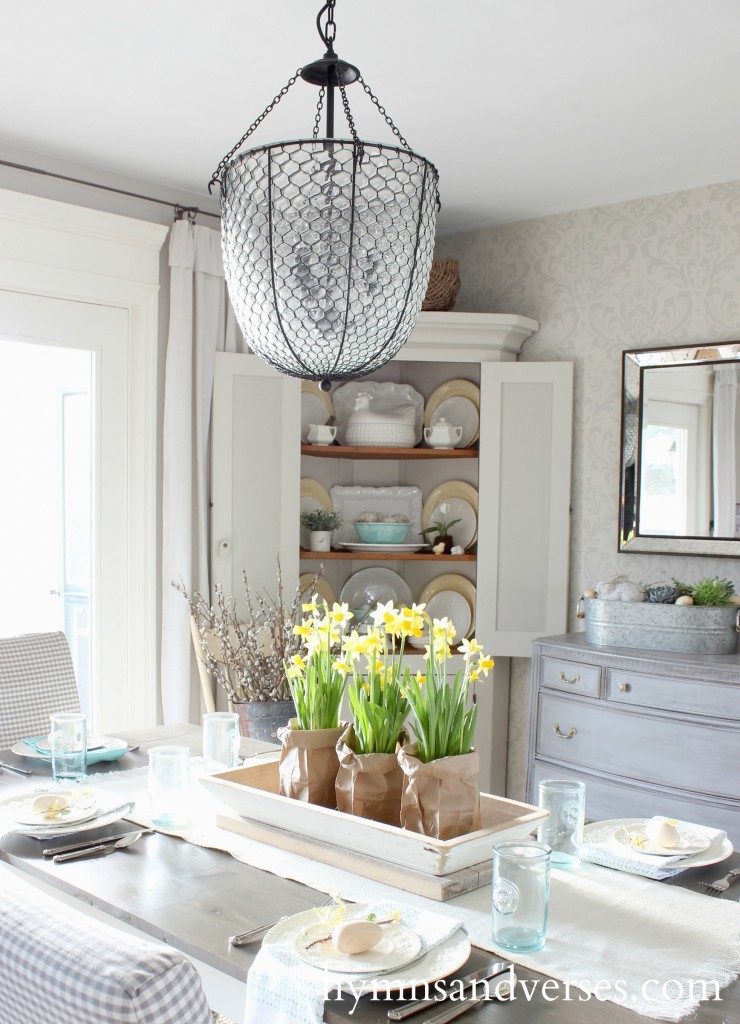 Hymns and Verses
From flower farm to table…simple spring beauty!
I love the idea of planting small clumps of daffodils in pretty little nests.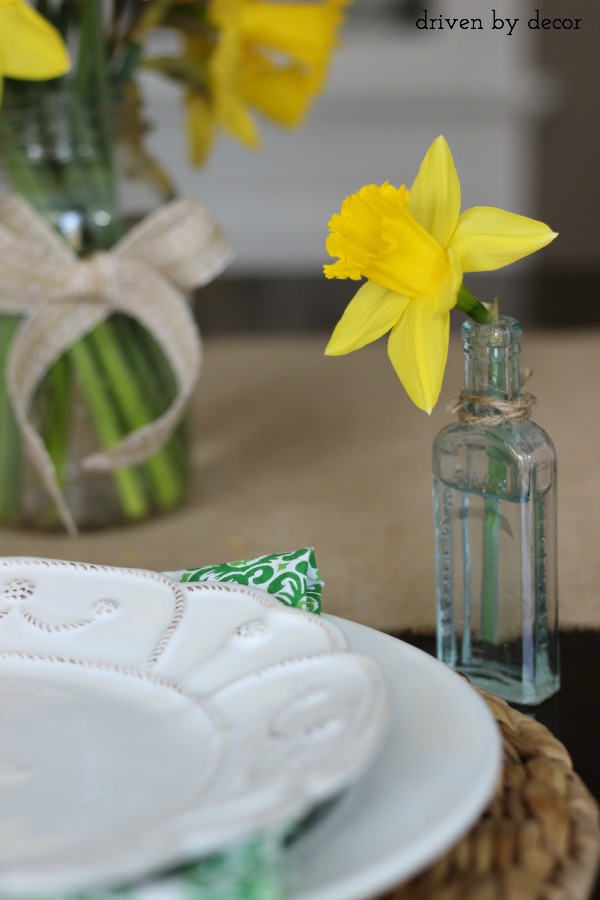 You can keep it sweet and simple by placing daffodils in small vintage bottles or mason jars…
…or go all out with a sunny yellow and white tablescape overflowing with bouquets of daffodils!
A single bouquet of daffodils in an ironstone pitcher is a quick and easy way to create a spring farmhouse style focal point on a mantel.
This sweet tussie-mussie style napkin fold filled with daffodils is precious!
You can't go wrong with a bouquet of mixed daffodils. So springy!
I just couldn't resist sharing this photo of spring daffodils and vintage kitsch. Too cute!
And how cute is this? Apparently I am not the only one who loves daffodils!
I hope this post has brightened your day and has inspired you with ideas for early spring decorating with daffodils. Are you dreaming of daffodils and warm spring days too? I love hearing from you dear readers!
Thanks for visiting!
Amber
Daffodils on Amazon (affiliate links)
Sharing at these great link parties: