Hello dear readers! It's only January and for those of us who love flowers and gardening, spring seems painfully far away! That doesn't mean we can't bring the outdoors in and add a little bit of garden style to our homes during the dreary winter months. Decorating with paperwhites is a great way to add a bit of garden style from winter through spring. Today I am sharing some inspiration for winter decorating with fresh or faux paperwhites.
In December I bring out my faux paperwhites to use in my Christmas decor. Once Christmas is over they easily transition to winter and early spring too.
Paperwhites have long been used as traditional Christmas flowers, but they can be also be lovely indoors from winter through early spring. No green thumb? No problem! Paperwhites are super easy to grow, and there are also many realistic faux paperwhites available these days.
A few winters ago I purchased some gorgeous faux paperwhites from Pottery Barn on clearance after Christmas. I think they are just so pretty! I continually move them around my dining room, kitchen and living room. I love them everywhere!
I loved how my faux paperwhites brightened up in our corner breakfast nook the last couple of winters (this year we have a new kitchen nook which you can see here.) I "planted" them down in vintage ironstone pieces and added a bit more moss to make them look even more realistic.
When I last checked the Pottery Barn website they had just sold out of the paperwhites online, although some are still available in stores. I did find these lovely faux paperwhites on Amazon (affiliate link):
I absolutely fell in love with this gorgeous, handmade paperwhites farmhouse sign by my talented friend, Laney of @pine.and.birch Instagram. The sign turned out to be my inspiration for incorporating paperwhites in my "Keeping It Cozy" Winter Home Tour post from 2019 and A Wintergreen Home Tour from last year.
This year I used a pot of realistic faux paperwhites on the little bistro table in our "new and improved" corner kitchen nook.
As it got closer to Christmas, I used a live poinsettia on the bistro table and moved the paperwhites to the kitchen counter along with the paperwhites sign. Now that Christmas is over, the paperwhites are back on the bistro table!
In addition to the kitchen and dining room, I have also used faux paperwhites in a chippy urn on a styled tray in the living room.
More Inspiring Ideas for Winter Decorating with Paperwhites from Pinterest:
Dear Lillie via Beneath My Heart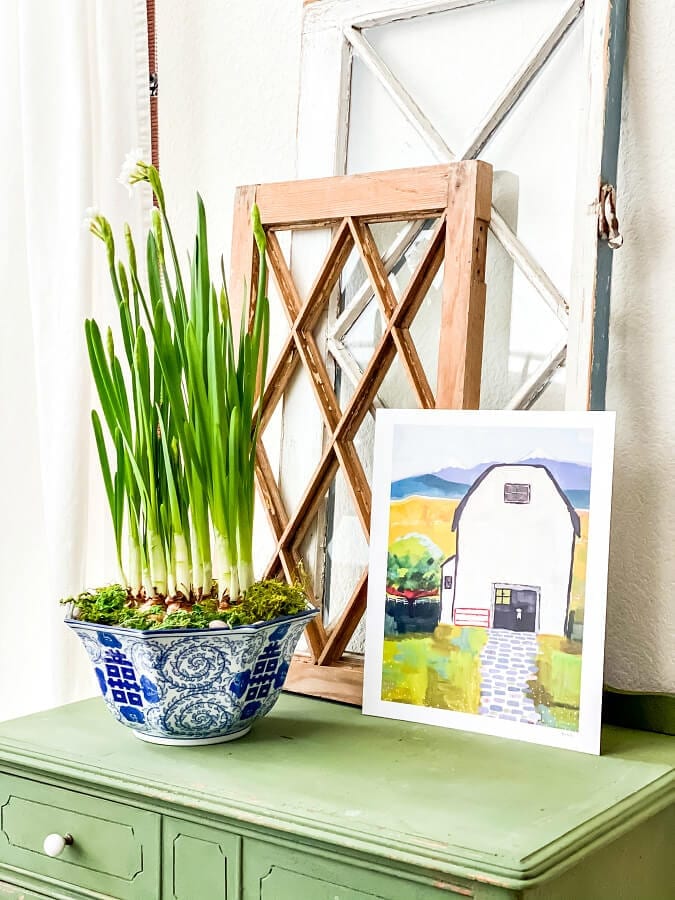 How to Grow and Use Paperwhites In Your Winter Decor~The Tattered Pew
Aren't all of these images so lovely? The paperwhites seem to work well with any decor style. I am perfectly happy with my faux paperwhites, but many people enjoy growing real paperwhites indoors by forcing the bulbs. Here is a little more info about the plant:
Narcissus papyraceus (from papyrus and aceus; meaning paper-like[1]), one of a few species known as paperwhite, is a perennial bulbous plant native to the Mediterranean region, from Greece to Portugal plus Morocco and Algeria. The species is considered naturalized in the Azores, Corsica, Texas, California and Louisiana. The white flowers are borne in bunches and are strongly fragrant. It is frequently grown as a house plant, often forced to flower at Christmas.
Paperwhites are part of the genus Narcissus which includes plants known as daffodils.
I hope you have enjoyed learning a little more about paperwhites and seeing all of the beautiful ways to incorporate them in winter decor. After working on this post I think I may have a new winter flower and decor obsession! I am looking forward to decorating with paperwhites all through winter and into spring. Have you already discovered the beauty of using paperwhites in your home or garden? I love hearing from you dear readers!
Thank you so much for visiting today!
Affiliate Disclosure: If you purchase a suggested item, I may receive compensation at no additional cost to you. See my full affiliate disclosure policy for details.
All About Home Thursday Favorite Things